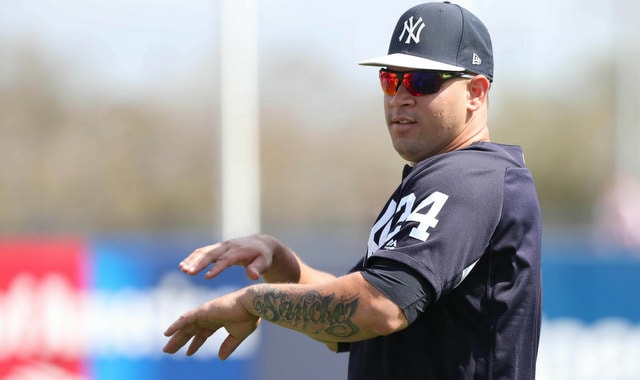 A year ago at this time, the Yankees were preparing to find out whether the Baby Bombers would develop into a championship caliber core. That question was answered emphatically last season, as the Yankees made it to within one game of the World Series thanks largely to their young players, almost all of whom exceeded expectations.
Gary Sanchez is an OG Baby Bomber at this point, and last year he showed his 2016 breakout was no fluke. No, he didn't maintain that home run pace, but Sanchez still hit .278/.345/.531 (130 wRC+) with 33 homers in 525 plate appearances. He led all catchers in homers, wRC+, and both versions of WAR despite missing about a month with a biceps issue. Gary is a star, plain and simple.
This season the Yankees will again count on Sanchez to not only drive their offense, but also take control behind the plate and lead the pitching staff. The Yankees had a pretty darn good pitching staff last season — they were top ten in basically every meaningful pitching statistic — and when a catcher doesn't hit, he gets credit for working with pitchers. When they hit like Gary, the work with pitchers gets overlooked.
Last season the relationship between Sanchez and Joe Girardi seemed strained at times — Sanchez, for what it's worth, denied a riff with Girardi and said all the tough love made him a better catcher — and this year he'll have a fresh start with Aaron Boone and the rest of the new coaching staff. Is that a good thing? The Yankees obviously think so given the fact they made the managerial change. Let's look ahead to Gary's season.
The best third wheel in baseball?
As good as Sanchez is — and he is great — he figures to be no better than the third best player on the Yankees this season. Aaron Judge and Giancarlo Stanton are just that damn good. And if Sanchez is the team's best or second best player, I hope it's because he has a monster season and not because Judge or Stanton get hurt or decline.
Anyway, I was curious to see where the Yankees and Sanchez fit in the world of the best third best players in baseball, if that makes sense. Do any teams have a better third best player than Gary? Some projections can help point us in the direction of an answer. Here are the five best players who are third on their team in various projection categories.
| | ZiPS wOBA | ZiPS WAR | Steamer wRC+ | Steamer WAR |
| --- | --- | --- | --- | --- |
| 1. | Springer, HOU (.362) | Springer, HOU (+4.4) | Altuve, HOU (129) | Altuve, HOU (+4.4) |
| 2. | Seager, LAD (.359) | Bellinger, LAD (+4.1) | Seager, LAD (125) | Turner, WAS (+4.1) |
| 3. | Murphy, WAS (.355) | Sanchez, NYY (+3.3) | Ramirez, CLE (123) | Sanchez, NYY (+3.8) |
| 4. | Alonso, CLE (.355) | Bogaerts, BOS (+3.3) | Sanchez, NYY (122) | Cozart, LAA (+3.2) |
| 5. | Sanchez, NYY (.350) | Turner, WAS (+3.1) | Murphy, WAS (121) | Belt, SF (+3.1) |
Sanchez is the only player to appear in the top five in all four categories, though I wouldn't think much of that. It's not George Springer's fault ZiPS projects him behind Carlos Correa and Jose Altuve while Steamer has Altuve behind Correa and Springer. Focus more on the teams. The Astros, Nationals, and the Yankees are the only teams to appear in all four lists. It just so happens the same player represents the Yankees.
This reflects well on both Sanchez and the Yankees. The Yankees are deep — by Steamer WAR, New York's third best player projects better than the best player of eleven other teams — and Sanchez is really freaking good, projecting as well above-average offensively and better than +3 WAR. (I think ZiPS is low on Gary. I think he's closer to +4 WAR than +3 WAR.)
I truly believe Sanchez has the potential to be even better at the plate going forward. It is not uncommon for catchers to bloom later in their careers given all the defensive responsibilities, and Sanchez has great power and a good plan at the plate. A little more patience — his 33.7% chase rate on pitches out of the zone last year was higher than the 29.9% league average, but not outrageously so — will get him to another level. This is a just turned 25-year-old, kid remember.
Sanchez is great as he is. We saw it last season when he was arguably the most productive catcher in baseball despite missing a month. I still believe the best is yet to come. Catching is hard, those bumps and bruises add up during the season, but the talent is there. Last season was the just to start for Gary.
Does less weight equal fewer passed balls?
At the end of last season the Yankees told Sanchez to drop some weight with the belief it will help his defense. Depending who you believe, Gary either did or did not lose 20 pounds over the winter. He says he's the same weight. Everyone with eyes has says he's noticeably slimmer. I suppose both could be true? Sanchez is the same weight but leaner? Whatever.
Gary's weight is a secondary issue. The bigger issue is his defense, specifically blocking pitches in the dirt. He's a great thrower and rates as a good pitch-framer. But you know about the passed balls. Sanchez could hit 50 home runs this season and all we'd hear about are the handful of times he let a pitch get away. In the court of public opinion, Sanchez is a terrible defender and it's tough to shake that reputation. In reality, he's pretty good.
"Last year he got bigger and I think it affected his athleticism," said Brian Cashman to John Harper. "That's something we've tried to attack and address. He didn't gain fat, he gained muscle. Gaining muscle is important, but he's a big catcher, so maintaining flexibility is important for him … He's a worker. He cares, he wants to be great. You've just got to set up the program and tell him to go."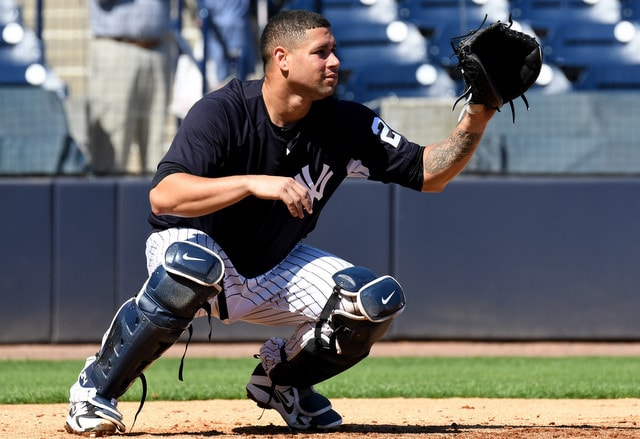 I am skeptical Sanchez losing weight will improve his blocking. That doesn't mean I think his blocking won't improve. I just think there's a lot more to it than losing weight. Players lose weight all the damn time and it often means nothing. Sanchez works hard and I think any improvement will likely come from improved technique and awareness. Losing weight and regaining athleticism won't hurt. There's more that goes into this though.
"Obviously, being in shape, being lighter is going to help him move around better behind the plate, doing what he needs to do as a catcher back there," said catching coach Jason Brown to Brendan Kuty. "It's kind of self-explanatory, but the lower half, the flexibility, his stability, his mobility — I would say that, as a catcher, is where it shows up the most. Your legs are under you and you have this solid base, a solid foundation that's going to help everything else — receiving, blocking, throwing. Everything we do as a catcher starts from that, starts from our foundation."
Personally, I'll survive if Sanchez leads the league in passed balls again as long as he continues putting up great offensive numbers. Would it be nice if Gary cut his passed balls total from 16 to, say, ten? Sure. But that's one fewer passed ball a month. Not a huge difference. As long as Sanchez works at it, which he does constantly, it's enough for me. Focus on all the great things Gary does rather than obsessing over the one thing he doesn't do well.
More rest may be in the cards in 2018
Later tonight Sanchez will make his Grapefruit League debut, in the Yankees' fourth game of the spring. Boone said they're taking it easy on Gary at the moment because he's been in camp a while and has already done a ton of catching, and they don't want to overload him early. The season is long. Sitting out games in February and March in an effort to be fresher in September and October is a no-brainer.
Last season Sanchez started 99 of 137 eligible games at catcher — he missed 25 games with the biceps injury — which is a healthy pace. It's 117 starts per 162 games. From the sound of things this spring, the plan may be to scale back on Sanchez's catching workload and get him more DH games in 2018. The Yankees might turn him into a 100-110 game catcher rather than a 120-game catcher. That's the impression I've gotten from various press conferences.
On one hand, more DH games could help keep Sanchez healthy and productive deeper into the season. They're planning to play deep into October, remember. On the other hand, the Yankees are planning to rotate players through the DH spot, and every game Sanchez spends at DH means one of Judge, Stanton, and Brett Gardner isn't in the lineup. That's not necessarily a bad thing, those guys could use rest too, but the less Gary catches, the more it gums up the rest of the lineup.
"Catcher in Major League Baseball, it's a demanding position," said Boone during his start of spring press conference. "It's a chance to impact like no other position on the field, with things that don't necessarily show up in the stat column. Obviously, he's a tremendous talent. He's already had massive success as a young player. So just building that relationship, gaining that trust and letting him know that he's going to be very well supported by me and our coaching staff."
* * *
If he were on pretty much any other projected contender, we'd be talking about Sanchez as a potential MVP candidate going into the 2018 season. Catchers who hit like him are exceedingly rare. But because Stanton and Judge are on the roster — that is the reigning NL MVP and the reigning AL MVP runner-up — Gary is getting overlooked. Make no mistake though, he's a great player and an important part of the Yankees.
In fact, I'd argue Sanchez is the most indispensable Yankee. The drop off from Sanchez to his replacement (Austin Romine) is larger than any other position on the Yankees. If Judge or Stanton gets hurt, the Yankees plug the serviceable Jacoby Ellsbury into the lineup or call-up Clint Frazier. If Didi Gregorius gets hurt, there's Ronald Torreyes and Gleyber Torres and Tyler Wade. Going from Greg Bird to Tyler Austin isn't as devastating as going from Sanchez to Romine.
The history of the Yankees is littered with great catchers, from Bill Dickey to Yogi Berra to Elston Howard to Thurman Munson to Jorge Posada. Sanchez is next in line. With all due respect to the great Buster Posey, Gary has a chance to establish himself as the unquestioned best catcher in baseball this season. Yes, he needs to improve his blocking. But even if he doesn't, Sanchez is still great, and this season he might only be the third best player on his own team.
"Gary rakes, that's what I think," said Boone to Dan Martin and George King. "He gets into that box and I do think he gets overlooked. I can't wait to see what he is going to do again this year. We are going to work really hard in aiding him and hopefully allow him to continue to get better on both sides of the ball."