We've got eleven questions in this week's mailbag. Send all your mailbag related correspondence to RABmailbag (at) gmail (dot) com. I'll answer as many questions as I can each week.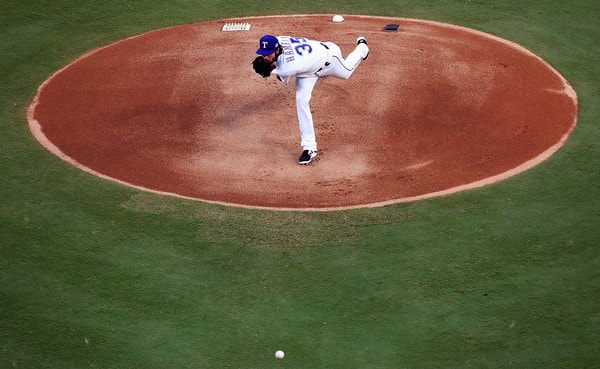 Bobby asks: I'm not sure where they currently sit with payroll after the Drury trade, but assuming that they are done with signing/trading this offseason, who are some of the players that the Yankees could potentially target at the trade deadline with the money that they have to spend (and still stay under the luxury tax threshold)?
The Yankees still have $22M to spend under the luxury tax threshold — Brandon Drury will make something close to the league minimum this year, so he didn't change the payroll situation — and that is an awful lot of leftover money for this time of year. Signing someone like Lance Lynn or Alex Cobb (or Jake Arrieta!) would eat up a lot of that money, but right now, it doesn't seem like that'll happen.
Looking around the league, one potential midseason trade target who immediately jumped to mind is Cole Hamels. The Rangers are at best a wildcard bubble team, and if they're out of the race, trading Hamels at the deadline makes sense. He's an impending free agent and he's still pretty good — I'd like to know why his strikeout rate dipped from 23.6% in 2016 to 17.1% in 2017 — and his luxury tax hit is $24M. The Yankees could fit that pro-rated luxury tax number under the threshold as things stand.
Garrett Richards is an impending free agent and I wonder whether the Angels would be open to moving him if they're not in the race. I suspect they'd try to extend him first. Besides, his $7.3M salary isn't a luxury tax buster anyway. Danny Duffy is another good one. He's got a $13M luxury tax hit and the Royals are going to be awful. I have to think they'll at least consider offers for him. If the Yankees want a long-term addition, he'd be a fit.
If the Yankees are in the market for an infielder, rental Brian Dozier ($9M salary) sure would be a fun pickup should the Twins fall out of it. Go all-in on dingers. Would the Rangers trade rental Adrian Beltre ($18M luxury tax hit)? I suppose if Drury and Miguel Andujar completely flop, the Yankees could do something like crazy and go after Hamels and Beltre at the deadline. They'd be able to fit them under the threshold. Fun!
Ray asks: I'm not going to ask the "OMG how can they send Andujar to AAA when he's killing it" question, but instead, I'll ask for your insight/gut feeling. Do you think that Andujar is a long-term keeper or more likely to be traded as part of a package for a young, controllable starter? I hope it's the former because even with Drury and Torres there's plenty of ABs to go around (especially with the inevitable injuries).
I do think Andujar is a long-term keeper and I do think the Yankees see him that way as well. That doesn't mean he's off-limits in trade talks. It would be silly to make him completely off-limits, especially with Drury now on board. Andujar is not a budding superstar, or at least I don't think he is, and I love the guy. At his peak, I think he's a potential .300/.340/.500 guy with 25 homers and good enough defense. That's a +3 WAR or +4 WAR player. That's the kinda guy who could go to an All-Star Game or three. Drury does make Andujar more available in trades, but I don't think the Yankees will give him away. He was supposedly off-limits in the Gerrit Cole trade talks, and the Yankees love Cole. If they took Andujar off the table for Cole, they're not looking to move him just because Drury is around.
Greg asks: With good luck in the health department, improved defense, and all those at bats coming behind high on-base guys like Gardner, Judge, and Stanton, do you see Sanchez as a potential MVP candidate this season? When healthy and on the field, he is among the very, very best.
Oh sure. I think if Gary Sanchez were on pretty much any other team, he'd be getting a lot more love as a potential MVP candidate. The fact of the matter is Sanchez could have a monster season and still be only the third most valuable Yankee. Forget about the rest of the league for a second. Just on the Yankees, Sanchez will have to put up monster numbers just to get more MVP love than Aaron Judge and Giancarlo Stanton, assuming they have typical Judge and Stanton seasons. How much MVP hype would Sanchez be getting right now if he were with, say, the Red Sox? Or the Cubs? A ton. A ton. Sanchez is awesome and I think he's the most indispensable Yankees when you consider his replacement. Stepping out from the Judge and Stanton shadows won't be easy, but don't put it past Gary. He is a special, special player.
Anselm asks: Let's say it's early winter 2018, and Aaron Judge has had a season comparable to his 2017 season — a season that demonstrates 2017 was no fluke (even if his overall numbers aren't at the same level), & that the shoulder injury is an isolated situation. What is Judge's trade value at that point? What could Cashman reasonably ask for from other teams if he decided to test the market for Judge (and everybody knows Bryce Harper is looming)?
He'd be the most valuable trade commodity in baseball. Four cheap seasons of an MVP caliber player? There isn't another one of those in baseball. That's a name your price situation. The Yankees wouldn't have to trade Judge because he's cheap and young and great. You want him? Then I want one young roster player and two top prospects at a minimum. Don't waste my time with anything less. You might have a hard time finding a team capable of putting together a package that is actually worth parting with Judge. I suppose the Padres could do something with Manny Margot, Fernando Tatis Jr., and MacKenzie Gore. Ronald Acuna and some pitchers from the Braves? (Never trade for Braves pitchers.) I'm sure we could come up with a realistic package, but yeah, if Judge has a comparable season to 2017 in 2018, he'll have more trade value than anyone in baseball. I don't think that's hyperbole.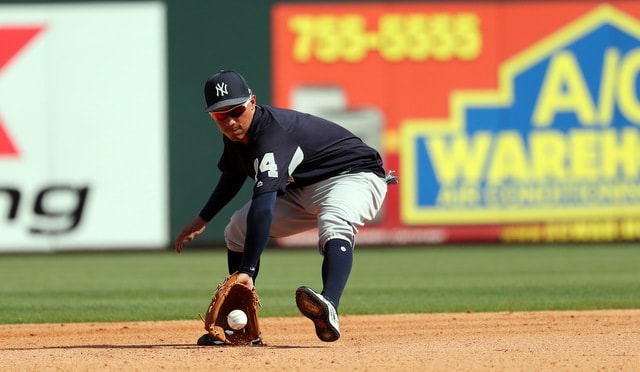 John asks: Given the infield depth and the versatility/youth on the roster, how likely is it that we have seen the last of Ronald Torreyes in pinstripes?
Not very likely. Not until some of the kids prove themselves at the big league level. Andujar, Gleyber Torres, and Tyler Wade are talented as hell, but the Yankees still don't know whether any of them can contribute at the MLB level. We all think they can, if not right now then reasonably soon, but I think the Yankees will want to see it before moving on from Torreyes. Besides, Toe is a useful piece anyway. He's worth keeping around as a bench guy even if the kids are as good as expected. Bench players are fickle. They can be great one year and terrible the next, kinda like relievers. Torreyes is going to have to continue to prove he can contribute to keep his job. Right now though, I think he's safe for the foreseeable future. The kids haven't shown us anything yet.
John asks (short version): I happened to be looking at ZIPS comps for Yankee Players and nothing really surprised me to much until I saw Greg Bird's comp was David Ortiz. David Ortiz!!! I know Greg Bird has potential, but are we seriously talking David Ortiz beast mode potential?
ZiPS dropped a Mo Vaughn comp on Bird last year too. It was Vaughn last year and Ortiz this year. The ZiPS comps are based on the player's career to date, and like Ortiz (and Vaughn), Bird tore up the minors and hadn't yet established himself at the MLB level through his age 24 season. (ZiPS is aware of Bird's injuries. Those are factored into the calculation.)
All the ZiPS comps are saying is that, up to this point, Bird's career is most similar to Ortiz's based on the numbers. It's not saying Bird will have the same level of success as Ortiz — it's kinda hard to put that on a kid, Ortiz is going to the Hall of Fame (yes, he is, don't bother trying to convince me otherwise) — or follow the same career path. They're both left-handed hitting first base/DH guys who had a similar trajectory through age 24. Of course we'd all sign up for Bird turning into Ortiz — Ortiz didn't really break out until age 27, by the way — but I wouldn't hold my breath.
Steve asks: How are our favorite prospects looking from this past deadline that we traded away? Mateo, Kap, and Fowler all looking to make the Opening Day roster for the A's? Did Rutherford ever turn it around?
Brendan Kuty had a good piece earlier this week checking in on all the players the Yankees traded away recently. Blake Rutherford isn't in big league camp and I have no idea how he's doing in minor league camp. James Kaprielian is still rehabbing from Tommy John surgery. He threw off a mound for the first time early last month, so he still has a ways to go in his rehab. Kaprielian won't be game ready until midseason. Nick Solak is 0-for-16 so far this spring — Eric Longenhagen says Solak worked out in center field yesterday — and Taylor Widener has thrown one inning for the D'Backs.
Dustin Fowler, who I imagine every Yankees fan is rooting far, completed his knee surgery rehab and is 2-for-13 (.154) so far this spring. He recently told Chris Gabel his timing is off at the plate, which is to be expected after such a long layoff. Jorge Mateo missed the start of spring with a knee injury and played his first game earlier this week. Ian Clarkin has allowed four unearned runs in 3.2 innings this spring. Nick Rumbelow is out with a shoulder problem. Both Zack Littell and Dietrich Enns were optioned out to minor league camp a few days ago. Rob Refsnyder is 6-for-23 (.261) with two homers — as many as he hit in pinstripes! — with the Indians this spring. I think that's everyone notable. Make sure you check out Kuty's post for updates on a bunch of other guys.
James asks: It appears the Yankees will have about $22 million below the payroll threshold for 2018. What does the salary cap situation look like for 2019? Please include who is coming off the books, what are the early estimates for arbitration eligible players, what is the new salary cap limit?
The 2019 luxury tax threshold is $206M. CC Sabathia, David Robertson, and Adam Warren will become free agents after this season, and Brett Gardner could as well if the Yankees decline his option. Cot's did the math already and they have the Yankees at $99.95M in luxury tax payroll for 2019 at the moment, assuming Gardner's option is declined. That covers only four players (Stanton, Masahiro Tanaka, Aroldis Chapman, Jacoby Ellsbury) plus miscellaneous expenses like player benefits.
The Yankees will have some pretty big repeat arbitration cases next year (Didi Gregorius, Sonny Gray, Dellin Betances, etc.) plus Luis Severino will be arbitration-eligible for the first time, so he figures to get a nice payday. Judge and Sanchez will still be pre-arbitration-eligible next year, so they won't cost the Yankees much. It's hard to say what the 2019 luxury tax payroll is right now because so much of it is tied up in arbitration and pre-arbitration-eligible players, and I'm not smart enough to give accurate salary estimates a year out. Add those guys in and that $99.95M could swell to $170M in a hurry. Even then, it sure looks like the Yankees will have a nice chunk of change to spend under the 2019 threshold.
Michael asks: I'm sure you have done this but if not what does Stanton home spray chart for last year look like overlaid at the stadium?
These overlays are fun to look at and nothing more. They have no analytical value or predictive value because Stanton will not produce the exact same batted balls this season. A player would've hit X more home runs in this park than that park, but so what? Doesn't mean anything for the coming year. Anyway, here is Stanton's 2017 spray chart overlaid on Yankee Stadium: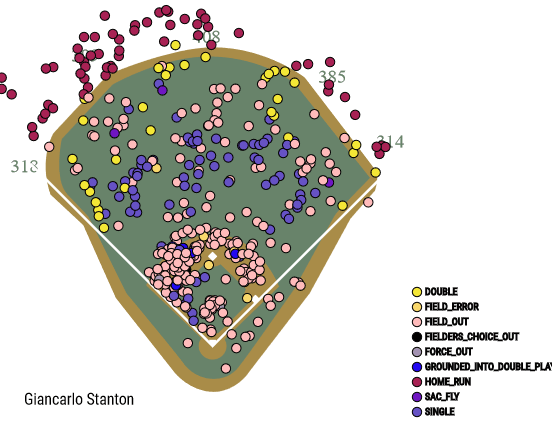 I count maybe six balls that weren't home runs in 2017 than might've been at Yankee Stadium. When Stanton hits home runs, they tend to be crushed, not wall scapers. That said, he'll inevitably benefit from the homer friendly ballpark and have a few seemingly routine fly balls drop into the first or second row. It's a feature, not a bug.
Steven asks: Even on the eve of a new dynasty, I can't help but to think of next year (Manny and/or Harper). The Dodgers will be a big player for next year's free agents, and might have to deal with Kershaw opting out. Currently their payroll is $178.6, so how likely is it that they stay under the $197 tax this season? Would the $19 mill remaining cover call ups, etc? Probably would eliminate them as buyers at the trade deadline, they are just about as close as you can get.
The Dodgers insist they will stay under the luxury tax threshold this season and they're in position to do it. They're approximately $19M under the threshold and that should be plenty enough to get through the season, and even add pieces at the trade deadline. The Dodgers had almost no chance to get under the luxury tax threshold this year without that big trade with the Braves. They essentially swapped $43M in luxury tax hits in 2018 for $43M in luxury tax hits spread across 2018 and 2019.
Re-signing Clayton Kershaw figures to be the top priority next winter — if they don't try to re-sign him, I'd be really worried about his back — but even while doing that, the Dodgers figure to make a serious run at Bryce Harper or Manny Machado (probably Harper). The Dodgers do have to navigate MLB's debt ceiling — MLB has rules about how much debt a team can carry in the first few years after being sold — so they have to watch that, otherwise yeah, the Dodgers are in great shape to get under the threshold this year, re-sign Kershaw, and bring in Harper. The Yankees aren't the only big market team setting themselves up to spend big in the future.
Adam asks: Brewers supposedly don't have room for Jesus Aguilar. Any interest in trading for him to back up 1B?
I don't think so. I'd rather have Aguilar than Tyler Austin, though I'm not sure the difference is enough to justify trading an actual prospect. (Why not just sign Mark Reynolds?) Aguilar will be 28 in June and he's a classic Quad-A masher type. He put up a .265/.331/.505 (112 wRC+) batting line with 16 homers in 311 plate appearances last season, and he did a number on the Yankees on July 7th. Three hits, including two homers and seven runs driven in.
Tyler Clippard ruins everything. Anyway, Aguilar hit .301/.365/.524 (127 wRC+) against lefties last season, though he was much better in the first half (132 wRC+) than the second (81 wRC+), so I wonder if he got exposed a bit. Like I said, I'd rather have Aguilar as a platoon partner for Bird than Austin. I just don't think it's worth trading a prospect to get him. (Maybe it is worth sending a lower level arm to the Brewers for MLB help since the Yankees have so many pitching prospects.) As with most of these "longtime minor leaguer suddenly finds MLB success" situations, I feel like the goal should be finding the next Jesus Aguilar rather than paying for the real Jesus Aguilar.