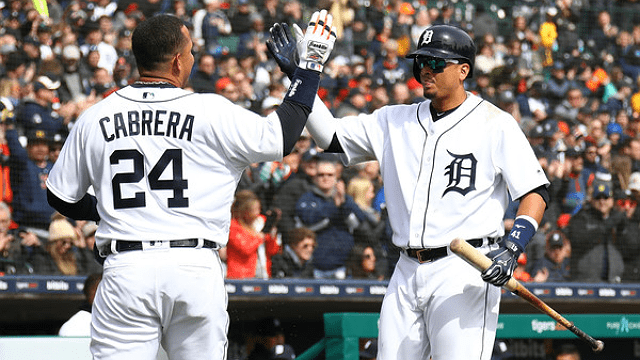 The Yankees dropped two of three in Boston and now complete their week-long road trip in Detroit, where they'll face one of baseball's many tanking franchises.
The Last Time They Met
The Yankees went a disappointing 3-3 against the worst team in baseball last year despite all but one game in their season series coming after the All-Star break. They avoided Justin Verlander both times. In Detroit from Aug. 22-24, they lost two of three against some of the Tigers' lesser starters.
Brawl!!! The last time the Yankees faced the Tigers, both benches cleared multiple times. Both managers were ejected, as were Alex Wilson, Dellin Betances, Tommy Kahnle, Austin Romine and Miguel Cabrera.
The brawl(s) produced some of the most memorable regular season moments from last year. Sanchez sucker punching Cabrera and earning a four-game suspension. David Robertson's majestic sprint from the bullpen. Romine facing down Miggy and starting the first fight. Brett Gardner fighting and CC laughing at him. I hate brawls, but the CC laugh and Robertson sprint were all kinds of great.
The Yankees lost the brawl game, 10-6, to finish the series, but they won the first two games by a combined total of 23-6. Sanchez hit three of the Yankees' six homers during the two blowouts.
For more information, check out Katie's Yankeemetrics post.
Injury Report
Nothing much to report here. Jordan Zimmermann had a line drive glance off his shoulder and into his face on Wednesday. Luckily, he was left with just a right jaw contusion while passing concussion protocol. Phew. It didn't look great at the point of impact.
Their Story So Far
At 4-8, they're right where they belong near the bottom of the AL Central. They've been swept by the Pirates and Indians, though they swept the White Sox. The team hasn't hit, posting a team wRC+ of 69, second worst in baseball to the Indians. Their team batting line is .207/.291/.306 and they've only hit three home runs. The lineup isn't too recognizable outside of Miguel Cabrera and Victor Martinez.
Their bullpen is a lot of question marks. Their rotation has the second fewest strikeouts per nine and the smallest groundball rate. Thanks to a strong start from their veterans, they had the fourth best rotation ERA in baseball going into Thursday before Michael Fulmer was shelled. Now they're 13th. Giving up six earned runs in three innings will do that.
Lineup We Might See
The Tigers have yet to face a lefty starter yet, so how Ron Gardenhire would adjust his lineup for a southpaw remains to be seen. Here's how he's likely to put together the lineup after OF Mikie Mahtook was optioned to Triple-A on Thursday:
1. CF Leonys Martin
2. 3B Jeimer Candelario
3. 1B Miguel Cabrera
4. RF Nick Castellanos
5. DH Victor Martinez
6. C James McCann
7. LF Victor Reyes
8. SS Jose Iglesias
9. 2B Dixon Machado
You may also see rookie Niko Goodrum taking a start at first, second or short. Ah Goodrum, just what you need to get through the Tigers season.
The Starting Pitchers We Will See
Friday (7:10 PM EST): LHP Jordan Montgomery vs. RHP Mike Fiers
Mike Fiers joins the Tigers this season after spending the last 2.5 years at the back of the Astros' rotation. He faced the Yankees twice last year, giving up a homer to Aaron Judge while dancing in and out of trouble over 9 2/3 innings. The 32-year-old starter was designated for assignment in December after being left off Houston's postseason roster. He missed the first week of the season with a back injury but is now one very effective start into his tenure with the Tigers.
Fiers was a replacement level pitcher last year because his home run problem made a turn for the worse. 1.88 homers per nine innings worse. Coupled with a rising walk rate, he pitched to a 5.22 ERA, which was actually better than his 5.43 FIP. His fastball lives in the high 80s and he plays off of it with a low-80s changeup, a low-80s slider and a low-70s curveball. He was tied for the AL-lead with 13 hit batters in 2017 and led all of baseball with 17 wild pitches in 2016.
Last Outing (@ CHW on Apr. 8) – 6.0 IP, 3 H, 0 R, 1 BB, 6 K
Saturday (1:10 PM EST): TBD vs. LHP Francisco Liriano
Another game, another castoff from the 2017 Houston Astros. Liriano has moved between the Pirates, Blue Jays and Astros over the last two seasons before landing in Detroit this season. Houston used him out of the bullpen after acquiring him at the deadline in 2017 and his walk and strikeout rates suffered in the pen over 14 1/3 innings. He got one out in Game 7 of the World Series and faced a total of 10 batters in the postseason.
The 34-year-old southpaw been pretty good over two starts with the Tigers, albeit against sputtering offenses with the Royals and Indians. He had a no-hitter through 4 2/3 on Monday in Cleveland. Lefties are hitting just 1-for-15 against him while RHBs are 6-for-27. He lives off his 93 mph sinker and 83 mph slider, working in an 85 mph changeup against righties. The slider has long been his best pitch, so expect a healthy dosage on Saturday afternoon.
Last Outing (@ CLE on Apr. 9) – 6.0 IP, 3 H, 2 R, 3 BB, 4 K, 1 HR
Sunday (1:05 PM EST): RHP Luis Severino vs. LHP Matt Boyd
Do you remember Matt Boyd? You remember Matt Boyd. Here's why.
In the past, the 27-year-old lefty has gone to his low-90s/high 80s fastball/sinker about half the time and mixed in a low-80s slider, high 70s changeup and a low 70s curveball. Sanchez's 493-foot homer last year came off a changeup that Boyd hung. This year, he's worked in his slider as his primary secondary pitch and cut back on his sinker a bit. It's worked in that he has a 1.38 ERA through 13 innings, though it seems to be more batted ball luck (.154 BABIP with a low HR/FB and IFFB rates) than skill (five strikeouts to go with one walk and one HBP).
Last Outing (@ CLE on Apr. 10) – 7.0 IP, 3 H, 1 R, 1 BB, 4 K, 1 HR
The Bullpen
The Detroit bullpen is the Island of Misfit Toys this year, a mixture of failed starters and unproven relievers. The only real established relievers are closer (and former Yankee!) Shane Greene and 31-year-old Alex Wilson. The duo have given up eight runs (seven earned) in 12 1/3 innings. Welp.
23-year-old Joe Jimenez has been the primary setup man and has allowed five baserunners and struck out four in 6 1/3. Drew VerHagen has overcome some control issues to produce seven solid innings. Former Rule 5 pick Daniel Stumpf is the lefty-matchup reliever while fellow southpaw Daniel Norris is the long man.
The team got just 3 2/3 combined innings out of Zimmermann and Fulmer the last two days, so the bullpen has seen a lot of work. Chad Bell wore Thursday's loss with four shutout innings out of the bullpen, so only Bell and Jimenez pitched yesterday.
Yankees Connection
The Yankee-related players are few and far between. On the 25-man roster, it's only Greene, who the Yankees dealt to get MLB-shortstop WAR leader Didi Gregorius. On the 40-man, there's Johnny Barbato of 2016 bullpen shuttle fame. That's it. No one else on the roster and no one on the coaching staff.
Who (Or What) to Watch?
Here's the question for the Yankees' next five games: Can they take advantage of some bad opponents? The Tigers and Marlins are teams they should beat handily and this dip in opponent quality comes before perhaps their toughest stretch of the year.
That stretch will be 18 games in 18 days against the Blue Jays, Angels, Twins, Astros and Indians. Then they get a day off and three more games against the Red Sox. That's 21 games against division favorites or the leading wild card competitors. You have to take advantage of the Tigers and Marlins before this rough schedule hits.
Lastly, Sunday is Jackie Robinson Day. It's an important day for baseball to reflect on both Robinson's impact and baseball's less than stellar past. The No. 42 on everyone's back is a good reminder.