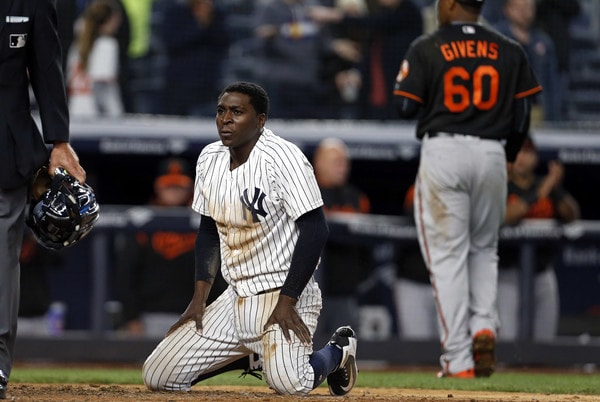 Rough game last night. The outcome stunk, and to make matters worse, the Yankees lost a few more players to injury. CC Sabathia (hip) and Brandon Drury (migraines) are now on the disabled list and Tyler Wade is sick, so he's not 100% either. In case you missed it earlier, the Yankees had to make a series of roster moves this morning.
The good news is the Yankees have another game this afternoon and they'll get to face Chris Tillman, who's been throwing batting practice since Opening Day last year. Tillman has allowed 90 runs and 191 baserunners in 97 innings since the start of last season (7.89 ERA, 7.03 FIP, 1.93 WHIP). That doesn't guarantee success today, of course, but I'd rather see the Yankees face Tillman this afternoon than literally any other starter in baseball. Here are the lineups:
New York Yankees
1. CF Brett Gardner
2. RF Aaron Judge
3. DH Giancarlo Stanton
4. SS Didi Gregorius
5. 1B Tyler Austin
6. 3B Miguel Andujar
7. LF Jace Peterson
8. C Austin Romine
9. 2B Ronald Torreyes
RHP Sonny Gray
Baltimore Orioles
1. LF Trey Mancini
2. SS Manny Machado
3. 2B Jonathan Schoop
4. CF Adam Jones
5. 1B Chris Davis
6. 3B Tim Beckham
7. DH Pedro Alvarez
8. RF Anthony Santander
9. C Chance Sisco
RHP Chris Tillman
Cold, cloudy, and windy in New York today, but there is no rain in the forecast. Remember spring? That was a cool time of year. I'll tell my grandkids about it. Now we go straight from the frigid cold of winter to the gross heat and humidity of summer. Anyway, today's game will begin at 1:05pm ET. You can watch on YES locally and MLB Network out of market. Enjoy the game.
Injury Update: Gary Sanchez (calf) is doing better. It was just a cramp last night. He wasn't going to catch the day game after a 14-inning night game anyway. The Yankees have an off-day Monday. I wouldn't be surprised to see him DH (or sit all together) tomorrow to give him three days away from catching to knock this calf thing out … Drury is going to have "extensive tests" Monday. Apparently he's had migraines and blurred vision on and off for years … Sabathia played catch today. The DL stint is precautionary more than anything … Ben Heller is having surgery to remove the bone spurs from his elbow today, according to his Instagram feed.