Got a dozen questions in this week's mailbag. It's nice to have actual baseball to mailbag about again rather than offseason hypotheticals. Anyway, RABmailbag (at) gmail (dot) com is where you can send your questions each week. I'll get to as many as I can.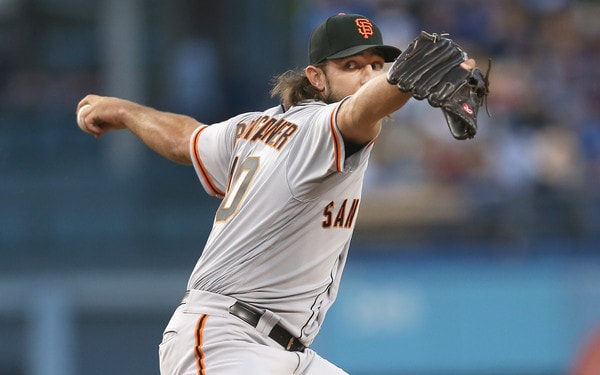 Brian asks: Assuming the Giants continue to struggle, I would love the Yankees to go after Bumgarner. The Giants are also void of young talent so it may be a match. What do you think it would take prospect wise? I know "your trade sucks," but is Clint, Sheffield and Chance Adams anywhere in the ballpark? Thanks Mike!
In the past I would've said forget it, there's no chance the Giants will trade their franchise pitcher, but the Tigers did trade Justin Verlander last year, so who knows? If the Giants do continue to sink in the standings and decide to make Madison Bumgarner available to kick start a rebuild, man he's someone you go all out to acquire. He's great, he's shown he can carry a team in the postseason, and you'd get him next year as well ($12M option).
Keep in mind that Bumgarner's injuries this year and last were flukes. He fell off a dirt bike and hurt his shoulder last year. This year he was hit in the hand by a comebacker. Stupid stuff. Bumgarner is still only 28 and he threw 200+ innings every year 2011-16 before the dirt bike and the hand. And like I said, he's great and he's proven he can be the ace of a championship caliber team. I'd want the Yankees to go hard after Bumgarner. No questions asked.
I'd trade Clint Frazier, Justus Sheffield, and Chance Adams for Bumgarner in a cocaine heartbeat, which means it's safe to assume the Giants wouldn't do it. I don't think they'd be wrong to ask for Gleyber Torres. Maybe there's a Bumgarner plus Joe Panik deal to be made? That would make trading Torres easier to swallow. Going into a short postseason series with Bumgarner and Luis Severino atop the rotation would be pretty rad.
Asher asks: At what point is Giancarlo's new closed stance going to be "blamed?"
Not for a while. We have to cycle through all the low hanging fruit first. He can't handle New York, he doesn't like the cold, he's adjusting to a new team and a new situation, blah blah blah. Ultimately, it boils down to this: Giancarlo Stanton is a streaky hitter and Yankees fans have no history with him, so we've never seen him go through this and come out the other side okay. If Aaron Judge were to go cold for a few weeks, it'd suck, but we went through it last year and we know Judge can snap out of it. There's no such history with Stanton. Everyone's looking for explanation and it may simply be that he's a streak hitter in a bad streak.
Sean asks: Tyler Wade is the 2018 Rob Refsnyder. Change my mind.
Wade is a much better defender, much better runner, more versatile, and as a left-handed batter, he'll be at the platoon advantage more often. Last season Wade hit .310/.382/.460 (136 wRC+) as a 22-year-old at Triple-A. When Refsnyder was 22, he hit .293/.413/.413 (144 wRC+) split between Low-A and High-A. Wade has stunk so far this season. No doubt about it. And he might stink forever. It's possible. His glove and legs give separate him from Refsnyder though. When Refsnyder doesn't hit, he's useless. When Wade doesn't hit, he can still contribute with his defense and baserunning.
Rich asks: I know there are injury concerns and of course the fact that the Mets & Yankees don't usually make trades. With that said, does Zack Wheeler make any sense for the Yankees to target given that he doesn't seem to have a clear path to a rotation spot?
Jason Vargas is out with a hand injury at the moment, clearing a rotation spot for Wheeler, who's made one great start (7 IP, 2 H, 1 R, 1 ER, 1 BB, 7 K vs. Marlins) and one so-so start (6 IP, 7 H, 3 R, 3 ER, 3 BB, 2 K vs. Nationals). Last season he struggled in 17 starts, throwing 86.1 innings with a 5.21 ERA (5.03 FIP). Wheeler made some mechanical tweaks in Spring Training and his stuff looks pretty good so far.
The concern with Wheeler, who turns 28 next month, is injuries. He missed the entire 2015 and 2016 seasons with Tommy John surgery and subsequent setbacks, and last season he missed time with biceps tendinitis and a stress reaction in his arm. In an effort to stay healthy,
Wheeler injected hormones into his stomach over the winter
. Egads.
I'd absolutely take Wheeler as a sixth starter over Domingo German and the presently injured Luis Cessa. He'd be a nice insurance policy with upside, but also lots of risk. (That's how the Mets see him.) The Yankees and Mets aren't going to make a major trade, so this is all hypothetical. The Mets need a catcher and the Yankees don't really have one to give — Austin Romine or Kyle Higashioka won't be nearly enough for Wheeler — and I doubt the Mets will take prospects for a viable big league starter when they're in contention. Not sure there's a trade fit for the two teams.
John asks: People are noticing slumps from Wade, Andujar and Stanton not to mention the bullpen. But the one that most confuses me is Neil Walker. No one seems to be talking about it. He's been so consistent over the past 5 years and its not like hes a huge guy with complex hitting mechanics. What is wrong and why is no one talking about Neil Walker? He is the one who is supposed to add length to the lineup. If he hits his standard 105-110 wRC, the lineup would look very different.
It's been 17 games. I know that's not the answer everyone wants to hear, but it's been 17 games. Walker is hitting .179/.264/.214 (25 wRC+) right now and he was hitting .200/.284/.292 (58 wRC+) through his first 17 games last season. Heck, he hit .195/.273/.310 (55 wRC+) last April. I've seen people comparing Walker to Stephen Drew, but come on. Drew was coming off a .162/.237/.299 (45 wRC+) line in 2014 when the Yankees signed him for 2015. Walker hit .265/.362/.439 (114 wRC+) last year. The track record is very good. Give Walker some time and he'll figure it out. If he doesn't, then the Yankees will take action.
Bill asks: Is it my imagination or do the Red Sox pitchers hit Yankee batters way more than Yankees hit the Red Sox? It seems like the Sox have a long history of head hunters while the Yankees are usually more reserved.
Red Sox pitchers have hit Yankees batters more than Yankees pitchers have hit Red Sox batters over the last several years. The hit batsmen numbers quick:
Since 2000: Red Sox 183, Yankees 139
Since 2005: Red Sox 122, Yankees 104
Since 2010: Red Sox 75, Yankees 60
The Yankees are 174-158 against the Red Sox since 2000, 126-118 since 2005, and 77-75 since 2010, so lagging in the hit batsmen department means a whole bunch of nothing. Beanball wars aren't my thing. They hurt the team more than like four seconds of blood lust satisfaction feels good.
George asks: I've read several articles lately stating that Kershaw was a sure first ballot HOFer, even if he never throws another pitch. When 300 wins used to be the "automatic" entry into the Hall, and CK hasn't even PITCHED in 300 games yet, do you agree?
Clayton Kershaw is short on longevity for sure. Hall of Famers tend to have high peaks and pitch for a long time. Sandy Koufax is a notable exception, but generally speaking, you need to have a great peak and pitch a long time to make the Hall of Fame. Kershaw absolutely has a Hall of Fame peak. He's done the hard part, the "be the best pitcher in baseball for some number of years" part. I think if he retired today, Kershaw would get voted in, though maybe not on the first ballot. The peak is simply too great to ignore. (He has a 2.00 ERA in his last 197 starts!) If Kershaw hangs around a few more years and gets to 200 wins (he's 145-66 at the moment), he's a lock. At some point the Hall of Fame criteria will have to change. Getting to 300 wins isn't all that doable anymore.
Brian asks: Andujar for Mike Soroka from the Braves. Braves could use a young talented 3B, Yankees a young talented 2/3 starter. Soroka has little wear/tear and is touching 97 now (Western Canadian hockey player), and excellent command and control. Both are 55/60 FV and both teams trading from surplus. Maybe a few low A balancing items to firm it up.
The framework definitely makes sense. The Braves have more pitching than they know what to do with, and flipping some arms for bats is going to happen at some point. Third base is wide open in Atlanta — I mean, they just signed Jose Bautista to play third, good grief — and Miguel Andujar would be able to step right into the lineup as well as be a long-term fit.
Soroka, who MLB.com ranks as the 31st best prospect in baseball, had a 2.75 ERA (3.19 FIP) in 153.2 Double-A innings last season, and he's started well in Triple-A this year. He might not be MLB ready, but he's close. Here's a piece of MLB.com's scouting report:
Soroka's pitchability combined with his stuff gives him exciting potential. He throws his fastball in the 92-95 mph range, sitting 93-94 mph, and he does so with heavy sink that produces ground-ball outs. His breaking ball has really improved to complement the sinker and he changes the shape and depth to it, with it coming as an upper-80s slider at times and a mid-80s power curve at others. He has feel for a changeup as well, and he can throw any of his pitches for strikes at any point in the count.

Soroka is ready to knock on the big league door while spending nearly all of the 2018 season at age 20. His size, mound presence, feel for the strike zone and stuff might give him the highest floor of any pitching prospect in the system, with a long career as a No. 3 type innings-eater awaiting.
I'm a big Andujar fan, you know that if you've been reading RAB long enough, and I see him as a potential +3 WAR or +4 WAR player. Soroka projects as a +3 WAR or +4 WAR pitcher. Of course, pitchers carry more risk than position players, so that's something that would have to be considered.
The Yankees have some third base depth in Brandon Drury and Gleyber Torres while the Braves are loaded with arms. Each team would be trading from a position of depth to address a weakness. And maybe it's not Andujar for Soroka. Maybe it's Andujar for Max Fried, or Andujar for Luiz Gohara, or Andujar for Ian Anderson. It could work though. There's a natural fit.
Asher asks: What impact, if any, do you think the new coaching staff has on the fact that their defense has been quite bad here in the early going?
Eh, hard to say this early. Sloppy defense doesn't reflect well on the coaching staff. Never does. I don't think we can start assigning blame at this point of the season though. Brett Gardner airmailed a cutoff man last week and Didi Gregorius threw away a fairly routine 6-3 ground out earlier this week, and those two are as reliable defensively as anyone. Is that on the coaching staff? Or just random baseball stuff? The Yankees are holding fielding practice this afternoon because the defense has been so sloppy, so the coaching staff is trying to get things straightened out.
Paul asks: With Andujar heating up, do you think Gleyber will be spending more time at 2B? How do you think he'll be used if and when he gets called up?
I don't really get why Torres is spending so much time at third base lately — he's started his last seven games at the hot corner now — but the Yankees have their reasons. They're probably comfortable with Torres at second base and want him ready to step in at third should Andujar get hurt before Drury returns. I have to think he'll get some more time at second base fairly soon, and whenever he does come up, second base seems like the obvious place to play him. Andujar is starting to come around at the plate and Drury is taking batting practice, so he can't be that far away. I'm very confident that, with enough prep time, Torres will be able to play any of the non-first base infield positions. He's a good athlete and a smart player. It's just a matter of finding what works best for the roster, not necessarily what works best for Gleyber, because everything is going to work for him.
Michael asks: On Monday night during the late inning defensive replacements, Boone opted to have Torreyes shift to short and Wade play second. Is that the stronger defensive alignment?
I don't think so. Wade is really good defensively. That isn't to say Ronald Torreyes is bad. It's just that Wade is better and he should play the more difficult position. This isn't like Brendan Ryan playing first while Derek Jeter plays shortstop (that happened!), but it doesn't seem like the optimal defensive alignment. In one individual game, it might not matter at all. Over the full 162-game season, I wouldn't advise Torreyes at short and Wade at second.
Vincent asks: Hypothetical: if Tyler Austin were sent down to the minors before he served his suspension, how do the rules address it?
He'd have to serve it whenever he comes back to the big leagues. There's no real way to game the system and avoid the suspension, or minimize the impact. At some point Austin will have to serve the suspension, forfeit however many days salary, and the Yankees will have to play shorthanded.