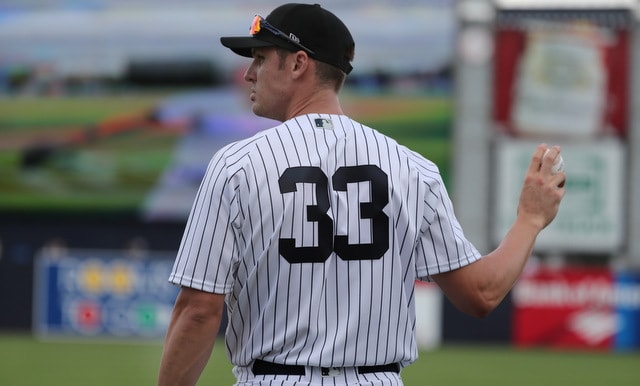 As expected, the Yankees have activated first baseman Greg Bird off the 10-day disabled list, the team announced. Aaron Boone confirmed yesterday the plan was to activate Bird today. To make room on the roster, the Yankees optioned utility man Ronald Torreyes to Triple-A Scranton. That part is not so expected.
Optioning Torreyes does make sense given the roster. The Yankees have Gleyber Torres to back up Didi Gregorius at shortstop, and Neil Walker can play the three non-shortstop infield positions. They have coverage all over. Also, Tyler Austin has authored a .273/.340/.591 (147 wRC+) line against southpaws. He can spell Bird against tough lefties.
On the other hand, I thought Austin was the obvious odd man out when the time came to activate Bird. He's limited to first base only and he's essentially unplayable against righties (.200/.250/.467 with a 43.8 K%). Furthermore, the Yankees are due to see a lot of right-handed pitchers the next two weeks. Doesn't seem like Austin will play much.
Torreyes is basically the perfect utility infielder. He gets the bat on the ball consistently and he's capable defensively all over the diamond, and he doesn't have to play regularly to stay sharp. We've seen Torreyes sit for a week, then come off the bench and get three hits. I'd rather have Torreyes on the bench than Austin, personally. (Or, you know, the Yankees could just do away with the barely used eighth reliever and keep both guys.)
That all said, this move has zero long-term consequences, and I imagine Torreyes will be the first guy called up when the Yankees suffer their inevitable next injury. Heck, he could be back after the minimum ten days if Austin doesn't play much and his performance suffers. Not the move I would've made. Not a huge mistake either.
As for Bird, his next game will be his season debut after having ankle surgery in Spring Training. He's missed an awful lot of time with injuries in recent years and we still don't know what he can do with regular playing time. Is he the guy who hit .190/.288/.422 (86 wRC+) last year? Or the guy who hit .261/.343/.529 (137 wRC+) in 2015? Hopefully he stays healthy and we find out this year.