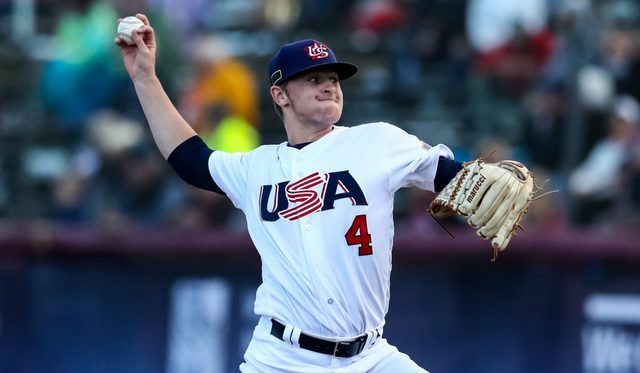 The 2018 amateur draft is now complete. A total of 1,214 players were picked these last three days, including 40 by the Yankees. Believe it or not, not one of those 40 is a Southern California kid. Crazy. It was a down year for SoCal overall, but I still figured scouting director Damon Oppenheimer would find someone he liked out there. Guess not. Anyway, here are my Day One and Day Two draft recaps. Let's review the Yankees' Day Three haul.
The Best Day Three Prospect
The best prospect the Yankees drafted yesterday is Louisiana HS RHP Landon Marceaux (37th round), who went into the draft as a potential top three rounds pick on talent. His commitment to LSU was considered borderline unbreakable, however, so I wouldn't count on the Yankees being able to convince Marceaux to turn pro. This was one of those "hey, we're interested in case you change your mind, otherwise we'll touch base again in a few years" pick.
Marceaux is a 6-foot-1 right-hander with excellent command and pitchability. He really knows how to work both sides of the plate and set hitters up. His fastball is mostly 88-92 mph right now and his best pitch is a snapdragon curveball. Add in a quality changeup and a slider, and you've got a kid who could come out of college as a first round pick in three years. It seems to me the Yankees have some extra bonus pool space to spend on a Day Three prospect. I really doubt they have enough to convince Marceaux to pass on LSU and turn pro though.
The Top Prep Catchers
Even after selecting George HS C Anthony Seigler and Texas JuCo C Josh Breaux in the first and second rounds, respectively, the Yankees really attacked their organizational weakness at catcher on Day Three. They drafted four more catchers in rounds 11-40, including two from the high school ranks with considerable upside. Will the Yankees sign either of them? We'll see.
Nevada HS C Austin Wells (35th) was one of the top high school catchers in the draft class thanks to his well-rounded skill set. The problem? He's been nursing an elbow injury all spring and hasn't been able to throw. When healthy, Wells has a cannon and he's very accurate. He can hit too. He's a lefty with some pop and a sound approach. Had he been healthy, Wells might've gone on Day One this year. Instead, it's likely he'll follow through on his commitment to Arizona, and he could be one of the top college catchers on the draft board in three years.
The other top prep catcher, Connecticut HS C Patrick Winkel (31st), is a very advanced receiver for a high schooler, especially one from a cold weather state. He's a very good thrower and he's had no trouble catching elite pitching in showcase events. Winkel can catch. It's unclear whether he'll hit. He has an uppercut swing from the left side and needs to iron that out, as well as develop more discipline. Winkel is committed to UConn and, like Wells, he was considered a tough sign going into the draft.
It's also worth noting the Yankees selected another prep catcher, Idaho HS C Alex Guerrero (18th), who is rough around the edges defensively but can really hit from the left side. Unlike Wells and Winkel, Guerrero is expected to turn pro. He told Michael Lycklama he is "99.999% sure" he'll sign. "It being the Yankees, it's a big deal … It's a crazy feeling to even be considered a part of that history," said Guerrero.
The College Bats
In an effort to find the next Steven Sensley, the Yankees grabbed several college position players with strong track records of performance on Day Three. George Washington 3B Isaiah Pasteur (13th) managed a .331/.398/.589 batting line with eleven homers and 31 steals in 57 games this spring, and when you add solid hot corner defense to the mix, you get one of the most intriguing college senior position players in the draft class.
VMI OF Matt Pita (12th) hit .389/.459/.721 with 14 homers and 23 steals in 53 games this spring, and Tennessee Tech OF Alex Junior (19th) put up a .326/.458/.494 batting line with seven homers. Bryant 1B Mickey Gasper (27th) hit .340/.468/.539 with eight homers in 56 games. Interestingly enough, Gasper was a catcher all four years in school, but the Yankees announced him as a first baseman. Hmmm.
West Virginia 2B Kyle Gray (14th) hit .374/.462/.677 with 14 homers and ten steals in 55 games this spring, and that's after hitting three home runs total in 110 games his freshman and sophomore seasons. Gray told Brett Barrett he adjusted his approached this year. "I've worked on having a better approach when it comes to certain counts, allowing fastballs to be driven the other way. That way I'm timing up off-speed when it shows up, and being able to keep it to the middle of the field," he said. Here's that new approach in action:
Kyle Gray gets one back! His team-high-tying 6th home run leads off the 4th.

B-4, OSU 7, WVU 3, 0 outs for Gonzalez

? https://t.co/LYijzeYSjx#HailWV pic.twitter.com/C78LUZiQsP

— WVU Baseball (@WVUBaseball) April 14, 2018
Gray showed good on-base ability and defense before this year's power breakout. The Yankees are betting a 14th round pick the power is here to stay. Not a bad idea. Pasteur, Pita, Gasper, Gray, and Junior are all expected to sign.
Arms of Note
The Yankees did not load up on power arms on Day Three like they have in recent years. At least not as much, anyway. The hardest thrower the Yankees selected yesterday is South Carolina JuCo RHP Tanner Myatt (11th), who stands 6-foot-7 and 220 lbs., and sat 94-96 mph this spring. He touched 99 mph and also showed a decent slider. He walked 16 in 26.1 innings though, so finding the plate is an issue.
Miami (Ohio) RHP Nick Ernst (15th) was on his way to being a Day Two pick this spring when his elbow gave out and he needed Tommy Johns surgery. He made only two starts before getting hurt. Before the injury, Ernst was working at 91-94 mph with a quality slider. I'm curious to see whether he takes the money now, or goes back to school and tries to rebuild stock next spring. The timing of the injury means he won't return until next April, so he won't have much time to showcase himself, plus his leverage will be low as a senior. We'll see.
The Yankees grabbed another Tommy John surgery guy in Vanderbilt RHP Justin Wilson (23rd), though Wilson had his surgery two years ago, and he returned to the mound this spring. Between the injury and a deep Vanderbilt staff, Wilson threw only six relief innings this year, which was apparently enough to convince the Yankees to draft him. Prior to the injury he worked in the low-to-mid-90s and had both a curveball and changeup. If he signs, Wilson could be a real nice late-round get for the Yankees. Vanderbilt doesn't recruit nobodies.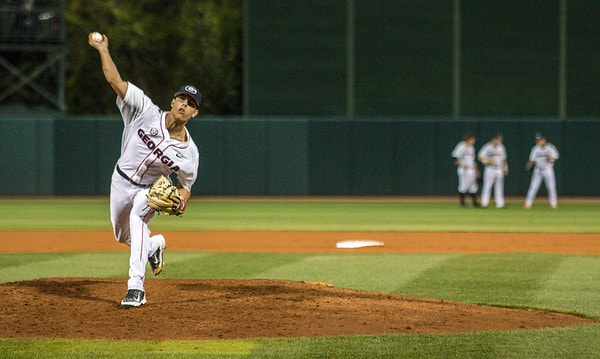 Georgia Southern RHP Blakely Brown (24th) is another guy who didn't pitch this spring, but not because of injuries. He transferred from Georgia and had to sit out the season due to the NCAA's dumb transfer rules. Brown reached the mid-90s on the regular and also showed a great curveball last time he actually pitched. Even with zero innings this season, the Yankees might be willing to pay Brown more now than he'd get as a senior next spring. Curious to see what happens here.
Florida HS RHP Jack Anderson (36th) and Florida HS LHP Brady Allen (39th) strike me as guys who are better off going to college than signing. Anderson has a good frame (6-foot-2 and 170 lbs.) and he's sitting mostly 87-89 mph right now, and neither his breaking ball nor his changeup are reliable pitches yet. Allen is also an upper-80s guy who is figuring out secondaries. Three years of college seems like the best thing for their development. Pro ball might be too much to ask right now.
The Rest of the Draft Class
Texas-San Antonio RHP Derek Craft (16th) is a fastball-slider reliever who went from 5.6 K/9 as a freshman and sophomore to 10.7 K/9 as a junior, so that's something to watch … Arkansas RHP Barrett Loseke (17th) has the type of control issues typically associated with a hard-thrower despite sitting mostly 90-92 mph … Tennessee Tech RHP Marcus Evey (20th) is mostly low-90s with okay feel for a breaking ball … British Columbia 3B Mitch Robinson (21st) has some pop and did catch a bit back in the day … Louisiana-Monroe RHP Keegan Curtis (22nd) and Dallas Baptist RHP Sean Boyle (25th) are college swingmen with good strikeout numbers … St. Mary's C Jackson Thoreson (26th) is a veteran senior catcher who will be asked to guide young pitchers in pro ball … Gardner-Webb RHP Tyler Johnson (30th) shows three pitches and could be a reliever-to-starter conversion candidate … North Carolina HS SS Sincere Smith (32nd) is a very athletic but raw baseball/football guy … Northeastern 3B Max Burt (28th), Stevens Institute RHP Chuck Ruegger (33rd), Belmont Abbey 2B Matt McGarry (34th), Boston College LHP Dan Metzdorf (38th), and Brown RHP Reid Anderson (40th) are all depth guys.
* * *
You can see all of the Yankees' picks here. The Yankees selected 40 players in the 2018 draft, 29 of them college kids. Nine were high schoolers and two came from the junior college ranks. Twenty-four of the 40 players are pitchers (21 righties), six are catchers, four are outfielders, two are second basemen, two are third basemen, one's a shortstop and one's a first basemen. While I don't think Seigler (or Breaux) was drafted to fill an organizational need, the Yankees definitely picked grabbed a good amount of catchers this draft. They're needed in the farm system.