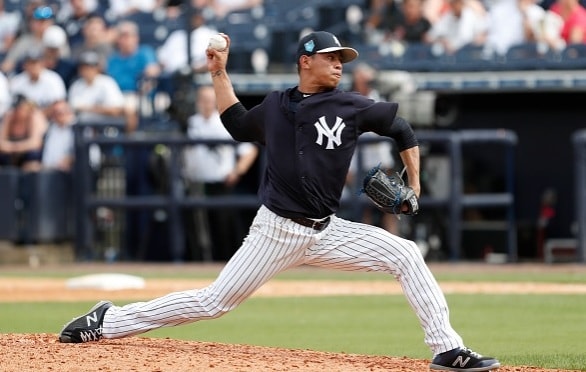 Earlier this week the Yankees played a doubleheader in Detroit, and if not for Sunday's rainout in Baltimore, they would've had to use a spot starter at some point. If not in the doubleheader than either yesterday or today. All the rainouts stink, but, in this case, it allowed the Yankees to avoid starting a minor league call-up.
The Yankees never did reveal the identity of the call-up starter, though, based on the schedule and the fact he's already had two stints with the Yankees this season, David Hale seemed like a good guess. He started and threw 6.1 innings for Triple-A Scranton last Wednesday, so he was lined up perfectly to start in the doubleheader. I thought it would be Hale.
It's possible, however, the Yankees had another — and much more fun! — idea in mind. Yesterday Double-A Trenton manager Jay Bell insinuated that right-hander Jonathan Loaisiga, a fast-riser in the farm system and my No. 5 prospect, was being prepped for a call-up in the days leading up to the doubleheader. From Greg Johnson:
"We were just giving him a little bit more time off, but there was a potential of some movement (in the system) there," manager Jay Bell said. "You can read between the lines."

…

"If I could tell you more, I'd tell you more," Bell said. "But I just don't know what I'm at liberty to talk about."
Loaisiga started for Double-A Trenton last night and was excellent again (5 IP, 1 H, 1 R, 1 ER, 0 BB, 8 K), and it was his first start in nine days, which is what Bell was referring to with the "just giving him a little bit more time off" thing. The Yankees were holding him back in case they needed him for the doubleheader, basically. Happens all the time.
I think Loaisiga's story is well-known by know, at least among RAB readers. He originally signed with the Giants way back in the day, they released him after some injuries, the Yankees signed him out of a tryout camp, and soon thereafter he needed Tommy John surgery. The 23-year-old returned with his new elbow ligament last season and has been electric since. This year he has a 2.30 ERA (2.40 FIP) with 31.6% strikeouts and 2.3% walks in 43 innings split between High-A Tampa and Double-A Trenton.
It's possible Loaisiga was only being held back as a backup plan, in case Hale couldn't go or something like that. Or maybe Loaisiga was Plan A all along. He's already on the 40-man roster, and while the Yankees do have an open spot, they may not have wanted to go through the process of re-adding then designating Hale yet again just to have him make one spot start. They've been down that road with him twice already this year. It's a hassle.
Given the way they've operated the last few seasons, I'm of the belief Loaisiga was indeed Plan A. They've been going young wherever possible, even in short-term injury fill-in situations. Giving Loaisiga a spot start in a doubleheader would've been aggressive — the kid had barely pitched in full season ball prior to this season — but the stuff is good and he's been pitching well of late, and if the Yankees think he's mature enough to handle it, why not? I'm not sure Loaisiga is ready for full-time MLB duty, but one spot start isn't the end of the world.
Sunday's (and I guess Thursday's as well) rainout eliminated the need for a spot starter in Monday's doubleheader and that appears to have robbed Loaisiga of the opportunity to make his MLB debut. Sucks, but you know what? The Yankees have more doubleheaders coming this season (lots more), and the fact Loaisiga was apparently even being considered for a call-up speaks volumes. The Yankees really like the kid and think he can help right now. And, if that is truly the case, he'll get a chance to pitch in the big leagues soon enough.