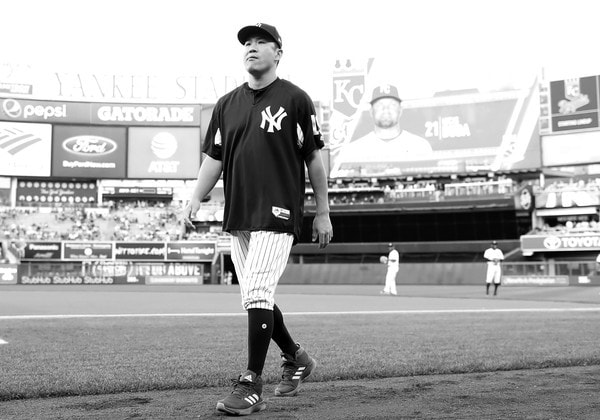 Goodbye trade deadline, hello actual baseball. The Yankees did not sneak in one last trade prior to this afternoon's deadline, though they made six deals in the last seven days, effectively swapping Brandon Drury, Adam Warren, and Chasen Shreve for Zach Britton, J.A. Happ, and Lance Lynn on the big league roster. Works for me. I was really hoping for that last minute Jacob deGrom blockbuster. Alas.
Anyway, the Yankees are back in action tonight, with the first of two against the Orioles. The O's really tore things down prior to the deadline. Adam Jones remains because he invoked his no-trade clause, otherwise Britton, Kevin Gausman (Braves), Brad Brach (Braves), Jonathan Schoop (Brewers), and Manny Machado (Dodgers) are all gone. No Schoop or Machado? Thank goodness for that. The Yankees won't miss them.
On the mound tonight is Masahiro Tanaka, who tossed a three-hit shutout last time out and has looked very good since returning from his dual hamstring strains. Getting the good version of Tanaka the rest of the season would be like trading for an impact pitcher. At his best, Tanaka is a true difference-maker and a pleasure to watch. Go beat up on the skeleton crew the O's are sending out there tonight, boys. Here are the lineups:
New York Yankees
1. LF Brett Gardner
2. RF Giancarlo Stanton
3. SS Didi Gregorius
4. CF Aaron Hicks
5. 2B Gleyber Torres
6. 1B Greg Bird
7. 3B Miguel Andujar
8. DH Neil Walker
9. C Kyle Higashioka
RHP Masahiro Tanaka
Baltimore Orioles
1. SS Tim Beckham
2. 2B Jace Peterson
3. CF Adam Jones
4. DH Mark Trumbo
5. 1B Chris Davis
6. LF Trey Mancini
7. RF Joey Rickard
8. 3B Renato Nunez
9. C Austin Wynns
RHP Yefry Ramirez
It is cloudy and humid in New York and there is rain in the forecast later tonight. Shouldn't be anything that interrupts the game unless it goes to extra innings, which I hope aren't necessary. Tonight's game will begin at 7:05pm ET and you can watch on YES. Enjoy the game.
Injury Update: J.A. Happ has contracted hand, foot, and mouth disease and was sent home today. For real. That's what we get for making fun of the Mets. Brian Cashman called it a "mild" case and Happ is still scheduled to start Saturday. I assume Lynn would fill in if Happ can't go.
Roster Move: Welcome back, Ryan Bollinger. The journeyman southpaw was called up today to replace Adam Warren. Lynn has not arrived yet, so Bollinger is the placeholder. He was scheduled to start for Double-A Trenton today, so he's available for super long relief, but again, I hope it's not necessary. Bollinger spent one day on roster when the Yankees were in Texas back in May. Today is his second day as a big leaguer.