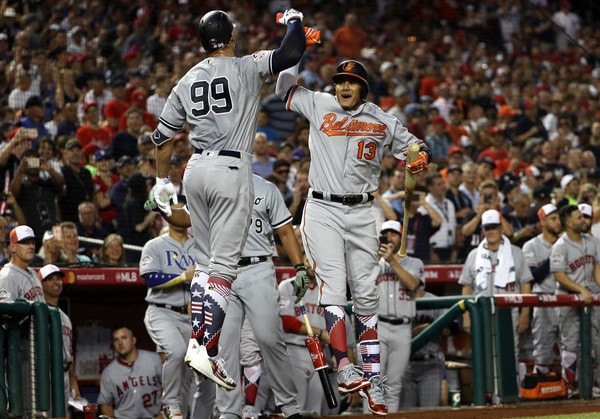 For the sixth consecutive season, the American League has won the All-Star Game. The AL won Tuesday night's Home Run Derby All-Star Game thanks to Alex Bregman's and George Springer's back-to-back homers off Ross Stripling in the tenth inning. Bregman was named MVP. The final score was 8-6, and here are the box score and video highlights.
All told, an All-Star Game record ten homers were hit Tuesday night. Ten! The previous record was six, done three times (1951, 1954, 1971). Weird how a game with so many great pitchers had so many home runs and basically no sustained rallies with singles and walks and bunts. Hmmm.
Anyway, Aaron Judge hit the first of those ten home runs. He opened the scoring with a second inning solo home run against Max Scherzer. The best part? Luis Severino caught the home run ball between warm-up pitches in the bullpen. Check it out:
Awesome. Judge is the first Yankee with a hit in the All-Star Game since Derek Jeter went 2-for-2 in his final All-Star Game in 2014. Yankees had been 0-for-10 between Jeter's hit in 2014 and Judge's homer in 2018. Also, Judge is the first Yankee to hit a home run in the All-Star Game since Jason Giambi took Billy Wagner deep in 2003.
Judge went 1-for-2 with a walk in the All-Star Game. He took Scherzer deep, drew a walk against Mike Foltynewicz, and grounded out against Jeremy Jeffress. Judge wasn't tested with anything beyond a routine play in left field. Nothing difficult at all. Judge went 0-for-3 in last year's All-Star Game.
As for Severino, he pitched the second inning for the American League and allowed a leadoff double to Matt Kemp, but was able to escape the inning unscathed with a strikeout (Bryce Harper), a fly out (Nick Markakis), and a strikeout (Brandon Crawford). He did not pitch in last year's Midsummer Classic.
Both Aroldis Chapman and Gleyber Torres were selected to the All-Star Game but were not eligible to play. Chapman withdrew due to his achy left knee and Torres is on the disabled list with a hip problem. Gleyber did run the bases before the game. He's going to Tampa tomorrow to ramp up his rehab work.
Now that the All-Star Game is over, we can begin to look forward to the second half. The Yankees will open the second half Friday night at home against the Mets. Domingo German and Noah Syndergaard are the scheduled starting pitchers for that one.