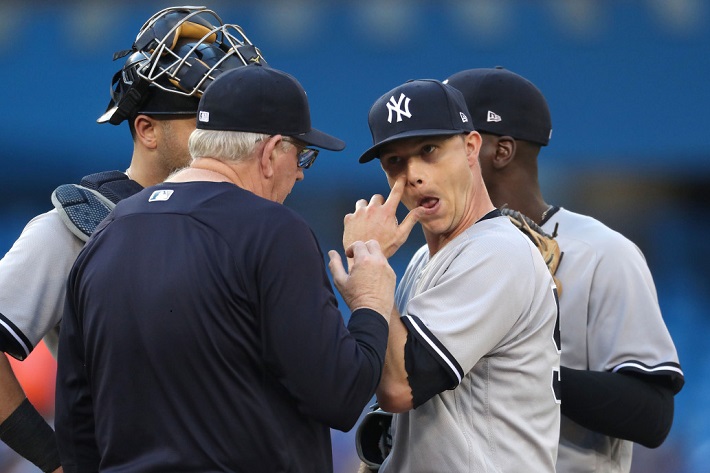 Go back far enough into the archives of my posts–whether here, TYA/IIATMS, BBD, wherever–and you'll find things that I was wrong about, probably a lot of things. If you're a Twitter follower of mine (sorry about the private account, all), you'll likely be able to find similarly wrong things…probably even more wrong things, given the volume of tweets. Such is life when you write on the internet. Such is life when you write about baseball on the internet, a sport that's more humbling than just about any out there. What's the old adage? You can fail seven out of ten times in baseball and still be one of the best.
Enumerating the things I've 'failed' on in the last ten years of online baseball writing and tweeting would probably take almost ten years. Between the hot takes, the proclamations, the recommendations, the analysis, the writing I haven't liked in retrospect, I've hit a bunch of snags along the way. Two things I've gotten wrong in 2018, though, are Sonny Gray and Neil Walker.
I've long been a proponent of the Sonny Gray trade. It was a good price for a good pitcher and he helped down the stretch in 2017. Even now, it's a trade I'll defend. Dustin Fowler is playing better of late–up to a 99 OPS+–but Jorge Mateo has a .634 OPS…in AAA. James Kaprelian still hasn't pitched for the A's organization. This is a trade that made sense at the time and still makes sense now, even if Gray is, well, doing what he's doing.
As an infield depth signing, Neil Walker's made a ton of sense. He can play all around the infield and even the outfield in a pinch. He's a switch hitter with some patience and some pop. To boot, he came on the cheap, thanks to the fouled up free agent market of this past winter. He is–or was–the perfect insurance policy. But it hasn't worked out that way.
For reasons that get beyond the purpose of this post, both of these players are putting up the absolute worst seasons of their careers. Each has had moments, but consistently good play–on the mound or at the plate–has been elusive for Sonny Gray and Neil Walker. Luckily for the Yankees, just about everyone else has sustained high-quality play for most of the season and the team has ridden that to success; the Yankees are clearly one of the best teams in all of baseball.
The season isn't over for either one of these players. Gray still has a track record to fall back on and has good enough stuff that he can recover. The Yankees have stuck by players going through troubles recently–Didi Gregorius, Aaron Hicks, Dellin Betances–and those players didn't cost what Gray cost. If they did it for them, they'll do it for Gray. with Gleyber Torres being out, Neil Walker has a chance to step back into a role and re-elevate his play. No, he won't be the second baseman as soon as Torres is healthy, but he can help buoy the position and the lineup spot (along with Brandon Drury and Tyler Wade).  With the season just past its halfway point, we haven't quite hit the 'seven out of ten' failure mark for Gray and Walker; there's still time for them to prove the first half of this season wrong and prove me right.