All things considered, that was the most satisfying win of the season, was it not? The Yankees answered Saturday night's beatdown with an 11-1 dismantling of the Red Sox on Sunday night. Everyone up and down the lineup did damage. Even the dudes who came off the bench in garbage time had base hits. This was Game 81, so the season is exactly halfway complete, and the Yankees are 54-27 with the best winning percentage in baseball. Fun season, eh?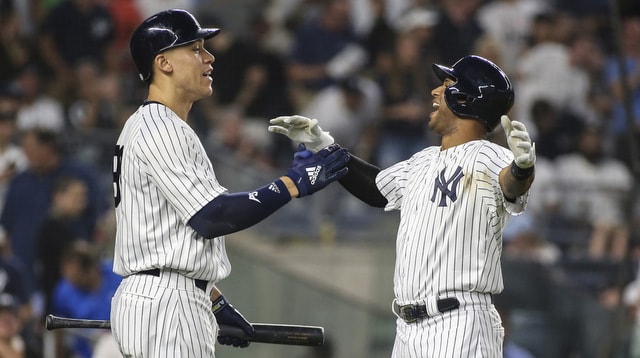 Too Many Homers? There's No Such Thing
You wouldn't've been able to tell based on Sunday night, but, going into this game, David Price had pitched to a 2.65 ERA (3.26 FIP) and a .213/.270/.350 opponent's batting line in his last eight starts and 51 innings. Once again though, the Yankees had their way with Price on Sunday night, tagging him for eight runs and five homers (!) in 3.1 innings. Too bad the carpel tunnel syndrome didn't act up?
After that ugly game Saturday, I was hoping the Yankees would come out right away and put up a fight in the first inning, and they did that and more. Aaron Hicks grounded out on the seventh pitch of his at-bat to begin the bottom of the first inning, then the Bronx Bombers went to work. Let's recap that four-run first inning with an annotated play-by-play.
(1) A few days ago I wrote about pitchers attacking Aaron Judge inside over the last few weeks, and the result has been a bunch of (hard hit) grounders to the left side. That certainly continued this weekend, and Price again tried to bust Judge inside with a heater in the first inning, but Judge is starting to make the adjustment. He pulled his hands in and managed to inside-out this pitch …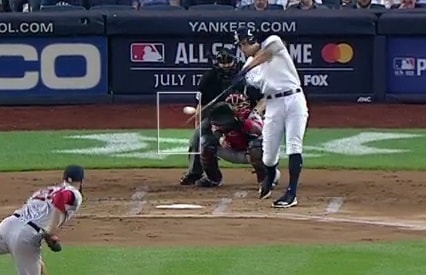 … into Monument Park for a solo homer and a 1-0 lead. Here's a different angle: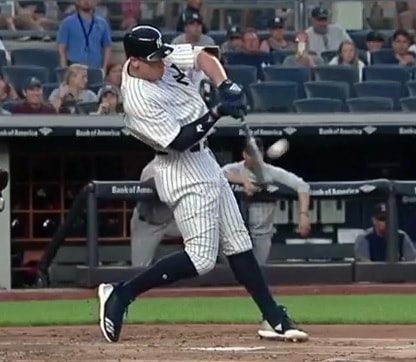 I know the screen grab isn't great, sorry about that, but you can see Judge has his hands tucked tight to his body. Derek Jeter is going to the Hall of Fame because he could do that and poke singles the other way. Judge does it and he homers to dead center. I'm telling you, Judge doesn't get nearly enough credit for being such a great pure hitter because he's so big and he hits so many homers. If he were like, five inches shorter, he'd hit .340.
(2) I hereby declare Giancarlo Stanton: Locked in. He hit .298/.373/.577 (155 wRC+) in June, and, in his first at-bat of July, he rocked a 119.8 mph single through the infield to left field. The jacked up ESPN field mics made it sound like the ball was shot out of a cannon. Stanton got under a ball in his second that I thought was going to land on the moon off the bat. Looked real good. But he just missed it. Alas. Giancarlo split the gap with a 115.8 mph double in the fourth inning. He went 2-for-4 with the double on Sunday night to raise his season batting line to .266/.340/.506 (128 wRC+). NBA Jam voice: "He's heating up!"
(3) For the second time in the series, Didi Gregorius pulled a ball to right field with authority against a left-hander. He's had some trouble against southpaws this season — Gregorius went into this game hitting .244/.298/.349 (77 wRC+) against lefties — but that's the second time in the series he dropped the barrel and hammered a ball to right. This one sailed over Mookie Betts and put runners on second and third with one out. The Yankees were in business.
(4) Second and third with one out? I was hoping Gleyber could shoot a single to right-center field to get the two runners home. A sacrifice fly would've sufficed as well. I just wanted Torres to get a run home. Price was on the ropes and I wanted the Yankees to cash in. So, naturally, Gleyber cranked a first pitch three-run homer into right field. Okay then. Judge pulled his hands in to hit a high fastball. Gleyber went down to drive a low heater the other way.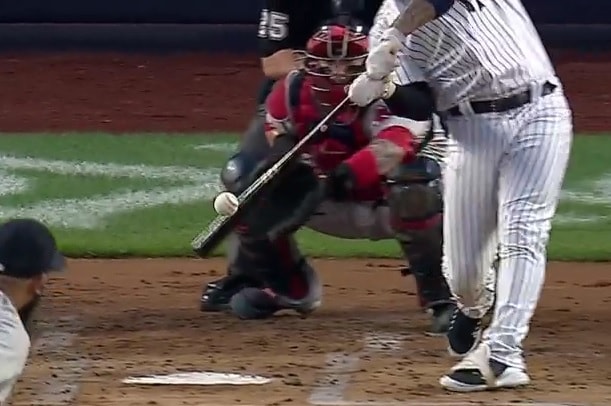 Pretty incredible. Even in tiny Yankee Stadium, right-handed hitters aren't supposed to be able to drive a pitch in that location the other way with authority. That goes double for a 21-year-old rookie with two months in the big leagues. Five batters into the game, the Yankees had one ground out (Hicks) and four absolute rockets. The exit velocities:

Lordy. Price was shook. Pace was terrible, body language was terrible. You could tell he wanted nothing to do with being on the mound at Yankee Stadium against this Yankees lineup. Oh, and before I forget, Torres has more three-run home runs than any other player in baseball this season. The leaderboard:
Gleyber Torres: 6
Jose Martinez: 4
Khris Davis: 4
Francisco Cervelli: 4
Bunch of dudes tied with 5
The home run barrage continued in the second inning (Hicks two-run homer) and fourth inning (Hicks and Kyle Higashioka solo shots). First time in Price's career he allowed four homers in a start and, needless to say, also the first time he allowed five homers in a start. An 8-0 lead with one out in the fourth? That'll do just fine, boys.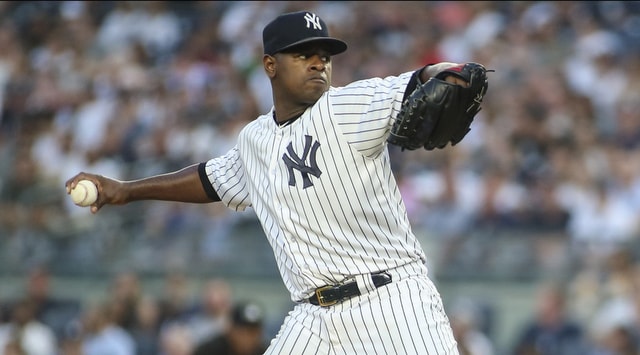 "I'm Not Scared Of Anybody"
Sunday night's game was the opposite of Saturday night's game. David Price played the role of Sonny Gray and Luis Severino played the role of Chris Sale. Severino was dominant, holding the BoSox to two singles and three walks in 6.2 shutout innings. The ESPN cameras showed Severino chatting with Aaron Boone and lobbying to stay in the game after the sixth inning, and with his pitch count at 92, Boone let him go back out to get two more outs and get his pitch count to 99. Ain't mad about it.
Only once did Severino face something remotely resembling a jam. With his team already up 6-0, Severino walked Betts and allowed an opposite field single to Andrew Benintendi with two outs in the third. That brought J.D. Martinez to the plate with a chance to cut the deficit in half with one swing. It was a battle too, man. Severino fell behind in the count 2-0, worked it back 2-2, then Martinez ran the count full. The 3-2 changeup was NSFW: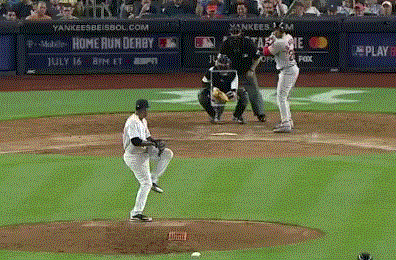 Swooooon. What a gutsy pitch. But, as Severino said following his dominant start against the Phillies earlier this week: "I'm not scared of anybody." Sure didn't look it Sunday. Severino cut through a very good Red Sox lineup and he made it look awfully easy at times. Starting with that Martinez strikeout to end the third inning, Severino retired 12 of the final 14 batters he faced, and only two of those 14 batters hit the ball out of the infield. The updated AL ERA leaderboard:
Luis Severino: 1.98
Justin Verlander: 2.12
Blake Snell: 2.24
Chris Sale: 2.41
Trevor Bauer: 2.45
Two years ago on this date, Severino was in Triple-A trying to earn his way back to the big leagues because he stunk so much earlier in the season. Now he's an unquestioned ace, through and through. Sunday's line: 6.2 IP, 2 H, 0 R, 0 ER, 3 BB, 6 K, 10/4 GB/FB on 99 pitches. This was an ace going out and taking over an important game against a division rival. What a long way this young man has come since being demoted to Triple-A two years ago.
Hicks To The Sticks
In last Friday's chat, someone asked me to name center fielders better than Hicks other than Mike Trout, Lorenzo Cain, and George Springer, and I had a hard time coming up with an answer. Maybe Odubel Herrera and Charlie Blackmon? That's pretty much it, I guess.
Anyway, the point is Aaron Hicks has been really good overall this season, and he had a career game Sunday night. Three homers! Against the Red Sox! And he went deep from both sides of the plate! Hicks hit a two-run shot against Price in the second, a solo homer against Price in the fourth, and then he hit another solo homer against righty Hector Velazquez in the eighth. To the action footage:
Hicks is the first Yankee with a three-homer game since Alex Rodriguez in Minnesota on July 15th, 2015. He's only the third Yankee with a three-homer game against the Red Sox, joining Mark Teixeira and Lou Gehrig. These two teams have been playing each other since the dawn of time and, even with all the historically great players who've worn pinstripes, only three times has a Yankees had a three-homer game against the Red Sox? Amazing.
Hicks went 3-for-4 with a walk and three homers Sunday night, raising his season batting line from .249/.337/.458 (117 wRC+) to .258/.346/.502 (131 wRC+). Not easy to add 53 OPS points and 14 wRC+ points in one night in July, but Hicks did it Sunday. And, by the way, the only center fielders with a higher WAR than Hicks (+2.4) right now are Trout (+6.3) and Cain (+3.3). So I guess the answer to Friday's chat question is no one.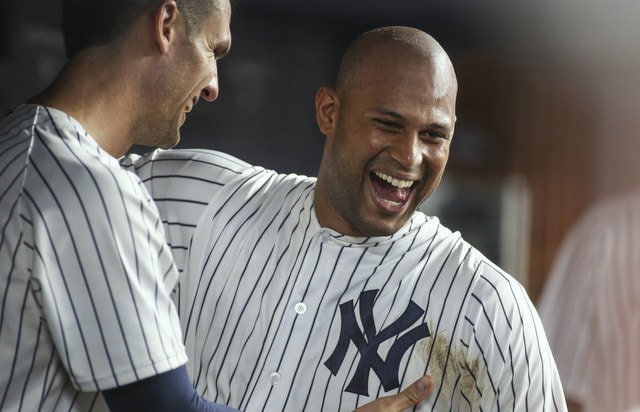 Leftovers
Because they hadn't pitched since Monday, I had a feeling we would see Dellin Betances and Aroldis Chapman no matter what Sunday night. David Robertson struck out two in a clean inning following Severino, Betances struck out the two batters he faced, and Aroldis Chapman allowed a run on two singles and a ground ball in the ninth to ruin the shutout. Lame! He looked kinda rusty and needed the work though. Good thing he was able to work through out it with a nice big lead.
A season high tying 16 hits for the Yankees — the 16 hits are their most in a nine-inning game this season — and only three strikeouts too. The Yankees have struck out no more than three times only four times this season. Once was this game and once was Friday night's game. Also, the Yankees scored double digit runs for the first time in more than a month. Since the final game of the Texas series on May 23rd. Good game for the offense.
And finally, congrats to Higashioka for picking up his first career hit and doing it in style, with a home run into the left field second deck against Price, a brand name and a former Cy Young winner. Here's the video:
Great call by Matt Vasgersian too. Higashioka had been 0-for-22 in his career prior to that at-bat. He's got pop though.
Longtime DotF readers know what
.
Box Score, WPA Graph & Standings
ESPN has the box score and updated standings, MLB has the video highlights, and we have a handy dandy Bullpen Workload page. Here's the win probability graph:

Source: FanGraphs
Up Next
The final home series before the All-Star break, if you can believe that. The (first place!) Braves are coming to town for a three-game set. Jonathan Loaisiga and Anibal Sanchez are the scheduled starters for Monday night's series opener. Didn't even realize Anibal is still pitching. Good for him.