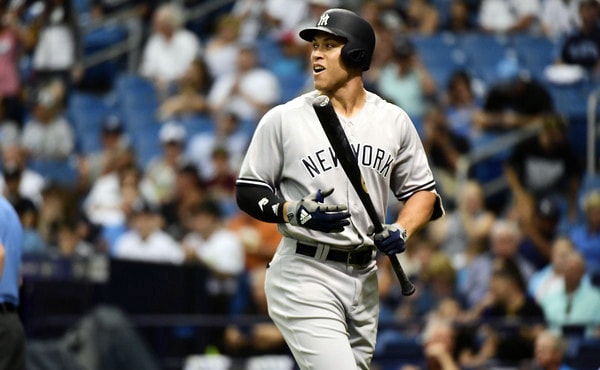 By any measure, Aaron Judge is in the middle of a fantastic season that will land him in the All-Star Game next month and earn him MVP votes after the season. Both versions of WAR have him as a top five position player, and, simply put, Judge has been the best player on the team with the best record in baseball. He's been incredible.
Also, by almost any measure, Judge is having an inferior season to last season, when he set a new rookie home run record and led all players — position players and pitchers, rookies and veterans — in the FanGraphs version of WAR. The numbers:
2017: .284/.422/.627 (173 wRC+)
2018: .277/.397/.553 (158 wRC+)
Aaron Judge is great! He has been slightly less great this year than last year, that's all. And that's not the most surprisingly thing in the world, is it? Judge was so outrageously good last year that it would've been real tough to maintain or even improve on that performance.
Going into last night's game Judge was hitting .244/.333/.500 (122 wRC+) in June after managing a .291/.421/.582 (173 wRC+) batting line in the season's first two months. A down June isn't the end of the world — and of course a down June for Judge is a great month for most players — though I have noticed pitchers have been attacking him differently in recent weeks. Specifically, pitchers are starting to crowd him inside.
Here are heat maps showing the pitch locations Judge has seen each month so far this season. This is everything (righties, lefties, fastball, breaking balls, etc.) because it's seemed to me everyone is doing it. Righties and lefties are pitching him inside with a variety of pitches. It not just right-handed fastballs or something like that. The heat maps: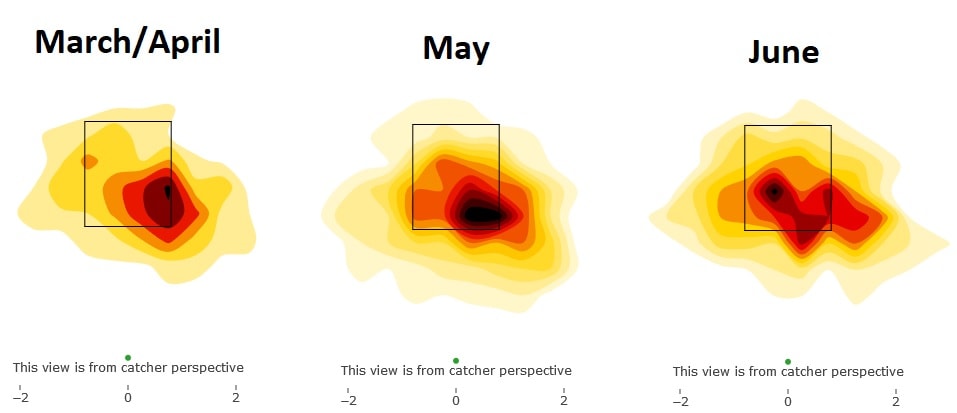 The dark red splotch, which represents where pitches are most heavily concentrated, has gradually shifted from the outside corner to the inner half this season. It is entirely possible this is all sample size noise. There are only 20-something games in a given month and hey, maybe the Yankees just so happened to see a lot of pitchers this month who are comfortable pitching in on righties. It happens.
That is possible, sure, though I think this is more likely the league is making an adjustment to Judge. Last year they started attacking him with high fastballs, it worked for a while, and eventually Judge adjusted back. Now they're pitching him inside. Judge is a big dude with long arms and massive power. Teams don't want him extending those arms, so they're now going inside. Makes sense, right?
Given the relative drop in production this month, crowding Judge inside seems to be working to some degree. More important than the batting line though is the change in Judge's batted ball profile. He's been pulling a ton of ground balls to the left side of the infield in June. Look at this: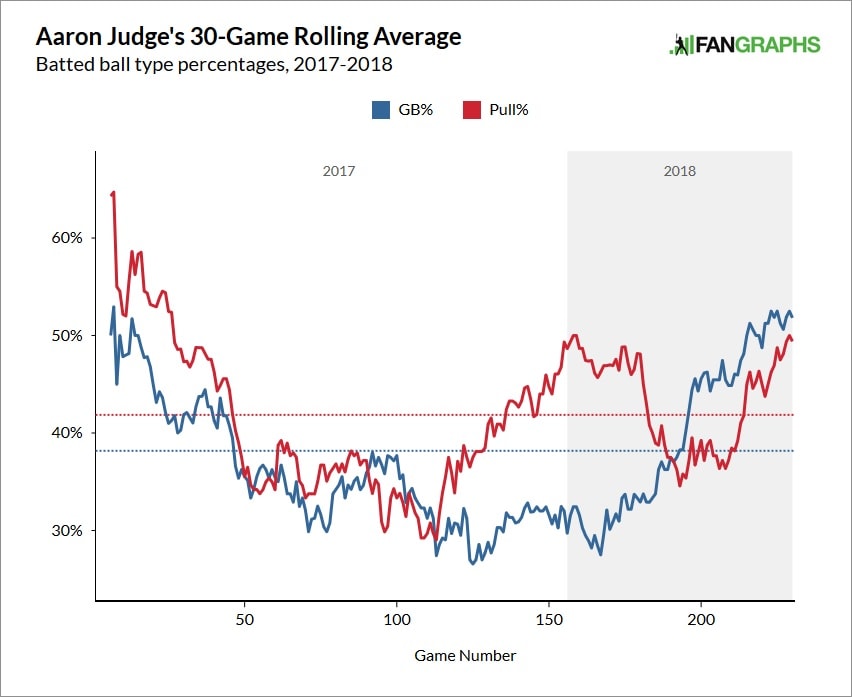 Judge's ground ball rate went from 33.3% in April to 49.2% in May to 51.9% in June. Those last two numbers are the two highest single-month ground ball rates of his career. Judge's pull rate has gone from 38.1% in April to 41.3% in May to 51.9% in June. Judge pulled 53.8% of balls in play last April, otherwise in no month has he ever pulled as many balls as he has in June. His career is relatively young, though right now he's pulling more grounders than ever before.
Because he had the shoulder surgery over the winter, any significant change in batted ball profile is a red flag, though in this case it seems obvious to me the uptick in pulled grounders stems from pitchers attacking Judge inside. They're crowding him inside, he can't extend his arms, and the result is a bunch of (hard hit) grounders to the left side. I'd be more worried if Judge were being pitched the same way and still pulling everything on the ground. (His 53.7% hard contact rate this month is excellent, so hitting the ball hard isn't a concern.)
I'm not hitting coach and I have no idea how Judge can counteract the sudden bevy of inside pitches. Moving off the plate a tad could work, though that'll make him more susceptible to pitches away. Whatever the solution, I trust that Judge will figure it out. He's a great hitter who's shown, really since the day he was drafted, that he has incredible aptitude for making adjustments. It might not happen quick, but I trust that it'll happen eventually. And once it does, pitchers will come up with another way to attack him. It's all part of the cat-and-mouse game of baseball.