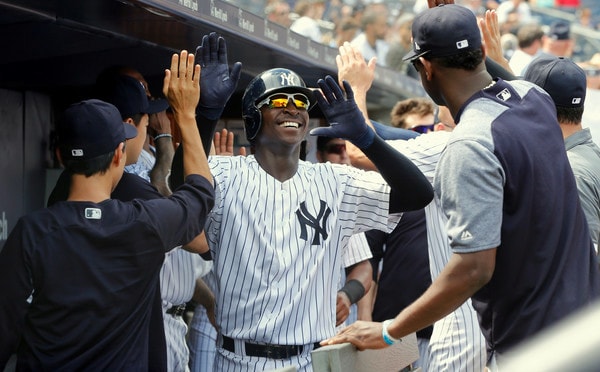 Yesterday afternoon, the Yankees won for the sixth time in their last seven games, and they did so thanks in large part to shortstop Didi Gregorius. He socked a two-run dinger to blow the game open, and also made several excellent defensive plays. Didi had five balls hit at him yesterday and I don't think one was routine.
This is my — and surely yours as well — favorite Gregorius play from yesterday's game. Probably the team's best defensive play of the year, no? Delino DeShields Jr. can fly and Didi still got him by a step.
"Oh, man. He did it all," said Aaron Boone to
Mandy Bell
after the game. "I told him, when he went to the ground with DeShields, I'm like, 'No, no, can't go to the ground.' And then he pulls it off and I think I left the top of the dugout. He made some unbelievable plays all day. Obviously a couple hits, big homer, he's a really good player."
This has been a very up and down season for Gregorius to date. He had that insane April, followed it up with a miserable May, and since the start of June, Didi has settled in as a reliable and consistent producer. Since June 1st he's hitting .294/.350/.483 (126 wRC+) with ten homers in 264 plate appearances, giving him a .270/.334/.481 (118 wRC+) batting line overall. A graph: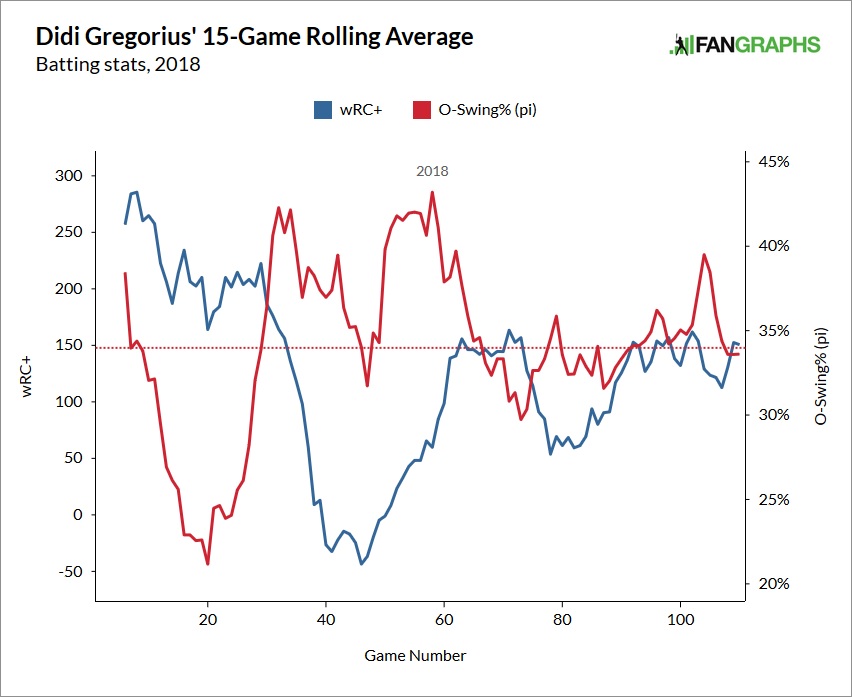 Gregorius didn't chase out of the zone in April and his production was through the roof. Then he started swinging at everything in May, and his performance cratered. Since the beginning of June, Gregorius has found that happy medium. His 42 walks are far and away a career high — his previous career high was 33 walks in 2015 — and he's the first shortstop in franchise history with 20+ homers in back-to-back-to-back seasons.
"It's been since he got here and taking over for who he took over for, and being able to have three 20-homer seasons in a row, it's just incredible," said CC Sabathia to Coley Harvey yesterday. "If he wouldn't have came in and did what he did the last three or four years, we'd still be talking about Jeet and how we need leadership and all that stuff. But he's erased that. So you've got to give him credit for that."
I don't like squeezing Gregorius between Aaron Judge and Giancarlo Stanton in the lineup, but Judge has been sidelined for almost three weeks now, and Didi has helped pick up the slack as a middle of the order bat. Since Judge went down Gregorius has gone 18-for-58 (.310) with three home runs and more walks (eight) than strikeouts (five). He hits good pitching, bad pitching, fastballs, breaking balls, you name it.
"He's just really steady. He's really a go-to guy for us," Boone added. "There's just kind of a blue-collar, lunch pail (approach). He's tough. He's able to play through things. He's durable. There's a calm about him. There's a 'I want the ball hit to him' kind of feeling about him. But he doesn't get too high or too low emotionally. He kind of brings the same attitude. There's a way he goes about playing the game that I just have a lot of respect for."
Didi was, truly, the first player acquired as part of the Yankees' recent youth movement. They brought him in to replace Derek Jeter, helped him develop into the player he is today, and have built around him from within (Judge, Gary Sanchez, Luis Severino, Miguel Andujar) and through trades (Stanton, Aaron Hicks, Gleyber Torres). Make no mistake though, Gregorius ushered in this new era and he remains an important core player.
The Yankees have a decision to make next year regarding Didi's future with the team — he'll become a free agent following the 2019 season — but that's not worth worrying about now. The Yankees are on pace to win 102 games this year and they have as good a chance to win the World Series as any other team. And to do that, they'll need Gregorius to continue to perform like he has since June, after shaking off that miserable month of May.