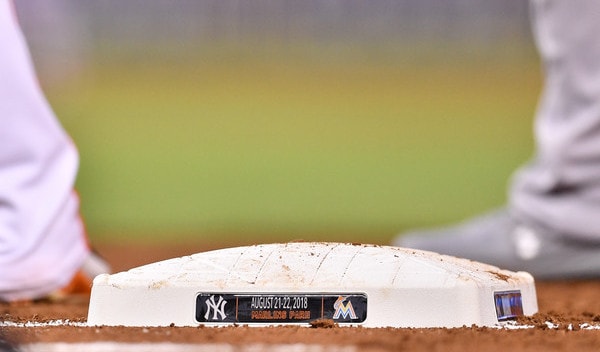 At long last, the Yankees are done with interleague play. Or they will be after tonight's game. It amazes me there are people who enjoy watching pitchers hit. Hit is being generous too. Pitchers are hitting .113/.142/.144 (-26 wRC+) in 4,078 plate appearances this year. Imagine how many more runs would be scored and how much more excitement there would be with a universal DH.
Well, anyway, the Yankees and Marlins wrap up this quick two-game series tonight. Hopefully this one doesn't take another 12 innings. The Yankees have won four straight games and tonight they'll try to accomplish two things. One, clinch their first five-game winning streak since an eight-gamer in early May. And two, set a new high water mark at 34 games over .500. Win a game, win the series, enjoy the off-day tomorrow. Sounds like a plan. Here are the lineups:
New York Yankees
1. LF Brett Gardner
2. RF Giancarlo Stanton
3. CF Aaron Hicks
4. 3B Miguel Andujar
5. 2B Neil Walker
6. SS Gleyber Torres
7. 1B Greg Bird
8. C Austin Romine
9. RHP Lance Lynn
Miami Marlins
1. RF Rafael Ortega
2. C J.T. Realmuto
3. 3B Brian Anderson
4. 2B Starlin Castro
5. 1B Derek Dietrich
6. LF Austin Dean
7. SS Miguel Rojas
8. CF Magneuris Sierra.
9. RHP Trevor Richards
It is a hot summer day in Miami. Very hot and humid. The Marlins Park roof will surely be closed. Tonight's game will begin at 7:10pm ET and YES will have the broadcast. Enjoy the game.
Injury Update: In case you missed it earlier, Aroldis Chapman was placed on the 10-day DL with left knee tendinitis. Chapman will see the doctor tomorrow for further evaluation. The hope is he'll miss the minimum ten days. Chance Adams was called up to fill the roster spot … David Robertson (shoulder) is doing better. The Yankees would like to stay away from him with the off-day tomorrow, but it sounds like he is available if necessary.
Rotation Update: The Yankees have not yet announced a spot starter for Saturday's doubleheader in Baltimore. Aaron Boone mentioned Adams and Sonny Gray as starter candidates. Luis Cessa is lined up to pitch that day as well. So it could be anyone, basically.