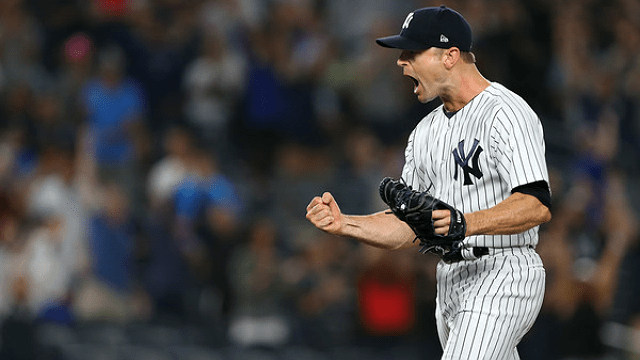 The Yankees have now said goodbye to David Robertson for the second time in the last four years. Robertson, drafted by the Yankees in the 17th round of the 2006 Amateur Draft, inked a two-year, $23 million contract (with a $12 million team option in 2021) with the Philadelphia Phillies on Thursday. Because Brian Cashman has made bolstering the team's already dominant bullpen a top offseason priority, we can expect another top arm—but it's also clear that the Yankees will miss D-Rob in 2019 and beyond.
The Yankees have had baseball's best bullpen (judged by fWAR) in both 2017 and 2018, and David Robertson played a key role in that success since returning to the Yanks in a blockbuster deal midway through 2017. Robertson may have seemed less than his usual self in 2018, with a 3.23 (75 ERA-) in 69.2 innings, but a closer look at his peripherals shows that there are good reasons to assume that the Phillies just signed one of baseball's best relievers.
While his ERA was a bit higher than we've come to expect, his peripherals remained as strong as ever: his K% (32.2), BB% (9.2), HR/9 (0.9), LD% (17.4), GB% (45.3) and FB% (37.3) were all in line with his career averages. Opponents hit .183/.258/.337 off of Robertson in 2018, again either in line with or lower than career norms. He did strand fewer men on base (67.5%) than normal (76.3%), but based on the underlying data, I think we can expect that to correct in 2019.
His stuff, too, remained as sharp as ever. Robertson embraced the Yankees' anti-fastball approach, for the first time throwing more curveballs than fastballs in 2018, and gradually added a slider to his repertoire. That helped mitigate the fact that his fastball has become less effective over time—even as its velocity has increased (92.6 MPH average in 2018 compared to 91.2 MPH in 2008). This changed approach worked, and it ensured that D-Rob remained one of baseball's most effective bullpen arms in 2018.
The ability to effectively make mid-career adjustments like this—especially for a reliever on the wrong side of 30—is a rare skill, and it goes a long way toward explaining why Robertson has managed to be so consistent over his 9-year career. He has thrown at least 60 innings per year since 2010 (he threw 43.2 in 2009, his first real year as a big leaguer), and during that stretch, he has not struck out less than 10 men per 9 innings, surrendered more than 1 home run per 9 or posted an ERA- above 90 (which is the highest of his career and, it's worth noting, happened back in 2010). Amid the consistent success, he has posted 3 truly dominating years in relief in 2011, 2013 and again in 2017.
Consistent success out of the pen, too, is a rare skill. Think of Tommy Kahnle, who often looked unhittable in 2017 but was unplayable in 2018. There's a reason that relievers are so closely associated with fungibility, which makes the most consistent and irreplaceable among them worthy of larger contracts—and as the league becomes increasingly bullpen-centric, that applies even for non-closers like Robertson.
While it is true that past success does not guarantee future success and also that relievers are consistent until they're suddenly not, there is nothing in Robertson's peripherals or past performance that suggests he will suddenly lose his effectiveness. He is about as safe a bet to log another above-average season as any reliever in baseball, and he is only one year removed from posting a 42 ERA-.
It's also worth noting that Robertson's contract structure, in which he will earn $10 million in 2019, $11 million in 2020 and, if Philly picks up his team option, $12 million in 2021 ($2 million buy out) means that he will earn the same salary in 2019 as Jeurys Familia and less than Andrew Miller. Robertson is a significantly better pitcher than Familia by almost any advanced metric and Miller, who was the best reliever in baseball for a recent stretch, has been plagued by injuries and ineffectiveness.
That suggests that Robertson, who represented himself in free agency, will likely be underpaid in Philadelphia. That itself raises questions about why the Yankees were not more aggressive in trying to retain his services. In fact, the two camps were barely connected at all this offseason, aside from a (conveniently-timed) story about Robertson denying clubhouse staff their typical postseason shares.
Jon Heyman reports that the Yanks would like to bring back Zach Britton, and they've been consistently connected with former Rockie Adam Ottavino as well. Both are fine options that would make the current version of the Yankees bullpen better, but it is worth noting that the Yanks had both Robertson and Britton last year. In other words, unless they sign both Britton and Ottavino, it is likely that the Yankee bullpen just got worse—yet again leaving fans to wonder if management actually wants to field a winner above all else.