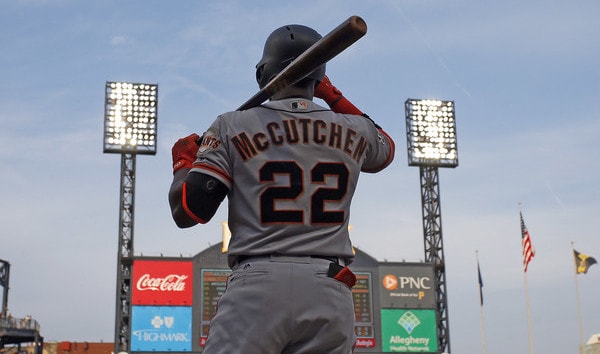 Friday: It's a done deal. The trade has been announced. The Yankees get McCutchen for infielder Abi Avelino and righty Juan De Paula. Also, Jon Heyman says San Francisco will pay half the $2.4M owed to McCutchen the rest of the season. He's a rental and because the trade went down before tonight's 11:59pm ET deadline, McCutchen will be postseason eligible.
DePaula, a soon-to-be 21-year-old, came over from the Mariners in the Ben Gamel trade and has a 1.71 ERA (3.44 FIP) with 23.4% strikeouts and 13.2% walks in 47.1 innings with Short Season Staten Island this year while repeating the level. MLB.com ranks De Paula as the team's No. 26 prospect — he wasn't in my most recent top 30 list — and he will be Rule 5 Draft eligible after the season.
Thursday: The Yankees are about to finally land an Aaron Judge replacement. According to Joel Sherman,  the Yankees are trying to finalize a trade with the Giants for Andrew McCutchen. Infielder Abi Avelino, who was pulled from tonight's Triple-A game, will be one of two prospects heading to San Francisco. The Yankees needed an outfielder weeks ago, but better late than never, I guess.
For what it's worth, Buster Olney says the trade is done while Mark Feinsand hears there is "nothing finalized" yet. They're probably both right. The two sides might have an agreement in place but haven't made it official with the league yet. The Yankees have until 11:59pm ET tomorrow night to acquire McCutchen and have him be postseason eligible. That shouldn't be a problem with 24 hours to go.
McCutchen, 31, is no longer the MVP caliber producer he was in his prime, but he is hitting .255/.357/.415 (115 wRC+) with 15 home runs this season, and that is a massive upgrade over Shane Robinson and fading Brett Gardner. Also, moving from spacious AT&T Park to Yankee Stadium should result in an uptick in power. McCutchen is postseason tested and he's a Grade-A clubhouse dude. He is pretty much the best possible Judge replacement among guys who were actually available.
Judge has been out five weeks since an errant fastball broke his right wrist — the original timetable had him returning to game action after three weeks, as I'm sure you remember — and he still hasn't started swinging a bat, so it's safe to say his return is not imminent. He has to start swinging a bat, then progress to hitting in the cage, in batting practice, and live pitching. It takes time.
With Giancarlo Stanton nursing a hamstring injury, the Yankees have been playing Neil Walker in right field primarily this month. Walker has been hitting well, but he is no outfielder, and it has showed plenty of times in recent weeks. McCutchen can slot right into right field and into Judge's No. 2 spot in the lineup. Gary Sanchez is due back Saturday and Didi Gregorius isn't far away either. Help is coming.
As for the luxury tax plan, McCutchen is owed about $2.5M the rest of the season — apparently the Pirates are paying some of his salary this year, which reduces his luxury tax hit — and Ken Rosenthal says the Yankees can absorb the full $2.5M and stay under the $197M threshold. My last estimate had the Yankees at $3.3M in available payroll space. We'll see if the Giants eat money. I'd bet the farm against the Yankees going over the threshold.
Avelino, 23, did not rank among my most recent top 30 Yankees prospects but he would've cracked a top 50. MLB.com ranks him as the 23rd best prospect in the system. Avelino is hitting .287/.333/.446 (116 wRC+) with 15 home runs in 122 games this season, though he's been much better in Double-A (162 wRC+) than Triple-A (83 wRC+). He'll be a minor league free agent after the season and wasn't a good bet to land a 40-man roster spot.
If I had to guess, I'd say the second prospect will be a Rule 5 Draft eligible pitcher who is on the 40-man roster bubble. Erik Swanson or Nick Green, maybe? McCutchen is a big upgrade for the Yankees but he doesn't have a ton of trade value. The Yankees are only getting him for a month plus the postseason. The Giants are out of the race and there's not much sense in keeping McCutchen.