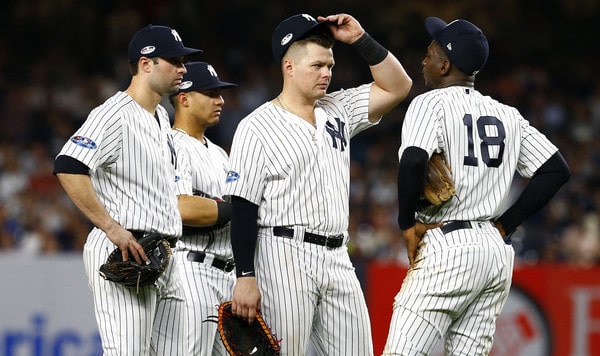 Although the 2018 season had a (very) disappointing ending, it is exciting to look at the Yankees and know they are loaded with young talent for the future. Aaron Judge is a superstar through and through. He's a top ten player in baseball. Then there's Luis Severino, Gary Sanchez, Gleyber Torres, and Miguel Andujar. Most teams hope to have two guys like that on their roster. The Yankees have all of them.
And yet, going into the 2018-19 offseason, the Yankees are facing some very real questions all around the infield. As recently as June or July it looked like the Yankees were set long-term around the horn, with a young and productive player at all four infield positions. Now, in October, that isn't really the case. That isn't to say the Yankees are in bad shape on the infield, because they're not, but things are a little up in the air. Let's take a trip through the infield.
First Base
Since Opening Day 2016 the Yankees have received a .234/.314/.403 (91 wRC+) batting line and +1.9 WAR from their first basemen. Among the 30 teams they rank 26th in AVG, 23rd in OBP, 29th in SLG, 29th in wRC+, and 27th in WAR. Gross. Even with the first base cast of characters combining for 34 home runs (!) in 2018, first base has been wasteland since Mark Teixeira's last good season in 2015.
Right now, it is fair to wonder whether Luke Voit is legit, whether Greg Bird is salvageable, and whether Miguel Andujar is going to wind up at first base. The Yankees love Bird and I'm certain that if you gave Brian Cashman & Co. a truth serum, they'd say they want Bird to grab the job and run with it next year. I would like that too. Bird has power and patience, at least when healthy, and the Yankees could use another left-handed bat.
"We'll see how the offseason unfolds, but right now, he grabbed that job, no question about that," Aaron Boone said of Voit at his end-of-season press conference. "I'm sure there will continue to be competition on all kinds of levels. The one thing with Greg that I never lost is we've seen him be an impact player at times in his career … This year, in a lot of ways, was a little bit of a lost season for him."
Honestly, I feel like nothing that happens with first base this offseason would surprise me. Stick with Voit? I could buy it. At the very least, he has to be given every opportunity to win a roster spot in Spring Training, right? Right. Stick with Bird? I could see that too. Trade for Paul Goldschmidt? Trade for someone else? I could totally see it. Sign Bryce Harper and put him at first? Eh, that's a stretch. Point is, first base remains unsettled, even after Voit's late-season showing.
"In some ways, (Bird) never got all the way back physically to, I think, where he'll be next year," added Boone. "I think there's a realistic chance he comes into Spring Training next year, physically in a really good place with a chance of a normal offseason where he gets his body where he wants it. Hopefully the results from that will follow. He'll have his opportunities. We've never lost sight of the fact that when he's right, can really hit."
Second Base & Shortstop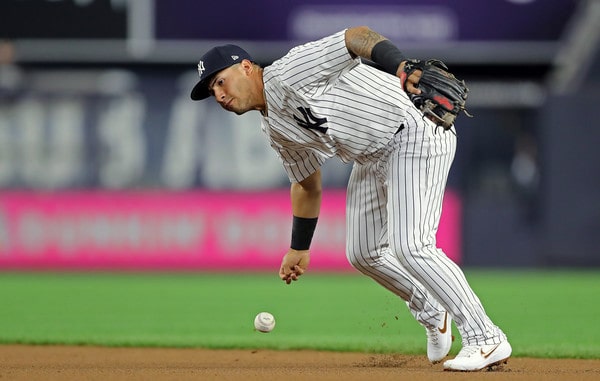 These two positions are tied together because Torres is going to play one of them next year. We just don't know which one. Gleyber's a stud, man. A 21-year-old kid hitting .271/.340/.480 (120 wRC+) with 24 home runs as a middle infielder thrown into a pennant race as a rookie is awfully impressive. Torres is a stud and I think we're no more than two years away from him emerging as the Yankees' best player. Not because Judge will collapse or anything. Just because Torres is that damn good.
The problem here is Didi Gregorius. He had Tommy John surgery yesterday. He's expected to return sometime next summer but no one really knows when. Could be as early as May or June, or as late as August or September. The Yankees have to proceed as if they won't have Gregorius next year. Although Tommy John surgery is fairly routine, it is a major surgery, and there could be setbacks or a slower than expected recovery. It happens and the Yankees have to be prepared for it.
Gleyber is a natural shortstop — I thought he looked way smoother at short this season than second base — and his flexibility allows the Yankees to replace Gregorius with either a shortstop or second baseman. I'd prefer adding another shortstop and leaving Torres at second, but, if the market cranks out better options at second base, then Gleyber moves over. The only question then is who is the backup shortstop? You'd have to dedicate a bench spot — only of three bench spots since the eight-man bullpen seems to be here to stay — to a shortstop capable infielder.
We know this much about second base and shortstop: One of these two positions is set. Torres will play one. Cashman said they'll scour the offseason market for a player at the other position "whether it's an everyday player or an insurance policy." In a weird way, Torres is the most "sure thing" among Yankees infielders at the moment, and we don't even know whether he's playing second or short next year. We just know he'll be there. Hmmm.
Third Base
By OPS+, Andujar just had one of the three best seasons by a rookie third baseman in the last 30 years. Kris Bryant (135 OPS+) is kinda out there in his own little world, but Andujar (126 OPS+) is right there with Evan Longoria (127 OPS+). Those are the only three rookie third basemen to best a 125 OPS+ since Kevin Seitzer back in 1987. Andujar had an incredible rookie season.
By WAR, Andujar had only the 16th best season by a rookie third basemen over the last 30 years. His +2.2 WAR puts him alongside guys like Gordon Beckham (+2.1 WAR), Akinora Iwamura (+2.2 WAR), and Garrett Atkins (+2.3 WAR). That's how much value Andujar gave back with his glove. He had one of the best offensive seasons by a rookie third basemen in three decades and was still run of the mill in terms of overall value.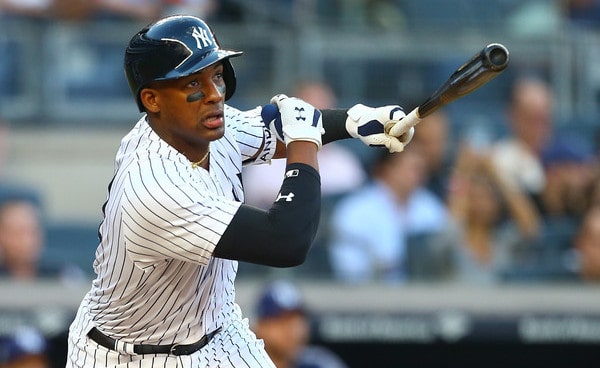 The Yankees told use exactly what they think about Andujar's defense. They subbed him out in the sixth inning (!) for defense in the postseason. When it mattered most, the Yankees didn't trust Andujar in the field, and I don't really blame them. Range is a clear issue, and while Andujar has a strong arm, it plays down because his transfer is slow and his sidearm sling can cause the ball to sail wide of first.
"He made big strides this season. He has the athleticism, he has the hands and the arm strength. Preparation for the pitch and footwork are gonna determine if he becomes that frontline defender at third base. I do believe it is in there," Boone said. "This winter is important for him as far as that goes. When I got here, there were all kinds of questions. He earned his at-bats with the way he swung the bat, but also by improving as much as he did defensively. Now it's on all of us (to help him get better)."
For what it's worth, earlier this week Cashman said during a radio interview that he expects Andujar to be the team's third baseman next season. Of course he's going to say that, right? The Yankees could be planning — and already enacting — a position change and they would still say they want Andujar at third base because it allows them to maintain leverage during trade and free agent talks.
I am weirdly ambivalent about Andujar's defensive home next season. If the Yankees decide to keep him at third base for another season and let him work at it, I'm cool with it. And if the Yankees decide to move him to first base or left field (or DH), I'd be cool with that too. Ryan Braun had a great rookie year overall but was a defensive disaster, so he was moved to left field the next season. Could happen with Andujar!
Maybe this is a fluid situation. The Yankees might be planning to put Andujar at third base next season, but, if a better option comes along (trade for Nolan Arenado?), they'll move him. Otherwise they'll stick with it at least until Gregorius returns, then they can reevaluate their infield situation and figure out the best alignment. It could be that whoever replaces Didi plays well enough to stay in the lineup everyday, pushing Andujar somewhere else. We'll see.
* * *
The good news is the Yankees are not devoid of infield talent. There are worse things in baseball than having Miguel Andujar as your starting third baseman, you know? Torres is a stud. Voit raked this year — maybe he is the Yankees' Nelson Cruz or Jesus Aguilar? that late bloomer who finds it in his late 20s? — and Bird could still maybe be something. They have to replace Gregorius at least temporarily, for sure. A Didi replacement is a "must have" this winter.
At the same time, Voit may be more Shane Spencer than Cruz or Aguilar, and play his way to Triple-A. Andujar could struggle defensively again. I don't see how you could count on Bird for anything. The Yankees don't necessarily have an infield problem. They just have some things to sort out. Is Andujar the long-term answer at third? Is it time to bring in a veteran first baseman to stop the post-Teixeira revolving door? Who steps in for Gregorius? Those are all questions the Yanks will answer this winter.