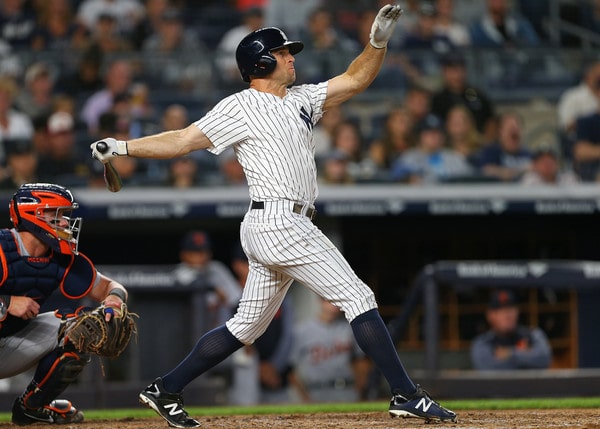 The unofficial captain of the Yankees will be back next season. The Yankees announced this afternoon that they have signed Brett Gardner to a new one-year contract after declining his $12.5M club option. Mark Feinsand says the new deal is worth $7.5M. There's no word on whether the contract includes any playing time bonuses. Probably not.
"I'm very excited," Gardner said to Feinsand. "I wasn't sure what to expect at the end of the season, but being able to come back and rejoin this special group of guys we have in place, continue my career in a Yankees uniform — and hopefully finish it in a Yankees uniform — it means a great deal to me. We have some unfinished business. It was tough to sit back and watch the rest of the postseason this year. It was a great learning experience for us; we have a young team and had a great season, but came up short of our goal."
All told, Gardner ends up with $9.5M in real dollars. The Yankees paid him a $2M buyout when they declined the option and he gets a $7.5M salary next year. For luxury tax purposes, the $2M buyout was spread across 2015-18 since it was guaranteed money as part of Gardner's previous deal. His luxury tax hit next year will be $7.5M. The Yankees have approximately $42.2M in payroll space under next year's $206M luxury tax threshold.
Gardner, 35, is the longest tenured Yankee. He hit .236/.322/.368 (90 wRC+) overall this past season and was much better in the first half (106 wRC+) than the second (66 wRC+). Gardner was also quite a bit better against righties (95 wRC+) than lefties (74 RC+). In a perfect world, he would platoon in left field with Clint Frazier next year, but Frazier's concussion issues make him an unknown at the moment.
There's still an entire offseason to play out, but it stands to reason the Yankees will go into next year with Gardner, Aaron Hicks, and Aaron Judge in the outfield with Giancarlo Stanton again roving around between the corner outfield spots and DH. Frazier could be in the mix as well. Jacoby Ellsbury is currently rehabbing from hip surgery and Brian Cashman said he may not be ready for Opening Day.
The Yankees love Gardner and he's a leader in the clubhouse, and I always expected him to come back. Gardner didn't want to leave either. The only question was whether the team would pick up the option or work out a new contract. A new contract it is. Gardner comes back at a lower salary and gets to stay with the only team he's known. Works for me. Now the Yankees can focus on the rotation.