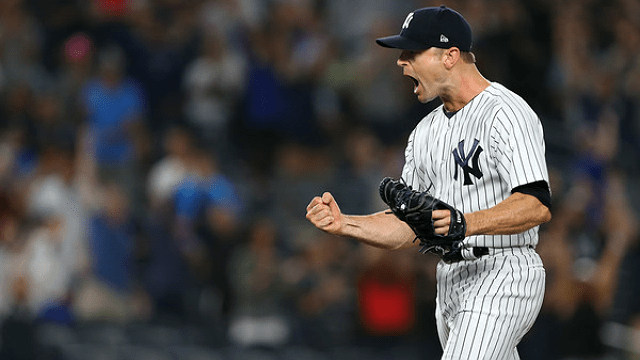 One of the more exciting moments in mid-2017 was getting David Robertson back from the White Sox.
Ostensibly, Robertson could have been considered the third most important piece with Todd Frazier to shore up third base and Tommy Kahnle producing a better season to date. But there's nothing like getting a welcomed old face back in the fold.
By the end of 2018, Robertson proved himself to be the best part exchanged in the deal. He followed up his rebound in 2017 with another strong season as he cemented himself in Aaron Boone's circle of trust in relief.
Fireman Dave
Robertson's numbers as a whole were slightly down in 2018, though they still trumped his 2016 performance. His ERA increased from 1.84 to 3.23 while his FIP went up from 2.57 to 2.97. Down below, you'll see more about why his numbers decreased, but it was still a strong season for the reliable righty.
Robertson was used more as a traditional late-inning reliever to begin the year, not pitching before the seventh inning until mid-May. That didn't preclude him from high leverage innings, just meant that Boone was going to others (Chad Green, for instance) in earlier fireman roles.
As time went on, Robertson found himself in different spots, particularly after the Yankees added Zach Britton. Dellin Betances and Aroldis Chapman were cemented as the eighth and ninth inning guys, giving Robertson the opportunity to put out earlier fires.
The right-hander finished the year with 33 shutdowns and 11 meltdowns, the latter a career-worst, though just by a hair. He produced a Win Probability Added of 1.54 for the season.
Trending Up, Trending Down
A funny thing happened in Robertson's age-33 season: His velocity actually increased! He averaged 92.3 mph on his heater and 83.8 mph on his curveball. that was his hardest fastball since 2011 and his hardest curveball ever.
Despite his increased velocity and reliance on his curveball (more on that later), Robertson saw an increase in contact against him. However, a lot of it on out-of-the-zone pitches. That may have been simply due to hitters chasing his curve. Thanks to the increased contact, he didn't get as many swings and misses out of the zone, perhaps due to hitters sitting off-speed.
As a whole, Robertson wasn't quite as dominant in 2018, which comes down to his fundamentals. His prodigious strikeout rate fell by 6.4 percent to 32.2 percent (still great!) while his walk rate went up 0.5 percent. He allowed one more home run. His 9.2 percent walk rate was his second-highest since 2011.
However, some of the 2017 performance had been smoke and mirrors. He posted a career-best 95 percent strand rate in his half season with the Yankees and that fell precipitously to 67.5 in 2018. Regardless, Robertson still posted strong numbers, maintaining an important role in the Bombers' bullpen.
Experimentation and Adaptation
Like any veteran pitcher, Robertson has had to change over the years. Early on, it was adding a cutter to his mix skew his fastball-curveball approach. Now, he's moved with baseball trends and thrown the fewest percentage of fastballs in career. He throws his heater (almost exclusively a cutter) just 42.5 percent of the time, down 5.9 percent from a year ago and 38.4 percent from its peak six seasons ago. Additionally, he's worked in two-seamers and changed everything about how he pitched just a few seasons ago.
With fewer fastballs has come an increased reliance on his curveball. He throws the primary breaking pitch 47.4 percent of the time, eclipsing his fastball for the first time in his career. This isn't something novel in that the rest of the league have encourage their pitchers to throw their best pitches more often.
Despite increased velocity, his fastball was less effective in 2018, producing a negative pitch value for just the second time (2016). On the other hand, his curveball was nearly or even more effective, depending on the source. He added some differentiation with his slider that he started experimenting with the last few years, tossing the harder breaking ball 14.4 percent of the time with good results.
Mike has detailed Robertson messing with new arm angles, dropping down and trying to throw off the rhythm of hitters. It's been infrequent, but the wily vet trusts the gimmick enough to use it in the most important spots. For instance, ALDS Game 4 against J.D. Martinez.
One figures we'll see more tinkering from Robertson as he gets older and utilizes a long career's worth of wisdom in getting hitters out as his stuff lessens.
Postseason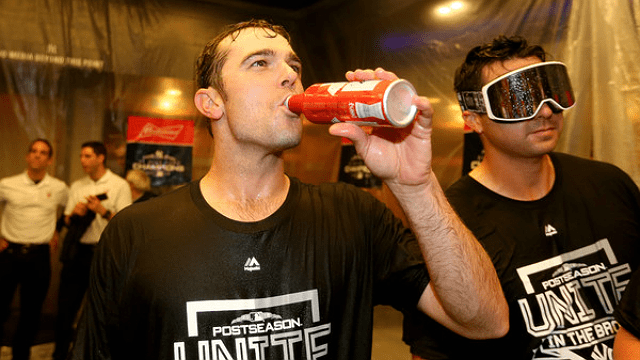 In the 2017 postseason, Robertson was used in all of the Yankees' most important situations. He got 10 key outs in the Wild Card Game. He pitched with the Yankees leading by just one in three ALDS appearances. He helped keep the Yankees in striking distance in ALCS Game 2 and was asked to shut down Houston rallies in Games 4 and 6.
This season was decidedly different. Robertson threw 3 2/3 scoreless innings with one walk and seven strikeouts, allowing no hits in the postseason. In his one inning in the Wild Card Game, he allowed two line drives but escaped unscathed.
However, there wasn't really a high-leverage spot to give him. Dellin Betances usurped him as the most-trusted reliever in high leverage spots in the WCG and ALDS Game 2. Beyond those spots, Robertson was forced to pitch with the Yankees trailing. Not his fault nor should it be a mark against him. Circumstances made it so the Yankees couldn't insert their best relievers in spots to win games.
(P.S. The photo above isn't even close to the best David Robertson alcohol photo. Trust me.)
What's Next?
Robertson's four-year, $46 million deal he signed with the White Sox has lapsed and he is now a free agent. He was ineligible for a qualifying offer, having received one from the Yankees in 2014.
The 33-year-old reliever has made the odd move of representing himself in free agency, a decision he explained to MLB Trade Rumors. He said it had nothing to do with his agents and more about knowing himself better than anyone else:
"Being a guy that's hung around long enough to know what I can offer a team and what I would like in return, I feel I'm best suited to have all the discussions necessary to figure out my next contract."
It makes too much sense for Robertson to be back in pinstripes for the 2019 campaign. He's proven to be one of the few relievers in baseball that stays at or near an elite level for years on end and he should get multiple years in a free agent deal. The Yankees, meanwhile, will need to bring back or add a reliever with both Robertson and Britton hitting the open market.