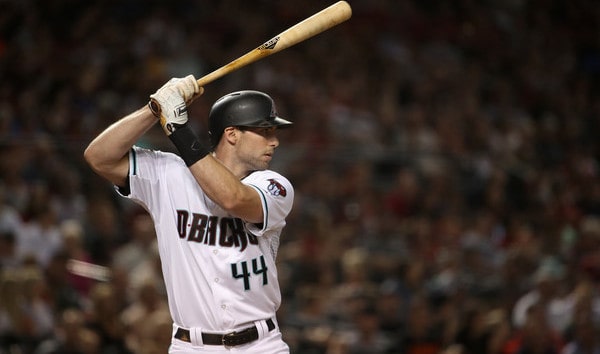 The GM Meetings wrapped up today and there was some hot stove action this week. The Yankees re-signed CC Sabathia and, last night, the Rays traded Mallex Smith to the Mariners for Mike Zunino. Not mad about it. Smith gave the Yankees some headaches the last two years. Anyway, here's the latest.
Yankees not showing interest in Goldschmidt
As expected, the Diamondbacks are receiving considerable interest in first baseman Paul Goldschmidt, but not from the Yankees, reports Jon Heyman. Arizona collapsed this past season — they were one game up in the NL West on the morning of September 1st and finished nine games back — and they stand to lose Patrick Corbin and A.J. Pollock to free agency. They've hinted at tearing things down and rebuilding, and they have some possible fits for the Yankees.
Goldschmidt, 31, is the best first baseman in baseball and on the short list of the best players in the game overall. He hit .290/.389/.533 (145 wRC+) with 33 homers this past season and is a Gold Glove caliber defender. The D'Backs exercised his no-brainer $14.5M club option last week, so he's a one-year rental. The Yankees might have two viable big league first basemen (Luke Voit and Greg Bird) or they might have none. I dunno. Either way, Goldschmidt would be a clear upgrade, but he wouldn't come cheap, even with one year of control. For now, the Yankees aren't showing interest.
Yankees have interest in Miller
The Yankees have interest in free agent lefty reliever Andrew Miller and have requested his medical information, reports Andy Martino. As I noted yesterday, lots of team request medical information from lots of players, especially early in the offseason. It doesn't mean they are progressing toward a deal or anything. The team is just doing due diligence. Miller had shoulder trouble this year and has had knee problems the last two years. In fact, the Indians even sent him to see the Cleveland Cavaliers' doctors because they have more experience with tall dudes and knee injuries.
This past season the 33-year-old Miller had a 4.24 ERA (3.51 FIP) with 29.2% strikeouts in 34 innings around his injuries. He was far more wild and hittable than he'd been the last few years. If you watched the postseason, you know Miller wasn't right. He didn't look like himself at all. For what it's worth, Miller's agent told Joel Sherman his client recently received a clean bill of health. That's great, but teams are going to give him their own physical and make sure for themselves. Miller's a great dude, but he's entering his mid-30s and he seems to be breaking down physically. His medicals will be scrutinized.
Yankees have met with Harrison
I had a feeling this was coming. According to Heyman, the Yankees have interest in free agent utility man Josh Harrison and have already met with his representatives. I assume that happened at the GM Meetings this week. Didi Gregorius will miss the start of the season with Tommy John surgery and the Yankees need a replacement middle infielder. Harrison can play second, then, once Gregorius returns, he could shift into a utility role.
Harrison, 31, hit .250/.293/.363 (78 wRC+) this past season and is a year removed from a .272/.339/.432 (104 wRC+) batting line with a career high 16 homers. His OBP was propped up by 23 (!) hit-by-pitches. Harrison was hit 23 times in 128 games last year. He was hit 31 times in the other 714 games of his career. The Yankees have been connected to Harrison a few times in recent years but never seemed to seriously pursue him. Now that he's available for nothing but cash, the Yankees could pounce. I hope he's Plan C or Plan D rather than Plan A or Plan B though.