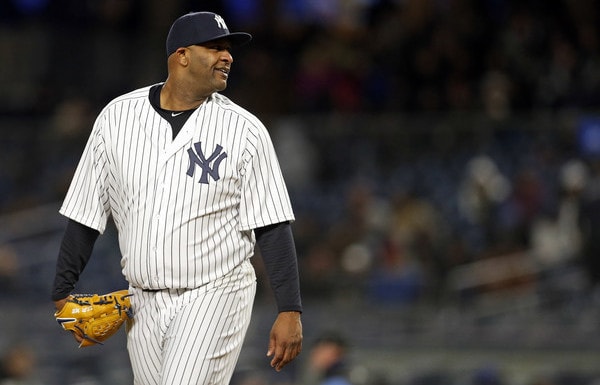 Wednesday: It is a done deal. The Yankees announced the signing earlier this afternoon, so Sabathia passed his physical and everything. Also, Sabathia released a video about the signing, during which he reiterated 2019 will be his final season. Send this man out with another ring, Yankees.
Tuesday: Welcome back, CC Sabathia. According to Joel Sherman, the Yankees and Sabathia have agreed to a one-year contract worth $8M. That's exactly what I gave him as part of my offseason plan. Jon Heyman says the new contract includes no incentives. Sabathia worked on a one-year deal worth $10M this past season with another $2M in incentives, which he didn't reach (for good reason).
A reunion with Sabathia always made sense and, truly, it felt like a formality. The Yankees need starters and, even at this point of his career, Sabathia is a reliable back-end starter who we all know can handle New York and fit into the clubhouse. If you listen to the R2C2 podcast, you know Sabathia didn't want to leave. He made that pretty clear these last few weeks and months. "This is my home. I'm a Yankee," Sabathia said during a recent episode.
For what it's worth, Mark Feinsand says three other clubs reached out to Sabathia early in free agency, and Ken Rosenthal (subs. req'd) identifies one of those clubs as the Astros. Houston just lost Lance McCullers Jr. to Tommy John surgery and both Dallas Keuchel and Charlie Morton are free agents. They need starters. Sabathia wanted to return to the Yankees though, and he didn't want to wait around to sign either, so the deal is done on November 6th.
This past season the 38-year-old Sabathia threw 153 innings with a 3.65 ERA (4.16 FIP), and he was again among the league's best at limiting hard contact. He was one of only 30 pitches to throw at least 150 innings with a 120 ERA+. I think you pencil him in for 140-ish league average innings next year and consider anything more a bonus. That's not sexy, but it ain't cheap to acquire either. Getting 140-ish league average innings for $8M would be pretty neat.
Sabathia should hit several notable career milestones early next season. He's four wins away from 250 and 14 strikeouts away from 3,000. Once he gets there, Sabathia will join Hall of Famers Randy Johnson and Steve Carlton as the only lefties in the 3,000 strikeout club. "I know I want to pitch next year, 2019, and it's going to be my last," Sabathia said during a recent R2C2 episode. After next season, the Hall of Fame conversation can begin.
It's worth noting Sabathia will be suspended to begin next season. He was suspended five games for the "that's for you, bitch" incident this year and is appealing. The appeal will be heard at some point this offseason. An early season off-day allows the Yankees to skip their fifth starter the first time through the rotation next year, so, even if Sabathia has to serve the full five games, it won't be much of a problem. It'll just cost him some money.
The new one-year contract is pending a physical and Sabathia did have his annual right knee cleanup procedure a few weeks back. The Yankees know better than any team what's going on in his arm and knee, and, obviously, they're comfortable enough with his health to agree to a deal. In a perfect world the Yankees will add two more pitchers and Sabathia will be the fifth starter. That's the way to go.