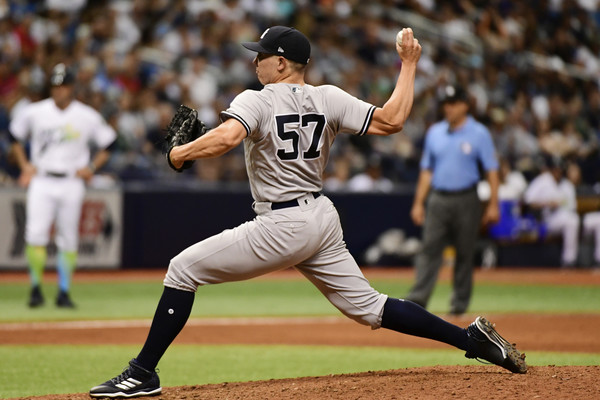 The Yankees bullpen was the focus of several storylines in 2018; the resurgence of Dellin Betances, the injuries of Aroldis Chapman, the acquisition of Zach Britton, and Aaron Boone's strange fascination with A.J. Cole immediately spring to mind. Chad Green's continued brilliance sort of fell by the wayside as a result, despite the fact that he led the group with:
75.2 IP
1.78 BB/9
6.27 K/BB
2.3 bWAR
We, as fans of the Yankees, know that Green is brilliant, and have a strong sense of confidence whenever he enters the game – but he is nevertheless one of the best kept secrets in the bullpen (at least insofar as any Yankee can fly under the radar). Such is the life of a middle reliever without the flash of his teammates, I suppose.
Let's break it down a bit further.
From Multi-Inning Weapon to One-Inning Guy
A huge part of Green's appeal in 2017 – aside from his 1.83 ERA and 13.4 K/9, of course – was his ability to eat innings out of the bullpen. He recorded 4+ outs in 30 of his 40 appearances, and went 2+ innings 17 times. In an era with more pitching changes and increased specialization, Green's ability to be incredibly effective for multiple innings was a boon for the Yankees. And the expectation was that he would continue to serve that role for the team in 2018.
It didn't quite work out that way, though. Green recorded 4+ outs 20 times this year, spread across 63 appearances, and he only went 2+ innings 11 times. He was quite good once again, pitching to a 2.50 ERA in 75.2 IP, so it's difficult to criticize his deployment by Aaron Boone – especially when injuries occurred and pieces had to be shifted around. However, it does make one wonder what was left on the table this year, given that Green prefers pitching multiple innings; and it's much easier to find a reliever that can get you two or three outs than it is to find one that can get four or five (or, in three cases in 2017, nine-plus).
It's difficult to parse whether Green is better in longer outings, though. The greatest issue to overcome is the simple fact that a pitcher is far more likely to be pulled if he's not performing well – so we can't really say for sure that Green wouldn't have went deeper into the game if he didn't allow 2 runs in 0.2 IP on April 5, or if he hadn't allowed three base-runners in 0.2 IP on August 2 and again on August 26.
That being said, he does do better with more rest. Here's 2017:

And here's 2018:

Seven of Green's 40 appearances (17.5%) in 2017 came with 0 or 1 day of rest, as compared to 31 of his 63 turns (49.2%) in 2018. That's a massive difference in usage, and it seems possible – if not probable – that this played a role in his dip from untouchable to merely excellent this year. And it almost certainly played a role in the drop in his fastball's effectiveness.
Let's Talk About That Fastball
Saying that Green relies on his fastball is a hell of an understatement, so let's take a look at it in graph form: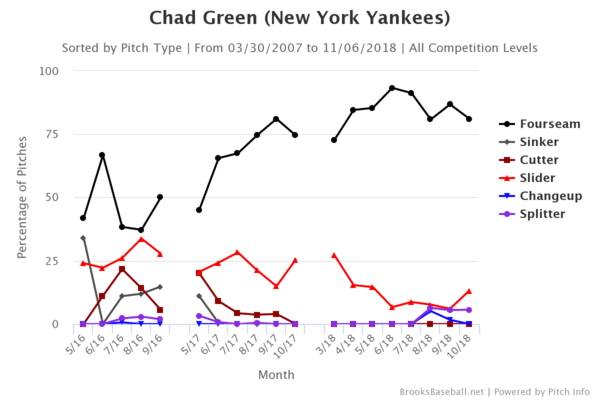 In 2016, Green threw just over 39% four-seamers. That number jumped all the way up to 68.6% in 2017, which makes sense given that he moved from the rotation to the bullpen full-time. And there was another sizable jump this year, with four-seamers representing 86.3% of his offerings. That meant that his sinker and cutter, which were already used sparingly, disappeared, and his slider usage was slashed by more than half.
And, as Mike outlined just a few weeks ago, his fastball wasn't nearly as dominant this year:
| | 2017 | 2018 | MLB AVG |
| --- | --- | --- | --- |
| Average Velocity | 96.1 mph | 96.5 mph | 93.2 mph |
| Average Spin Rate | 2,484 rpm | 2,444 rpm | 2,257 rpm |
| Whiffs per Swing | 37.9% | 27.3% | 19.7% |
| AVG | .121 | .211 | .268 |
| ISO | .078 | .118 | .199 |
| wOBA | .168 | .253 | .351 |
| xwOBA | .215 | .289 | .354 |
Much like Green himself, the fastball went from untouchable to excellent. And that makes sense, given that he was pitching more often and throwing the pitch more than ever before. Whether this trend continues is the million dollar question with Green, given the general unpredictability of relievers, and the Yankees pipeline of young arms.
Let's Not Bury the Lede
I feel the need to reiterate that Green was still incredible in 2018. His 2.50 ERA was good for a 175 ERA+, and he was among the elite relievers in all of baseball, ranking:
5th in K/BB
8th in BB/9
13th in fWAR
17th in IP
19th in WPA
There was a drop-off, to be sure, but it was unrealistic to expect Green (or most any reliever for that matter) to be as good as he was in 2017 again. This version of Green would've been the best reliever on the majority of the teams in baseball, and he's not even the best in pinstripes – and that's awesome.
What's Next?
Green is entering his final pre-arbitration season, so he'll be dirt cheap in 2019. And he's under team control for three years after that, which is also awesome. There's always the possibility of a trade (and Green has a ton of value because of that team control), but with David Robertson and Zach Britton hitting free agency, it seems likely that Green will be back in pinstripes and holding down the fort in the middle innings next year. And I'm more than okay with that.