We have eleven questions in this week's mailbag. Make sure you send your questions to RABmailbag (at) gmail (dot) com and I'll get to as many as I can each week.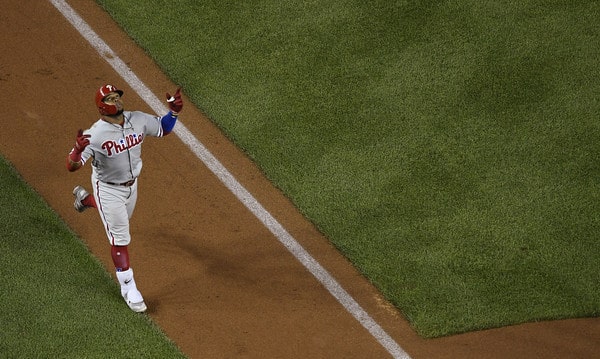 Matt asks: Question: Is there any value in Carlos Santana, does he fit? Or is it just more name value and someone we should pass on trying to take off the Phillies hands.
Reports indicate the Phillies are trying to move Santana, who has two years and $35M remaining on his contract ($20M luxury tax hit). Rhys Hoskins was a disaster in left field this year (-24 DRS) and they have to get him back at first base, which means Santana has to go. Santana hit .229/.352/.414 (109 wRC+) with 24 homers and more walks (110) than strikeouts (93) in 2018, and a terrible April dragged down his overall numbers.
April: .153/.295/.276 (63 wRC+)
Rest of 2018: .245/.364/.444 (119 wRC+)
Post-April Santana is the guy we're used to seeing. The Yankees have a clear need at first base — they could also put Santana (or Luke Voit) at DH and Giancarlo Stanton in left field — and a switch-hitter with power and patience would fit the lineup well. The Phillies would have to eat money to facilitate a trade, I think that's true no matter where they send Santana at this point, but yeah, I think there's a potential fit. Does something like, say, Santana and $12M for Jonathan Loaisiga work?
Armando asks: Let's say Nats don't sign Harper, would they then finally tear down by trading Mad Max? And if you're the Yankees do you empty the farm to get him? Finally wouldn't he be the Yankees answer to the Chris Sale trade?
I seriously doubt the Nationals would rebuild even if Bryce Harper leaves. They still have a really good core! They'd go into next season with Max Scherzer and Stephen Strasburg fronting the rotation and Anthony Rendon, Juan Soto, and Trea Turner anchoring the lineup. Ryan Zimmerman, Adam Eaton, and top prospect Victor Robles could all be factors as well. The American League is top and bottom heavy. There are superpowers and a bunch of awful teams. The National League has more top-to-bottom mediocrity. Even if they can't beat out the Braves for the NL East title, Washington should be able to contend with the Cardinals and Phillies and Rockies for a wildcard spot next year.
Hypothetically though, if the Nationals did decide to rebuild, of course the Yankees should go after Scherzer. He is one of the top five pitchers in the world and the Yankees should always be in on guys like that. Scherzer turns 35 in July but, not only is he not slowing down, he might be better than ever right now. This past season might've been the best of his career. I have no concerns whatsoever about him succeeding in the AL East either. His stuff plays anywhere. Would the Nationals do this without getting Miguel Andujar or Gleyber Torres in return? Probably not. But Scherzer is one of the few players in the game you consider parting with one of those guys to acquire.
Mike asks: I thought it was interesting to see limiting the use of openers in this article as a change that's being discussed for next year. Why would MLB want to shut this down? I thought it was fun to watch.
Because MLB is afraid of change, mostly. No sport is as steeped in tradition as baseball. I don't necessarily agree openers are fun to watch — the string of pitching changes can get old quick — but I do think the strategy is brilliant. Use a good reliever to retire the top of the order before letting the long guy throw four or five innings while only facing the 1-2-3 hitters once. It's smart. And, obviously, it worked quite well this past season.
How would MLB limit openers anyway? Force the starting pitcher to throw at least three innings or something like that? What if the dude gets rocked? I'm sure MLB will come up with something. I said this the other day, I am against anything that limits creativity. Let teams try new things. Imagine any other industry in the world being as opposed to innovation as MLB. The game evolves. Embrace the change. Cool things tend to happen when people are given the freedom to be creative.
Joe asks: With a new CF likely making Cano a 1B/DH in Seattle, could a bad contract swap for Ellsbury be feasible? Say Ellsbury plus a decent prospect (Adams/Roansy type)?
Jacoby Ellsbury for Robinson Cano has to be the most asked question in RAB mailbag history, hands down. I don't think it's even close. We have to get two or three Ellsbury-for-Cano questions a month, easy. Anyway, I am a firm no on Ellsbury-for-Cano. Ellsbury is pretty much useless, but it's two years and $47M vs. five years and $120M. Cano is still really good, the guy did hit .303/.374/.471 (136 wRC+) this past season, but he just turned 36 and chances are those five years remaining on his contract will be decline years, potentially heavy decline years. They are exactly the years the Yankees wanted to avoid when they limited their offer to seven years back in the day. I greatly prefer the bad contract that ends sooner, especially when we're talking about two years vs. five years. Just get it over with already, you know? Love Robbie, he's forever cool with me, but I feel like there's limited upside and a ton of downside associated with picking him up at this point of his career.
Dennis asks: What do you think of Edwin Diaz is a trade target? Seattle is "re-tooling" and an elite closer doesn't exactly fit the mold of that direction. Yanks have a ton of prospect capital to help kickstart that rebuild/retool and Diaz is great and has 3 or 4 years of Team Control.
Diaz is awesome — he's better than awesome, he's one of the top five relievers in the world right now — and the Yankees should be in on him. He's only 24, he has four years of control remaining, and he threw 73.1 innings with a 1.96 ERA (1.61 FIP) with 124 strikeouts and 17 walks this past season. That's a 44.3% strikeout rate and a 6.1% walk rate. His stuff is electric in every sense of the term:
Diaz is young enough and dominant enough and under control long enough that every team will kick the tires. Contenders want him because he can help them win now and rebuilders want him because he can accelerate things and help them win later. Relievers are volatile has hell, for sure, but relievers as good as Diaz and under control as long as Diaz will cost a ton to acquire. More than the Yankees got for Andrew Miller, I'd say. But yeah, I'd take this dude on the Yankees no questions asked.
Bill asks: Why is Joey Wendle a Rookie WAR leader? Doesn't this show a glaring weakness in WAR?
Wendle did hit .300/.354/.435 (116 wRC+) this season, you know. That's not too far behind Gleyber (120 wRC+). If anything, it reinforces that WAR overrates multi-position guys to some degree. Wendle played second, short, third, left, and right this season. I don't think it's crazy that a good defender with Wendle's offensive numbers out-WAR-ed Torres and Andujar at all. That said, Wendle turns 29 in April. Not counting guys from Japan and Cuba (and Korea), he's the oldest player to get Rookie of the Year votes in at least a decade. This might've been his career year. I'd take Torres and Andujar over Wendle the next five years without a second thought. In 2018, it's not unreasonable to argue Wendle was more valuable than those two because he was above-average offensively and far better defensively.
Eric asks: How many WAR does a 2018 Miguel Andujar earn if he's a league-average defensive 3B? 1B? LF? DH?
Fun question! Position player WAR has several components. Offense, defense, and baserunning are straightforward. There's also a positional adjustment, because some positions are more difficult than others. A 110 wRC+ shortstop is more valuable than a 110 wRC+ first baseman, for example. There's also a (small) league adjustment, and a (large) adjustment that allows us to compare our player to a replacement level player rather than a league average player. Add all that together, divide by the runs-per-win factor, and you get WAR.
Here is our hypothetical league average defending Andujar at other positions. The only thing that changes across positions is the positional adjustment. Everything else stays the same.
| | Offense | Defense | Baserunning | Position | League | Rep. Lvl | Runs/Win | WAR |
| --- | --- | --- | --- | --- | --- | --- | --- | --- |
| Actual 2018 | +20.3 | -16 | +1 | +0.5 | +1.8 | +18.1 | 9.714 | +2.7 |
| at C | +20.3 | 0 | +1 | +12.5 | +1.8 | +18.1 | 9.714 | +5.5 |
| at 1B | +20.3 | 0 | +1 | -12.5 | +1.8 | +18.1 | 9.714 | +3.0 |
| at 2B, 3B, CF | +20.3 | 0 | +1 | +2.5 | +1.8 | +18.1 | 9.714 | +4.5 |
| at SS | +20.3 | 0 | +1 | +7.5 | +1.8 | +18.1 | 9.714 | +5.0 |
| at LF, RF | +20.3 | 0 | +1 | -7.5 | +1.8 | +18.1 | 9.714 | +3.5 |
| at DH | +20.3 | 0 | +1 | -17.5 | +1.8 | +18.1 | 9.714 | +2.4 |
The league adjustment, replacement level adjustment, and runs-per-win factor fluctuate each season the same way the league batting average fluctuates. They stay in the same ballpark but move a little in either direction. Like everyone else, Andujar would be most valuable behind the plate, then at short, then at third and the other two up-the-middle positions, then in the outfield corners, then at first base, then at DH. I should note that his 2018 positional adjustment was +0.5 rather than the full +2.5 for third base because he did DH some, and that takes a bite out of his positional value.
Derek asks: Can you re-structure contracts if the player and ownership agrees to it? I'm thinking of a Joey Votto trade scenario where you shorten the 5yr/125 remaining on the contract to 3/105. His power has diminished but he has elite contact skills, is a lefty, and is an OBP machine.
Never happening. Not a million years. Why would Votto give up $20M? Given the current free agent climate, giving up $20M to become a free agent two years earlier probably isn't worth it for him. Not when he'll be 38 in three years. Also, the MLBPA would flip. Ultimately, it's not up to them, but they would lean on Votto hard. Remember when Alex Rodriguez was supposed to get traded to the Red Sox back in the day? That fell through because his contract was going to be restructured in such a way that lowered its present day value, and the union got involved. It's one thing for a free agent to take less money to go to a specific team. It's another for a player to reduce the value of his existing contract. That is not a precedent the MLBPA wants to set. Is it possible to restructure a contract as laid out in the question? Yes, it is. But there would be hell to pay.
Marc asks: In reading the article on Kluber as a trade candidate, it got me thinking: would the Indians listen to an offer for Kluber AND Carrasco if the Yanks offered Severino and Andujar plus maybe Gray and another piece. It lets them keep Torres and upgrade the rotation, while allowing Cleveland to compete next year. Of course, my trade proposal sucks.
I'm sure the Indians would listen if the Yankees put Andujar and Luis Severino on the table. (I don't think Sonny Gray would move the needle much.) Cleveland would trade two years of Carlos Carrasco and three years of Corey Kluber for four years of Severino and five of Andujar. Ideally, the Yankees would add Carrasco and Kluber to Severino, not use one to replace him, but I don't think building a package for those two around Severino would be crazy. What happens at third base? Who knows. The rotation would be upgraded though, even with Severino subtracted out, because Carrasco and Kluber are just as good as him if not better. Needless to say, I would not expect something like this to happen.
Adam asks: Would a framework around Andujar for Franchy Cordero work? Would free Hicks up for a trade for pitching, and then you can sign Machado.
Franchy is fun because he can do things like this:
I wouldn't trade Andujar for him though. No way. The Yankees don't need another high strikeout (39.1 K% in MLB and 28.3 K% in Triple-A) corner outfielder. I think Andujar will be the better hitter going forward and the more valuable player overall, even factoring in his defensive flaws (Franchy's not exactly a Gold Glover himself). Signing Manny Machado and trading Andujar is an option for sure. I'd prefer someone better than Cordero though, especially if the next step is trading Aaron Hicks. I feel like you can find Franchy level production (with less risk) in free agency.
Dave asks: Do you think the Yankees will take a look at Yangervis Solarte as a fill in/utility guy if the Jays non-tender him. Switch hitter who can play multiple positions with some pop in the bat?
I don't think so. It seems the clock has struck midnight on Solarte. He hit .226/.277/.378 (77 wRC+) this year and was sub-replacement level at -1 WAR. The versatility doesn't help much when you're not a good defender anywhere, which is what the defensive stats (and the eye test) say for Solarte. The Blue Jays declined his $5.5M option a few weeks ago and MLBTR projects a $5.9M salary through arbitration. Toronto didn't decline the option only to pay him a higher salary through arbitration. Solarte's getting non-tendered at the deadline in two weeks. A minor league contract? Sure. I definitely wouldn't pencil him in as a Didi Gregorius replacement though.