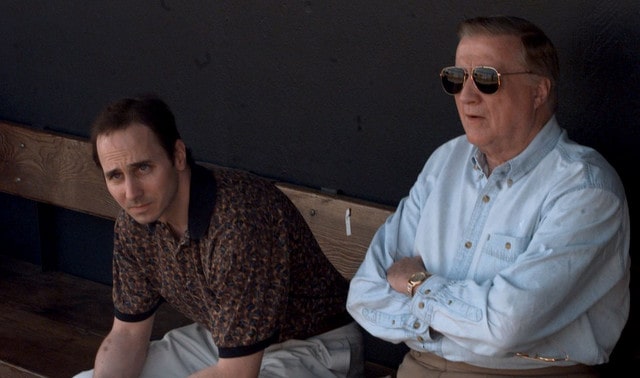 The GM Meetings are over and now we have about a month to wait before all hell breaks loose at the Winter Meetings. If you haven't checked it out yet, here's the Official RAB 2018-19 Offseason Plan. I'm linking back to it here only because it took forever to write and I don't want it to be forgotten about. Anyway, here's some news to close out the week.
Steinbrenner on Today's Game ballot
George Steinbrenner is on this year's Today's Game era committee ballot, the Hall of Fame announced. Harold Baines, Albert Belle, Joe Carter, Will Clark, Orel Hershiser, Davey Johnson, Charlie Manuel, Lou Piniella, and Lee Smith are also on the ballot. The 16-person committee will meet during the Winter Meetings next month and announce their Hall of Fame inductees (if any) on December 9th. Twelve votes are needed for induction.
"I think he is a Hall of Famer … (He) was very impactful. Both for this franchise and this industry and clearly a Hall of Famer from my viewpoint," said Brian Cashman to Ken Davidoff earlier this week. This is the fourth time Steinbrenner is up for a Hall of Fame vote, with his most recent rejection coming in 2016. I think George belongs in the Hall of Fame and I can understand why some might be on the fence, but, ultimately, when you tell the story of baseball history, you can't skip over Steinbrenner. Warts and all, he was a towering figure in the game.
Rule changes on hold until end of offseason
According to Ronald Blum, discussions regarding potential rule changes for the 2019 season have been put on hold, likely until right before the start of Spring Training. MLB and the MLBPA must agree on rule change proposals, however, if the union rejects an on-field rule change, the league can unilaterally implement the proposal in one year. Here are the rule changes that were discussed during the GM Meetings, via Blum and Jon Morosi:
A limit on defensive shifts.
A 20-second pitch clock.
Restrictions regarding the use of technology during games.
Moving the trade deadline to mid-August and eliminating trade waivers.
Alterations to the 10-day DL because teams abuse the hell out of it.
The Astros were busted recording the other team's dugout during the postseason, and there have been issues with teams using technology to steal signs for years now. Remember the Apple Watch thing with the Red Sox last year? Like that. MLB and the MLBPA want to stop that. Joel Sherman writes that, after the Astros incident, MLB put an official in each team's replay room during the postseason, and did not allow teams to pipe their center field camera angle into their replay room. Those measures could become permanent. We'll see.
As for everything else, I am a hard no on limiting shifts and a hard yes on a pitch clock. Pitchers take too damn long. Speed it up. Limiting shifts though? Nah. I am against anything that limits creativity. Did MLB ban breaking balls when they found out half the league couldn't hit sliders? Nope. The strong will survive. Moving the trade deadline seems like a solution in search of a problem. What's wrong with trade waivers? The dog days of summer can be a real grind. Trade waivers help keep things interesting. How much longer do we need to give teams to decide to buy or sell at the deadline? July 31st is fine.
Three Yankees on top Appy Prospects list
Baseball America
(subs. req'd) continued their look at the top 20 prospects in each minor league with the rookie Appalachian League not too long ago. Rays SS Wander Franco claimed the top spot. Three Yankees made the list: OF Everson Pereira (No. 9), RHP Luis Medina (No. 13), and RHP Luis Gil (No. 19). RHP Luis Rijo, who went to the Twins in the Lance Lynn trade, is No. 14.
I wrote about Pereira earlier this week
. Here's a snippet of Medina's scouting report:
What keeps scouts interested with Medina is a fastball that sits in the 95-96 mph range and touches 100, with impressive plane and sink. He's also got a 60-grade curveball and a changeup that could become a third plus pitch as well … Medina has a good arm action but simply struggles to repeat his delivery with any kind of consistency.
Medina is still only 19 and his numbers with rookie Pulaski this year weren't good. He threw 36 innings with a 6.25 ERA (6.46 FIP) and high strikeout (25.5%) and walk (25.0%) rates. That's 47 strikeouts and 46 walks in 36 innings. He also uncorked 12 wild pitches, so yeah. I've said this before and I'll say it again: Medina has some Dellin Betances in him. The stuff is elite. The control and delivery are far from it. The potential reward is very high but he is long-term project.
As for Gil, the Yankees acquired the 20-year-old from Minnesota in the Jake Cave trade, and he had a 1.37 ERA (3.28 FIP) with 35.8% strikeouts and 15.4% walks in 39.1 innings with Pulaski. "Gil's best pitch is a fastball that sits in the mid 90s and touches triple digits, exploding in the zone late on hitters out of a loose arm action. He throws a fringe-average curveball in the low 80s and is still in the early stages of developing a changeup," says the write-up. I've seen reports describe Gil's curveball as above-average, so who knows. Gil is just another lower level hard-thrower in a system full of them.