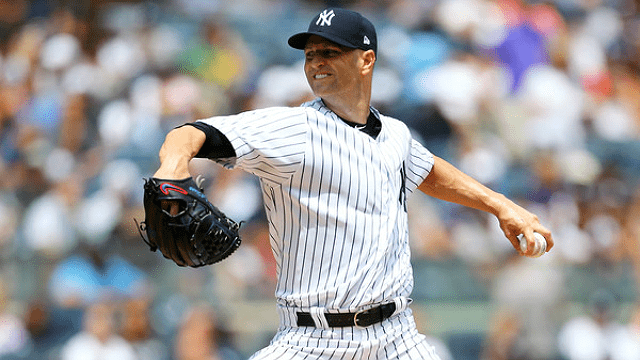 James Anthony Happ started in the Yankees' Opening Day game in Toronto, albeit as the opposing starter. Like his final start of the year, it featured a home run from the new middle-of-the-order addition and a loss for the veteran lefty.
But in between, Happ provided the Yankees with exactly what they needed after the trade deadline, solidifying a constantly changing spot in the Yankees' rotation. He did enough to earn the start in ALDS Game 1 and perhaps an extended look in pinstripes next season.
Let's get into a strong season for Happ despite a disappointing ending.
Before the Trade
In his age-35 season, Happ continued his late-career renaissance while adding a new chip to his resume: an All-Star appearance, earning the save in extra innings. While his AS bid came as the Blue Jays' lone representative, it was well deserved in the context of his full career as a journeyman fighting to stick in the league before latching on as a mainstay for Toronto in recent seasons.
The Jays were out of contention by midseason, so trading their spare parts became the logical next step. Happ had posted a 10-6 record with a 4.18 ERA over 114 innings for Toronto in 2018. While that ERA was merely league-average, he posted those numbers (which included a career-best strikeout rate) in the AL East, making multiple starts against both the Yankees and Red Sox. He quickly became one of the bigger starting pitching targets at the deadline, particularly with Jacob deGrom off limits in Queens.
Happ would be one of only three 2018 All-Stars dealt before the deadline, with Manny Machado and Brad Hand being the others. Happ became the first starting pitcher to earn an All-Star appearance and be traded in the same season since Drew Pomeranz in 2016.
Filling a Need
On July 26, the Yankees dealt Brandon Drury and Billy McKinney to the Jays to acquire Happ. The trade marked the second straight year that the Yankees had acquired a starter at the deadline (Sonny Gray, Jaime Garcia). This deal would turn out much better than those.
Happ stepped into the rotation spot initially vacated by Jordan Montgomery when he went down with a UCL injury. Domingo German, Jonathan Loaisiga and Luis Cessa tried and failed to grab hold of the spot, making the Yankees' need for a starter. That trio combined for a 5.16 ERA and just south of five innings per start before the trade deadline, though the Yankees went 11-9 in those games.
Beyond Happ's ability to pitch in the AL East, his historic success against the Red Sox made him an easy target. Before the Yankees acquired him, he had made 19 appearances against Boston and was 7-4 with a 2.65 ERA in 105 2/3 innings. He'd made two starts vs. the Sox in 2018 while with Toronto with one good (7 IP, 1 run, 10 Ks) and one bad (3.2 IP, 5 R, 0 ER, 6 K).
But Happ's cheap cost and expiring deal added to his appeal for the Pinstripers. Drury had fallen out of a favor in the Bronx while McKinney was stuck behind a handful of outfielders. Dealing McKinney ended up being a case of bad timing as Aaron Judge and Clint Frazier were soon lost for an extended period right after the trade became official.
The Stabilizer
Happ debuted as a Yankee on July 29 with six frames of one-run ball against the Royals at Yankee Stadium. He'd soon go on the DL for the minimum 10 days with hand, mouth and foot disease (Curse you, Mets!), so he missed his first opportunity to face the Sox.
Once he came back, he was as dominant as a relatively soft-tossing lefty can be. He went 7-0 with a 2.69 ERA over 11 starts with the Yankees, who went 9-2 in those games. The bullpen blew leads in the sixth and ninth inning, respectively, in the two losses.
Happ was especially strong at Yankee Stadium, where he went 4-0 over seven starts. He struck out just under a batter per game in the Bronx, though he allowed eight home runs.
The veteran went six or more innings in eight of 11 starts. He kept his strikeout rate above career norms, though it wasn't quite as high as his 2018 numbers in Toronto. He lowered his walk rate, but his home runs rose, allowing 10 in pinstripes.
The Yankees went 2-0 in his regular-season starts vs. Boston. He allowed only four earned runs in 12 innings and all of them came on one swing, a grand slam by World Series MVP Steve Pearce. Eight hits, five walks, 13 Ks, 1 grand slam. The last part isn't ideal, but he got the job done.
Ultimately, Happ was exactly what the Yankees needed in the regular season. The team needed length out of their starters and some more reliability, both of which he had in spades. While Yankees certainly make playoffs without his contributions, it's easy to argue that a different deadline acquisition to fix the rotation leads to the Yankees playing the AL Wild Card in Oakland.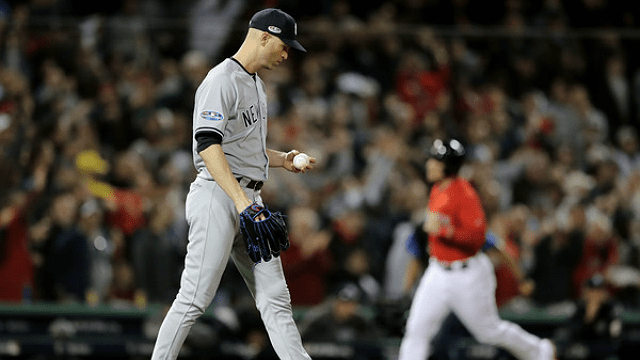 Wrong Time for a Bad Start
His lone playoff start sucked from the start. Happ is a pitcher that relies on his fastball and it was clear he couldn't command it three batters in. After walking Steve Pearce, J.D. Martinez's three-run homer put the Yankees on the ropes early. Happ lasted just 11 batters, unable to complete two times through the order.
Aaron Boone made a smart move to pull Happ early when it was clear the then-35-year-old didn't have it in Game 1. The decision gave the Yankees a chance to win, even with Chad Green allowing two inherited runners to score. They just didn't come through with the big hit needed in the later innings.
Happ likely wouldn't have started Game 5 of the ALDS since Masahiro Tanaka would have been available on full rest. Therefore, his next playoff start would have been presumably been Game 1 in Houston if the Yankees made it that far.
What's Next
Happ is a free agent coming off a three-year, $36-million deal. The Yankees couldn't issue him a qualifying offer since he was traded mid-season and he likely wouldn't have gotten one anyway.
With Yankees looking to upgrade the rotation, he may be on his way out and could be replaced by an upgrade like Patrick Corbin. Still, with CC Sabathia returning and Luis Severino and Masahiro Tanaka the only other starters under contract, the Yankees could add back Happ while bringing in another starter.
Happ turned 36 on Oct. 19, but his age isn't a reason to give up on him. He has never been the type of guy to blow people away and his fastball velocity actually increased in 2018. It's not hard to see him sustaining his recent gains, even while pitching at Yankee Stadium.
He'd made sense on a one- or two-year deal, even after the disastrous postseason cameo. Three years, which MLB Trade Rumors has him getting, might be a little rich, even if Rich Hill got a three-year pact going into his age-37 season. Happ would certainly be a nice middle-of-the-rotation piece for 2019.