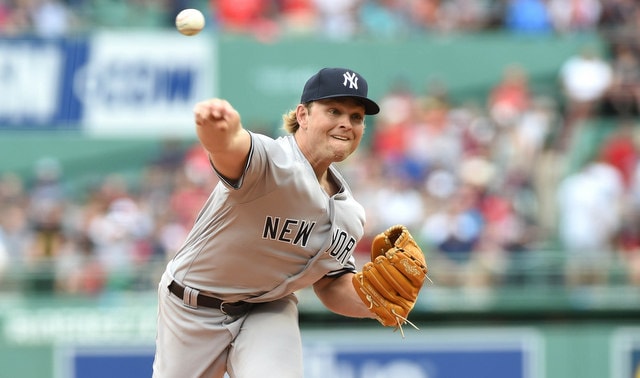 The term "make or break" year is way overused in prospect analysis. Make or break years are often confused with prospect fatigue, meaning we've been hearing about these players for so long that you lose interest in them, and think they have to do something to regain your attention. Happens to everyone, myself included. These days we track kids from the day they sign. After three or four years, we're all ready to move on to the next big thing.
That said, each season there are absolutely prospects who face make or break years, and this season is a make or break year for Chance Adams. Adams reached the big leagues last summer — who had Jonathan Loaisiga making his MLB debut before Adams? — and wasn't very good, but it was only 7.2 innings and it was his MLB debut, and I'm more than willing to overlook a poor small sample size debut. Happens to lots of guys.
What can't be overlooked is the giant step back Adams took in Triple-A. He went from a 2.89 ERA (3.76 FIP) in 115.1 Triple-A innings in 2017 to a 4.78 ERA (4.87 FIP) in 113 Triple-A innings in 2018. His strikeout (22.3% to 22.9%) and ground ball (41.4% to 41.7%) rates held steady while his walk (9.3% to 11.7%) and home run (0.70 HR/9 to 1.27 HR/9) rates climbed quite a bit. Performing worse while repeating a level is always bad news.
The performance issues almost certainly stem from a decline in stuff. Adams had surgery last winter to remove a bone spur from his elbow and everything took a step back last year. From MLB.com:
After sitting at 93-95 mph with his fastball in his first two seasons as pro starter, Adams had offseason surgery to remove bone chips from his elbow and has operated at 91-93 in 2018. His slider has lost a couple of ticks of velocity as well and isn't as sharp as it has been in the past.
For what it's worth, that report calls it bone chips but Adams himself called it a bone spur, so I'm sticking with bone spur. I'm not sure there's a meaningful difference anyway. Now here's what Josh Norris (subs. req'd) had to say about Adams a few weeks ago:
I think his stock has fallen quite a bit. The fastball lost a few ticks after the elbow surgery, which obviously diminishes his profile. His offspeed pitches were inconsistent as well. If he's a starter it might be more of the back-end type role. In the bullpen he'd fit toward the seventh inning.
On one hand, you kinda have to cut the guy some slack when he has elbow surgery. One the other, there was no ligament or structural damage in his elbow. The recovery timetable for bone spurs is relatively short — Adams was a full participant in Spring Training last year — and in recent years both CC Sabathia (2014-15) and Masahiro Tanaka (2015-16) had elbow bone spurs removed in the offseason with no carryover effect the next year.
That said, surgery is surgery, and everyone recovers differently. That's kinda what makes this a make or break year for Adams. He'll have a full season under his belt post-surgery, which means a normal offseason and a normal Spring Training going in 2019. The bone spur surgery should be fully in the rear-view mirror. If he again shows diminished stuff this year, this far out from surgery, it's a major red flag. Something's wrong in that case.
Adams will turn 25 later this summer and, while teams don't care how old you are as long as you get outs, turning 25 without having established yourself in the big leagues is a tough place to be. Unless he makes the Opening Day bullpen, which could certainly happen, Adams is facing a third consecutive season in Triple-A and he is being passed over on the pitching depth chart. (I again refer to Loaisiga managing to make his MLB debut before Adams.)
For the Yankees, there's no real problem here. They can send Adams back to Triple-A and continue to use him as up-and-down pitching depth. Adams has minor league options remaining so he provides roster flexibility. Teams could do worse for the 15th or 16th guy on the pitching depth chart. Adams doesn't have as much trade value as he once did, which is unfortunate, but the Yankees have plenty of other prospects to trade.
The make or break year applies more to Adams to the Yankees. This is the year he has to show he can be an effective MLB option, if not for the Yankees, then for another team. Otherwise he runs the risk of essentially becoming A.J. Cole, that former highly regarded prospect who was unable to carve out a role with his original team, then starts bouncing from team to team, hoping to stick. That's not fun.
For Adams to rebuild stock, he first and foremost has to get back his pre-elbow surgery stuff, or at least something close to it. A low-90 fastball with a soft slider won't take you very far in today's MLB. If Adams regains stuff, he should cut through Triple-A batters, which will equal an MLB opportunity. If not as a starter then as a reliever. It's then up to him to capitalize. This coming season is an important one for Adams, for sure.
The Yankees have kept Adams at arms length in recent years — he only made his spot start at Fenway Park last year because Luis Cessa was needed in long relief two days earlier — most notably passing on him to call up Caleb Smith in 2017. We've seen them do that with other prospects (Jesus Montero, most notably) which is usually a pretty good indication they're not as sold on the player as much as the numbers and prospect rankings would lead you to believe.
It's entirely possible there is nothing Adams can do to change the way the Yankees view him, which appears to be "extra arm" more than "no-doubt big league contributor." In that case, his make or break year may already be broken. I'd like to think he could change their mind though. Come back strong with a normal offseason, show the bone spur surgery is in the past, and force the team to give you a chance. If that doesn't happen in 2019, Adams is at risk of falling out of the picture entirely.