We have nine questions in this week's mailbag. Only three more of these until pitchers and catchers report and only five more until Grapefruit League games begin. Hooray for that. Send all your mailbag questions to RABmailbag (at) gmail (dot) com and I'll answer as many as I can each week.
Tamir and Gai ask: Other than Robinson Cano's 2008 season are there other comps of a player having one atrocious down year like Gary and then coming back as if nothing happened?
Oh sure. Robinson Cano is great example we're all familiar with. He hit .314/.346/.489 (113 wRC+) with +7 WAR from 2005-07 then dropped to .270/.305/.410 (86 wRC+) and +0 WAR in 2008. Robbie looked like he forgot how to play baseball that year. Cano bounced back in 2009 and has been on the Hall of Fame track since. Too bad he won't get in due to the performance-enhancing drug suspension.
Anyway, I went back to the turn of the century and searched for players who had a terrible second full MLB season (like Gary Sanchez) or a terrible third full MLB season (like Cano), then bounced back. Here are some examples, ignoring guys whose down year was the result of missing time to injury:
| | Good Year | Down Year | Bounceback Year |
| --- | --- | --- | --- |
| Yoenis Cespedes | +4.0 WAR | +1.4 WAR | +4.1 WAR |
| Prince Fielder | +3.6 WAR | +1.5 WAR | +6.3 WAR |
| Eric Hosmer | +1.4 WAR | -0.5 WAR | +3.5 WAR |
| Brian McCann | +4.3 WAR | +1.0 WAR | +5.5 WAR |
| Yadier Molina | +1.4 WAR | -0.2 WAR | +2.1 WAR |
| Stephen Piscotty | +3.0 WAR | +0.6 WAR | +2.8 WAR |
Several players, including Mike Moustakas and Jean Segura, had terrible second and third big league seasons before finding their way again in their fourth season. Repeat after me: Development is not linear. There are often bumps along the way.
Maybe Sanchez is bad forever now. It could happen. I am nowhere near ready to say that. Being a young catcher is really difficult because there is so much responsibility, plus Gary apparently played through some shoulder trouble last year, hence offseason surgery. Trust in the talent, trust that he can again do things you've already seen him do, and be patient.
Les asks: Should the Yankees consider trading Betances this year or risk the chance of re-signing him after the season. We all know the history between the two parties, mainly due to the publicized comments made by Randy Levine. It may be make it extremely difficult to re-sign him. I think it would be sad to see him leave without any real compensation, especially when the bullpen is the one area of the team where his loss could be tolerated.
I get what you're saying. Potentially losing Dellin Betances for nothing more than a draft pick next offseason would stink — that's if the Yankees make the qualifying offer too, which is hardly a given — but, when you're the Yankees and you're on the very short list of World Series contenders, I think you have to keep him. Betances is an impact reliever and the more good players on the roster, the better. It's hard for me to see a scenario in which trading him makes the 2019 Yankees a better team.
I will say that the Adam Ottavino signing makes trading Betances a little more plausible. I'd still keep him, but now the Yankees are in better position to absorb the loss. They'd still have Ottavino, Zach Britton, Chad Green, and Aroldis Chapman. When you have those guys penciled into the bullpen, trading Betances to address another need, whether it's on the MLB roster or in the farm system, is easier to swallow. I'd still keep him. The Yankees will need Dellin to get to where they want to go.
Brian asks: The Yankees decided Gardner was no longer a starter down the stretch and McCutchen was their starting LF. Is Gardner suddenly a starter again? Any chance that Frazier could force his way into replacing McCutchen as starting LF and force the Yankees to carry Gardy as a 5th OF (really a 4th since someone is probably at DH)? Could Ellsbury?
I don't think Brett Gardner is going to be an everyday player this coming season. Not unless he's playing too well to keep him out of the lineup. With Troy Tulowitzki seemingly locked in as the starting shortstop, my guess is Gardner is effectively platooning with DJ LeMahieu. Something like this:
vs. RHP: Gardner in left, Andujar at third, Stanton at DH, LeMahieu on the bench
vs. LHP: Stanton in left, LeMahieu at third, Andujar at DH, Gardner on the bench
The Yankees have to see Clint Frazier healthy and playing without restrictions before considering him for a big league role and I'm not sure he can accomplish that in Spring Training. Starting the season in Triple-A seems most likely. Frazier's missed too much time to throw him right into an MLB role, I think.
My hunch is the master plan is using Gardner to hold down left field to start the season, at least against right-handed pitchers, then begin phasing him out for Frazier at midseason. If Clint's health doesn't cooperate, the Yankees could look outside the organization for outfield help a la Andrew McCutchen last year. As for Jacoby Ellsbury, who knows? He has to get healthy before we worry about him. I don't think the Yankees plan on using Gardner as an everyday player though. Not unless he forces their hand or they get hit with injuries.
Ed asks: Doesn't LeMahieu's good OBP numbers against LHP's give the Yankees another option at the top of the order?
Yes, and this is why I think LeMahieu plays third base against lefties, with Giancarlo Stanton in left field and Miguel Andujar at DH. LeMahieu hit .330/.360/.540 (124 wRC+) against lefties last season and is a career .313/.369/.445 (104 wRC+) hitter against lefties. Gotta get him in there against southpaws. The leadoff spot could work too as long as LeMahieu continues hitting like that against southpaws. I am on team #BatJudgeLeadoff but I don't expect it to actually happen. If the plan is to squeeze Aaron Hicks between Aaron Judge and Stanton, then LeMahieu at leadoff is as good an option against lefties as the Yankees have, at least until Gleyber Torres forces the issue.
Alberto asks: How many assistant GMs does Brian Cashman have beside Jean Afterman?
Cashman has two assistant general managers, officially: Afterman and Mike Fishman. Afterman joined the Yankees in 2001 and she is the highest ranking woman in an MLB front office. She largely deals with contracts and legal matters, from what I understand. Fishman joined the Yankees in 2005 and more or less built the team's analytical department from the ground up. The Yankees quietly gave him the assistant GM title a few years back.
Afterman and Fishman are Cashman's only two official assistant general managers but he has a lot of lieutenants. Vice president of baseball operations Tim Naehring effectively replaced current Angels GM Billy Eppler as Cashman's right-hand man. Special assistant Jim Hendry seems to be involved in everything, including draft scouting and contract negotiations. Pro scouting director Dan Giese, player development director Kevin Reese, and quantitative analysis director David Grabiner are high enough up on the ladder that they were involved in manager interviews last offseason.
The "manager" part of "general manager" seems to get overlooked these days. Cashman oversees a lot of people — a lot of people — and they bring information to him, and they use it to collectively make a decision. It's not like the wild west days when the general manager ran his own ship and made his own moves. The decision-making process is much more of a collaborative effort these days, all around baseball, and Cashman sits at the head of the table.
Alex asks: Given the lack of upper level catching prospects, how much does the organization miss Luis Torrens and what are the chances that the Padres' gambit turns out to be worthwhile?
Following his 2017 big league stint as a Rule 5 Draft pick, the Padres sent Torrens to High-A last season, where he hit .280/.320/.406 (94 wRC+) in 122 games. It really feels like San Diego did the kid a disservice. I get that playing a year in the big leagues has real value. He also missed out on a lot of development time. Torrens received 139 plate appearances and caught only 310.2 innings in 2017. That's after only 214 plate appearances and 440.2 innings at catcher from 2015-16 due to shoulder surgery. That is fewer than 400 plate appearances and 800 innings behind the plate from 2015-17, his age 19-21 seasons. How is that good for his development?
I understand the "get the talent while you can and figure it out later" aspect of all this, but it really feels like Torrens was put behind the 8-ball developmentally. That's a shame. I hope he can overcome it. As for the Yankees, I'm not sure they miss Torrens because it's unlikely he would've been a big league factor at this point, and they have a pretty good young catcher in Sanchez as it is. They don't have Torrens as a trade chip, which stinks, but not having a top upper level catcher in the system doesn't hurt as much when you have a guy like Gary in MLB.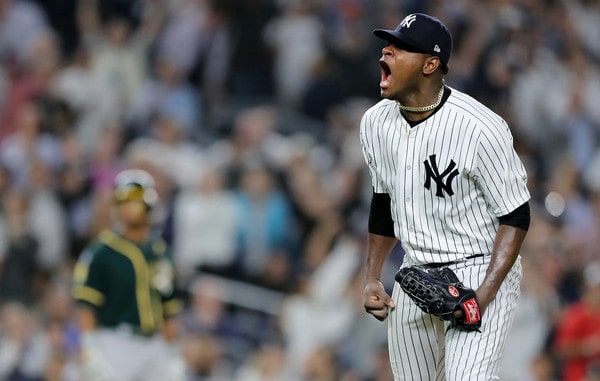 Dave asks: Any thoughts for a Severino long term contract that would work for the Yankees and for Sevy? Maybe use one of the newfangled multi year options? Or is it just too soon since it's his first year of arbitration?
Believe it or not, only one starting pitcher in the last nine years has signed an extension in his first year of arbitration-eligibility as a Super Two: Gio Gonzalez. He signed a five-year, $42M contract with the Nationals back in 2012. At the time Gonzalez had eight fewer days of service time than Severino has right now, and Gio had 58% of the career WAR in 103% of the career innings. Between inflation and performance, Gonzalez's contract doesn't serve as a great benchmark for Severino.
We do know what Severino's salary will be this coming season. It'll be no less than $4.4M and no more than $5.25M, the salary filing figures. Could the Yankees build an extension around $40M for the four arbitration years (say $4M, $8M, $12M, $16M from 2019-22) and then $22M per free agent year? Let's call it six years and $84M. Severino is seeking $5.25M this year, but, in exchange for the long-term deal and large guarantee (plus being able to hit free agency at age 30), the Yankees would presumably seek a discount up front.
Although I would like the Yankees to be a little more aggressive signing young players long-term, I can totally understand waiting on Severino and pitchers in general, only because there's so much injury risk. The Yankees can afford to pay big arbitration raises and, if something terrible happens, they can walk away. It's worth approaching Severino about an extension because you never know what'll happen. He might be open to a big discount. His big filing number suggests otherwise.
Julian asks: Hall of Fame voters seem to always discredit Rockies players like Larry Walker because they played at Coors Field with high altitude. How come writers don't discredit Yankees players for playing at a relatively small stadium?
It does seem like Rockies players get unfairly dinged for playing in Coors Field, doesn't it? Obviously Coors Field boosts their numbers, there's no doubt about it, but you're right. We won't hear anything about Derek Jeter playing in a small ballpark when he joins the Hall of Fame ballot next year. We didn't hear anything about Trevor Hoffman playing in pitcher's parks or Jim Thome playing in many hitter's parks. It seems like we've gone too far with Coors Field. We're punishing players too much. Consider Walker's numbers:
Coors Field: .381/.462/.710 (lol)
Everywhere Else: .282/.371/.501
Those numbers outside Coors Field are really good! Ken Griffey Jr. is a career .284/.370/.538 hitter and he received the highest Hall of Fame voting percentage in history. Walker's numbers outside Coors Field are on par with Griffey's overall numbers, and only 31% of Walker's career plate appearances came in Coors Field.
I'm not saying Walker was as good as Griffey. I'm just saying I think he's being dinged too much for Coors Field — Walker's voting percentage has topped out at 34.1% in his eight years on the Hall of Fame ballot — and it does feel like we hear more about park factors with Rockies players than all other players during Hall of Fame voting season. It's disproportionate.
Tom asks: Did Sonny Gray agree to lower $$$ this year in order to facilitate a trade? Maybe the Yankees used that as a bargaining chip in order to get more interest/a higher return in a possible trade?
If Gray agreed to a lower salary to increase his trade value, he's an idiot. He should look out for himself and only himself. He owes the Yankees nothing and that would be a thankless gesture. Sonny is one season away from free agency. If he's that desperate to change teams, he can do it next offseason. He shouldn't sell himself short financially to do it now. Get paid while you can because, these days, owners are doing everything in their power to reduce spending. I think Gray's lower than projected salary has to do with the MLBTR model being a bit too optimistic with his arbitration case. I hope Sonny didn't voluntarily take less money. His agent failed him spectacularly if that is that case.