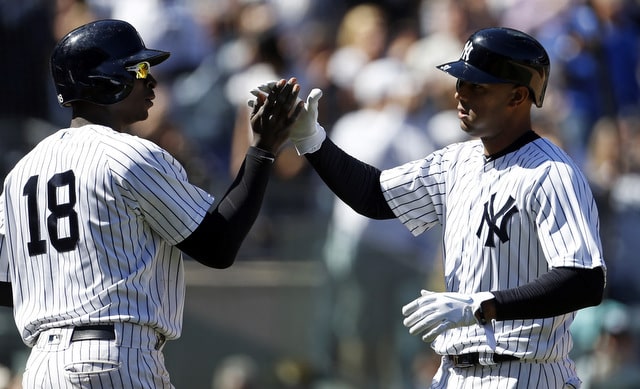 Today is an important date on the offseason calendar. Today is the deadline for teams and their arbitration-eligible players to file salary figures with the league. The player files what he believes he should be paid in 2019. The team files what they believe the player should be paid in 2019. Pretty straightforward, right? There is a lot of money on the line today around the league.
Most arbitration-eligible players will agree to 2019 contracts today. Only a handful will actually file salary figures. The two sides can still work out a contract of any size even after filing salary figures, but most teams employ a "file and trial" approach, meaning once they file numbers, they cut off contract talks and go to an arbitration hearing. That's designed to put pressure on the player to sign.
If the two sides do go to a hearing, they will each defend their filing number and state their case to the three-person panel. It can get ugly. Jeff Passan says the Red Sox played a Kris Bryant highlight video during their hearing with Mookie Betts last year to show the panel Betts is not as good as Bryant, and didn't deserve a similar salary. Ouch. (It didn't work. Betts won.) The panel will ultimately pick either the salary the player filed or the salary the team filed. Nothing in between.
The Yankees have a massive arbitration class this season. Not only do they have nine arbitration-eligible players, those nine players combine for over $50M in projected salary in 2019. Last year's nine-player arbitration class ran only $29.2525M in actual salary. This year's arbitration class could come close to doubling that. Arbitration-eligible players could chew up more than a quarter of the $206M luxury tax threshold.
Unless something unexpected happens, like a long-term extension, we're going to keep track of all the day's Yankees-related arbitration news right here in this one post. The Didi Gregorius situation is the important one to watch. Here are this year's arbitration-eligible Yankees and their projected salaries, via MLBTR:
Service Time (years.days)
MLBTR Projection
Actual 2019 Salary
Didi Gregorius
5.159
$12.4M
$11.75M
Dellin Betances
5.078
$6.4M
$7.25M
Sonny Gray
5.061
$9.1M
$7.5M
Austin Romine
5.045
$2M
$1.8M
Aaron Hicks
5.041
$6.2M
$6M
James Paxton
4.151
$9M
$8.575M
Tommy Kahnle
3.131
$1.5M
$1.3875
Greg Bird
3.053
$1.5M
$1.2M
Luis Severino
2.170
$5.1M
Filed
Total
$53.2M
$45.4625M
As a reminder, players with 0-3 years of service time are pre-arbitration-eligible and teams can pay them pretty much whatever they want. Players with 3-6 years of service time are arbitration-eligible. (Severino is a Super Two and will be arbitration four times instead of the usual three. Here's a Super Two primer.) Players with more than six years of service time are eligible for free agency.
The Yankees have been to one arbitration hearing in the last ten years (Betances in 2017), and, for the most part, they get their players signed before the filing deadline. They have had a few negotiations continue beyond the filing deadline, most notably Aroldis Chapman in 2016. Generally speaking though, the Yankees get their guys signed before the salary filing deadline. They'll be busy today given their sizeable arbitration class.
It's worth noting one-year contracts for arbitration-eligible players are not guaranteed. These players can be released in Spring Training and owed only 30 days or 45 days termination pay, depending on the exact date of the release. Chances are none of them will get released in camp. It doesn't happen often. Kahnle seems most at risk of a Spring Training release should he show up to Tampa with his velocity still missing.
Anyway, the salary figure filing deadline is 1pm ET but news is going to trickle in through the day. The Yankees tend to announce everything all at once at the end of the business day, so official confirmation is still a few hours away. Here's the latest contract news for arbitration-eligible Yankees. Check back throughout the day for updates.
12:00pm ET: According to Bob Nightengale, the Yankees and Bird have agreed to a one-year deal worth $1.2M. Bird has played in only 130 of 486 possible games the last three seasons, though he was accruing service time while on the Major League disabled list, so he's arbitration-eligible.
12:00pm ET: Romine and the Yankees have agreed to a $1.8M salary for 2019, reports Nightengale. Thus far both signings come in a tick below the MLBTR projection. Probably just a coincidence, but, given the state of free agency, I can't help but wonder if teams are putting the squeeze are arbitration-eligible players too.
12:57pm ET: Hicks gets a $6M salary for the coming season, according to Nightengale. Another below projection number. Hmmm. The big question now: Will the Yankees and Hicks discuss a long-term extension at some point, or is this it until he becomes a free agent after the season?
4:12pm ET: Jeff Passan reports the Yankees and Luis Severino did not agree to a contract before the 1pm ET deadline. They're expected to go to an arbitration hearing. No word on their salary filing figures yet. Those will come out eventually.
5:25pm ET: The Yankees and Betances agreed to a one-year deal at $7.25M, reports Sweeny Murti. That is well-above the MLBTR projection. Good for Dellin. Of course, the Yanks beat him in arbitration a few years ago, so his salary is lower than what it could've been.
5:52pm ET: The Yankees have agreed to one-year contracts with all their arbitration-eligible players except Severino, the team announced. We're still waiting on Severino's filing numbers as well as salary numbers for Gregorius, Paxton, Gray, and Kahnle.
9:55pm ET: Ron Blum says Gregorius received $11.75M, Paxton received $8.575M, and Gray received $7.5M. So much for the Yankees getting Gregorius at a discount while he rehabs from Tommy John surgery. Also, Severino filed for $5.25M while the Yankees countered with $4.4M. Arbitration hearings will take place in February. Still no word on Kahnle's salary.
Saturday, 10:12am ET: Blum's story has been updated to include Kahnle's salary. He gets $1,387,500. Seven of the eight arbitration-eligible Yankees who signed yesterday signed below their MLBTR projection, with Betances the lone exception. Those eight players combine for $45.4625M in salary, so, even if Severino wins his hearing, this year's class comes in at roughly $2.5M below the projection.