Spring Training is underway and soon Grapefruit League games will begin. Between now and Opening Day we're going to preview the 2019 Yankees bit-by-bit, player-by-player. We begin today with the guy who pitches at the end of the game.
The 2019 Yankees are built from the ninth inning forward. Brian Cashman & Co. have built what is, on paper, the deepest and most powerful bullpen in the sport. It is not particularly close either. Check out the projected bullpen WAR leaderboard at FanGraphs:
Yankees: +6.1 WAR
Brewers: +4.7 WAR
Mets: +4.3 WAR
Astros: +4.2 WAR
Pirates: +3.8 WAR
The gap between No. 1 and No. 2 is the same as the gap between No. 2 and No. 10. ZiPS guru Dan Szymborski says that, with 27 of the 30 teams complete, his system projects the Yankees to have three of the four best relievers in baseball by ERA+. Projections are not predictions, they are an estimate of current talent level, and the Yankees are loaded with bullpen talent right now.
At the center of that bullpen — or, more accurately, at the end of that bullpen — is Aroldis Chapman. Manager Aaron Boone has many options to bridge the gap between the starter and the ninth inning, but, when the bullpen door swings open in the ninth, we know who's entering the game. It's Chapman and the closer's role is his. What happens in the innings leading up to Chapman is a little more up in the air due to matchups and whatnot.
Chapman will celebrate his 31st birthday next week and he was a deserving All-Star last season, throwing 51.1 innings with a 2.45 ERA (2.09 FIP) and a 43.9% strikeout rate. It was his highest strikeout rate in four years and the third highest in baseball among the 336 pitchers to throw at least 50 innings. Only Josh Hader (46.7%) and Edwin Diaz (44.3%) fanned batters at a higher rate in 2019.
This season Chapman will again serve as a linchpin in what figures to be the game's best bullpen. Yes, the Yankees have the bullpen depth to cover the ninth inning should something go wrong. They also need Chapman to dominate in the ninth inning to get to where they want to go, which is to the World Series and down the Canyon of Heroes. Let's preview the closer's upcoming season.
How's the knee?
A left knee injury, which was never classified as anything more than tendinitis, hampered Chapman throughout last season and sent him to what is now formerly known as the disabled list for about a month late in the year. He came back well and resumed closing in the postseason, and did not require anything more than rest in the offseason. Things are going well so far in Spring Training.
"Really good," said Boone to Brendan Kuty last week when asked about the status if Chapman's knee. "Obviously that's something that we'll keep close tabs on and stay vigilant with it. All the drills, trying to communicate with him exactly how he's feeling. If you follow him on Instagram, you can see he was moving around pretty well this winter. He's in really good condition as well."
The good news is Chapman didn't need surgery. Even something relatively minor like a torn meniscus is not all that minor. Surgery would've required rehab and cut into his offseason program. Instead, he was able to rest and have a relatively normal winter. Will the knee bark again this year? It's impossible to know right now. Even Chapman admitted the knee is a bit of an unknown going forward.
"I want to say no, but you never know," said Chapman to Dan Martin when asked whether his knee will be an issue again. "I don't think it will be. I finished all the rehab they recommended and was able to keep working out."
Taking it easy on Chapman in Spring Training will be a piece of cake. Those games are meaningless. Once the regular season begins, things get a little more hectic, and it won't necessarily be easy to manage his workload or be proactive with the knee. My hunch is the Yankees and Chapman will do exactly what they did last year. They'll monitor the knee and back off when necessary. Hopefully the offseason did the trick and another month-long stint on the injured list can be avoided.
Is another adjustment coming?
The injury was to Chapman's left knee, his push off knee, and it's probably not a coincidence his trademark fastball was missing a little velocity last year. I'm sure age (Father Time comes for all of us) and general wear-and-tear played a role in the velocity loss as well. Whatever caused it, Chapman's velocity was down last season.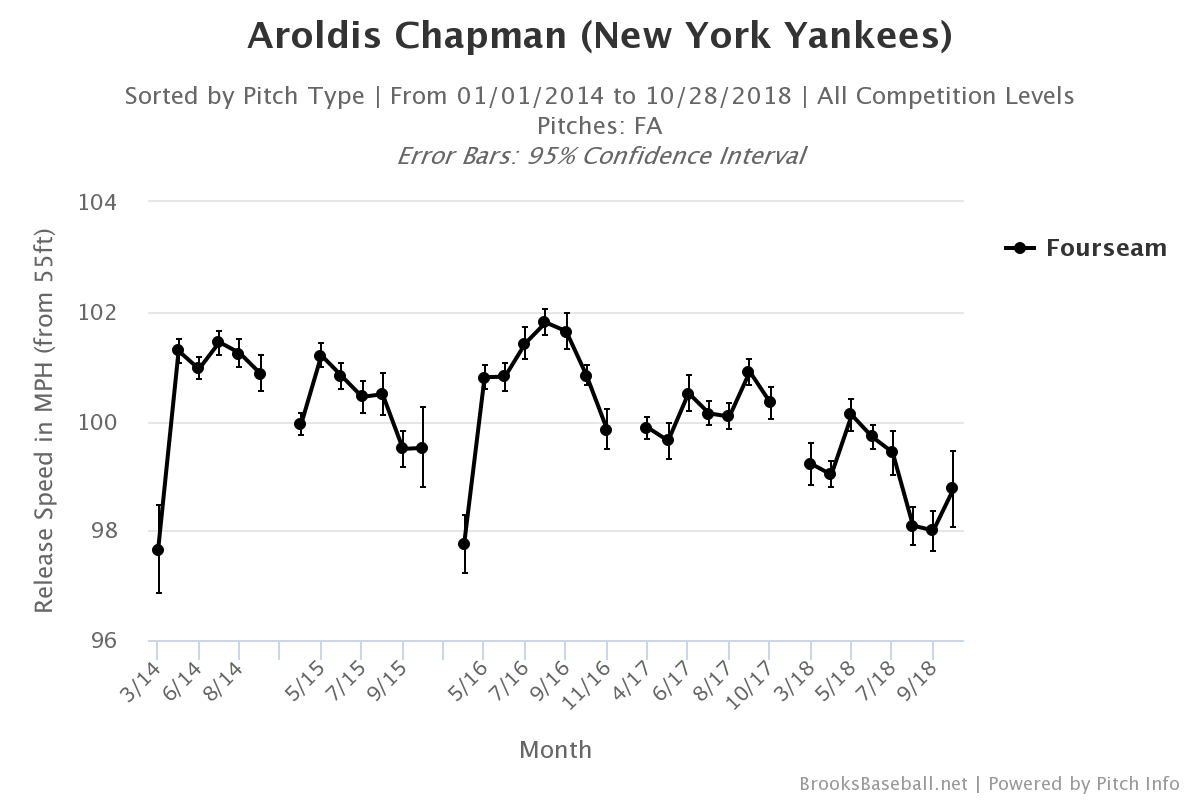 On one hand, Chapman averaged 99.1 mph with his fastball last year, third highest in baseball behind Jordan Hicks (101.7 mph) and Tayron Guerrero (99.4 mph). On the other, his heater averaged 101.2 mph in 2016 and 100.2 mph in 2017, so we're talking a full mile-an-hour gone from his fastball from 2016 to 2017 and again from 2017 to 2018. What if he loses another mile-an-hour in 2019?
Last year Chapman ostensibly compensated for the velocity loss by throwing more sliders. More than he'd ever thrown in his entire career (25.5%). That slider came with great results as well. Here's Chapman's slider and the league averages for sliders:
AVG: .109 (.209 league average)
ISO: .094 (.138 league average)
xwOBA: .102 (.254 league average)
Whiffs-per-Swings: 60.2% (35.5% league average)
Ground Balls: 57.1% (44.1% league average)
Chapman's slider was outrageously good last season. Granted, it's a relatively small sample size (244 sliders), but it happened, and it was awesome. Chapman's slider was so good last year that it's almost kinda hard to expect to be that good again this year. I mean, a .102 xwOBA? More than six misses for every ten swings? Obscene. Even with a little slip in effectiveness, we're still talking a dominant slider.
The Yankees are an anti-fastball team, but, in Chapman's case, his fastball is so good that you can't get away from it. Even with reduced ("reduced") velocity, he still threw his fastball roughly 70% of the time last year, and that absolutely played a role in his slider's effectiveness. Hitters must respect the triple-digit heater, and when they instead get the upper-80s slider, it can lead to silly swings. It's pretty great.
With any luck Chapman will regain velocity with a healthy knee this season. It's not far-fetched. A healthy push off knee could create that extra little oomph he lost last year. That said, I think Chapman is at the point of his career where you have to expect continued velocity loss. Don't get mad at me. That's just baseball. He'll play the season at 31 and his arm has a good amount of mileage on it. Once velocity loss happens, it tends to keep happening.
I think one of two things will happen this season even if Chapman regains some velocity with a healthy knee, or just maintains last year's velocity. One, he'll begin to throw more changeups, or two, he'll throw even more sliders. I suppose both could happen, actually. Chapman threw seven (7) changeups all last season and he's never thrown it more than 7.8% of the time in his career. That would really mess with hitters. Chapman throwing more changeups.
As for throwing more sliders, this seems more likely to me than more changeups, and it's probably not a bad idea. Chapman doesn't have to go all Adam Ottavino and throw 50% sliders. That's too extreme a jump. At the end of the day, Chapman is still a fastball pitcher and he should use that fastball a lot. Going from roughly 25% sliders to 35% sliders — that's two extra sliders per appearance, basically — could help keep him overwhelmingly dominant as he ages.
Keep in mind the Yankees and Chapman were proactive last year. He came out of the gate throwing more sliders, long before it was clear his velocity had dipped (and the knee was an issue, in theory). It was something they were planning all along. Also, Chapman made the adjustment and had success. Some guys try to add a new pitch or further incorporate an old one more often and struggle. He showed the aptitude to make the adjustment, and if the velocity loss continues this year, Chapman has given us reason to believe he'll adjust again.
The opt-out looms
This will be year three of Chapman's five-year, $86M contract. That is the largest total guarantee ever given to a reliever and the $17.2M average annual value was a reliever record at the time, though Wade Davis ($17.3M) broke it with his contract last year. Chapman's contract allows him to opt-out following this season and so far this spring he's given the standard answer when asked about it.
"It's something I really don't think about. We haven't started the season, so I'm not thinking about my contract," Chapman said to Martin last week. I feel like everyone says that in the spring before their opt-out clause.
Anyway, for what it's worth, Chapman's contract is front-loaded, which could nudge him toward using the opt-out. Here's the contract structure:
2017: $15M salary plus $1M of his $11M signing bonus
2018: $15M salary plus $5M of his $11M signing bonus
2019: $15M salary plus remaining $5M of his $11M signing bonus
2020: $15M salary
2021: $15M salary
By the end of the year Chapman will have been paid $56M of his $86M contract. He'd walk away from two years and $30M with the opt-out. Do Chapman and his representatives believe he can beat that on the open market? Forget about average annual value. Can he beat $30M total, even if we're talking something like $42M across three years? That's the question Chapman and his people will ponder.
The current free agent climate makes me think no player on a big money contract will (or should) opt-out anytime soon. In Chapman's case, he'll be 32 years old on Opening Day 2020 and we're already seeing velocity loss. Even if the velocity returns this year, his age will work against him. Also, free agency did not bounce back this year. Last year was not an anomaly. It's the new normal. Expecting a free agent market rebound next offseason is kinda foolish given what we know right now.
There's no sense in sweating Chapman's opt-out now. There is an entire season to play out first and his performance during the upcoming season will likely be the single biggest factor in his opt-out decision. With a healthy knee and a great season, Chapman could opt out, or at least try to leverage the opt-out into an extension with the Yankees. That will be especially true should Craig Kimbrel land a good deal in the coming weeks. More time on the injured list and more missing velocity would lead me to expect Chapman not to opt out.
* * *
As good as Chapman was last year — and he was very, very good — it's not crazy to think he could be even better this season should his knee hold up, even at age 31. Everything in baseball starts from the ground up. You need a good base underneath you to do anything and Chapman's lower half was compromised last year. With a healthy push off knee, his velocity could return (or at least not slip further) and his performance could get even better.
Even with a relief crew this deep, Chapman is the most crucial piece of the bullpen equation. Having him in the ninth means Boone is free to use Dellin Betances, Adam Ottavino, Zach Britton, and Chad Green however he sees fit earlier in game. If Chapman struggles or misses time, Britton probably steps in as closer and it changes the way the team operates. The Yankees are designed to out-slug their opponents in the early innings and smother them with the bullpen in the late innings. Chapman will again be a key piece in the team's bullpen-centric approach.