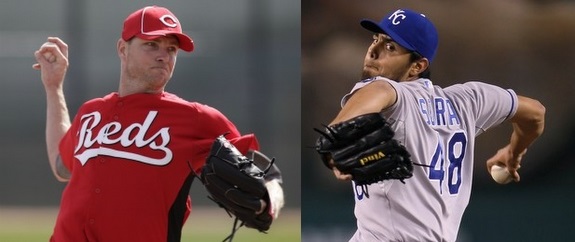 It's been a pretty rough month for big name relief pitchers. Not only did Joba Chamberlain suffer an open dislocation of his right ankle, but both Ryan Madson and Joakim Soria blew out their pitching elbows. Those two guys will have Tommy John surgery in the very near future. Forgive me while I indulge myself a bit, but wouldn't it be something if the Yankees bought low on both Madson and Soria next offseason? We can all dream a little.
* * *
Based on how he's been talking in camp, Mariano Rivera is likely to call it a career after this season. It'll be a very sad day whenever Mo hangs 'em up, but it is inevitable. The Yankees do have two ready-made closer replacements already in-house, specifically Rafael Soriano and David Robertson. Who knows what we'll be saying ten months from now, but at the moment those two are more than qualified for ninth inning work. The Yankees will still have to replace a dominant reliever though, and both Madson and Soria qualify as dominant relievers when healthy.
Madson, 31, signed a one-year pillow contract with the Reds this offseason, so he'll again be a free agent next offseason coming off elbow surgery. Needless to say, the big multi-year offers won't be rolling in. Soria, 27, is at the whim of the Royals. They can either pick up his $8M option for 2013 or cut him loose and let him become a free agent for the first time in his career. Again, it's safe to assume those big multi-year contract offers won't be rolling in for the Mexecutioner. Sucks for them, but that's how this baseballing thing works.
This is Soria's second Tommy John procedure, and the two-timers don't have a great track record of recovery. Chris Capuano and Hong-Chih Kuo are the two most notable success stories. For the sake of argument, let's assume Kansas City decides not to sink 15-20% of its payroll into Soria and lets him walk. The Yankees could look at both guys on one-year contracts, allowing them to re-establish themselves as dominant late-game relievers before hitting the open market after the season in search of that big multi-year deal they won't get next winter. One-year pacts would still allow the Yankees to get under the $189M luxury tax threshold in 2014.
Let's say they could get both Madson and Soria on one-year, $3M contracts with incentives. Add in David Aardsma, who the Yankees can retain in 2013 for just $500k, and that's three Tommy John guys in the bullpen. Joba could make it four depending on how the ankle injury impacts his elbow rehab schedule. Now, not all of those guys would work out. We may think it's routine, but elbow ligament replacement surgery is a serious procedure. Two of those four guys may flame out and be completely ineffective, but if the other two guys get back to being their pre-Tommy John selves, the Yankees would still come out ahead in the whole production vs. cost thing.
Anyway, I'm just thinking out loud. Everyone loves the idea of landing a super-talented player on the cheap as they come off injury (hence all the Grady Sizemore-related mailbag questions this winter) but that's because we're not the ones assuming the risk. The team has to pay them real money to pitch real innings, and coming off serious surgery like that is no piece of cake. A bullpen staff of Madson, Soria, Joba, Robertson, Soriano, and Aardsma is drool-worthy regardless of who ends up closing, and there's no harm dreaming about it. We are Yankees fans, after all.