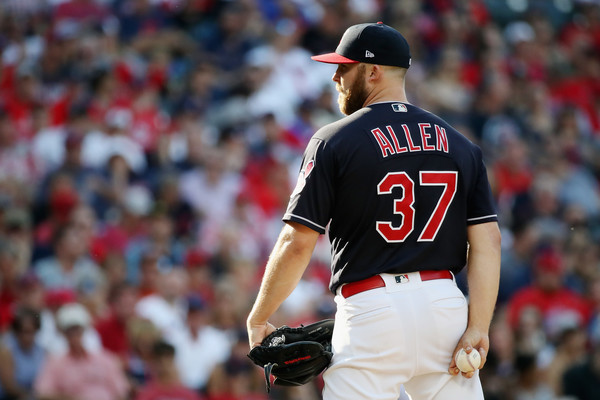 As we enter the Winter Meetings, the Yankees are still searching for two relievers to replace Zach Britton and David Robertson. I previously wrote about Kelvin Herrera, Andrew Miller, Jeurys Familia, and Adam Ottavino. Today I'm going to shift gears a bit, and focus on pitchers that had substandard years without the benefit – if you can call it that – of an injury explanation.
Cody Allen
2018 Stats – 67.0 IP, 27.7 K%, 11.4 BB%, 30.0 GB%, 4.70 ERA, 4.56 FIP
Allen was somewhat quietly an excellent reliever for five straight years, pitching to a 2.59 ERA (163 ERA+) along with 32.4% strikeouts and 8.8% walks in 344.2 IP between 2013 and 2017. He served as Cleveland's closer for four of those seasons, too, holding onto the role even as Andrew Miller came into the fold. In that time, Allen was the 9th most valuable reliever in the game by fWAR, and 12th by WPA. He may not have had the flash or name value of the pitchers around him, but he was steadily great, and occasionally brilliant.
And then, in his age-29 season, he had the worst year of his career. His strikeout and walk rates were his worst since his 29.0 IP debut in 2012, and his GB%, ERA, and FIP were the worst of his career. Allen had quietly been susceptible to the longball for a couple of years, but it got out of hand in 2018 as his HR/9 skyrocketed to 1.48. His 12.8% HR/FB wasn't too out of hand, but allowing 50.6% of all batted balls to be put into the air doesn't jibe too well with that.
So what the heck happened? His fastball and curveball velocity, which had been steadily slipping since 2015, dropped by about half a tick, which may well have played a part: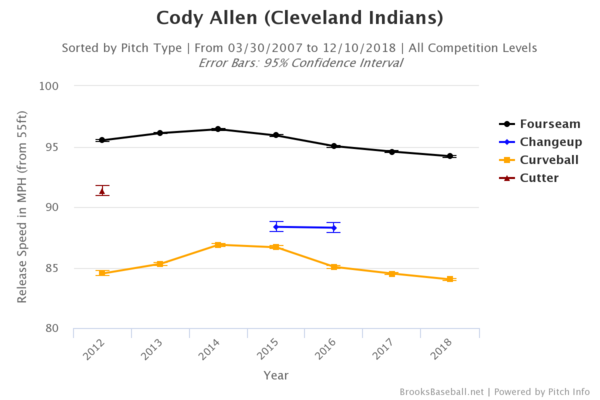 The spin on both of his offerings dropped from 2017 to 2018, as well. Allen's fastball checked-in at 2506 RPM in 2017, and 2445 RPM in 2018; for his curveball, those numbers were 2617 and 2575. For a pitcher who relies on two pitches, it's easy to imagine that losing a bit of heat and a bit of spin could have horrendous results – and that manifested last year, as Allen allowed a much higher exit velocity (up 4.1 MPH) and launch angle (up 1.6 degrees) in 2018.
Are there any positives to be gleaned from his 2018, though? No; not really, at least. His numbers were bad in every month but April, and he was shelled in both of his playoff outings against the Astros (54.00 ERA – not a typo – in 1 IP). Unless Allen was hurt at the end of April and some nagging injury kept him down for the rest of the year, this has all of the makings of a straight-up bad year for the now 30-year-old. And it couldn't have been more poorly-timed for him.
MLBTR (two years, $16 MM) and FanGraphs (two years, $18 MM) basically agree on the sort of contract Allen will sign this off-season. Cleveland didn't extend the QO, so there's no additional cost beyond the dollars and cents.
Allen is an interesting case, given that he was so good for so long, which isn't terribly common for relievers. His whole career has been in the AL, and he was incredibly effective in the playoffs prior to this year, too. If he had hit the free agent market after 2017, Allen may well be looking at a huge payday. As it stands, he might have to settle for something of a pillow contract. I would be hesitant to give him two years, as relievers do have a nasty tendency to abruptly fall apart, but I would be fine with a one-year deal.
Greg Holland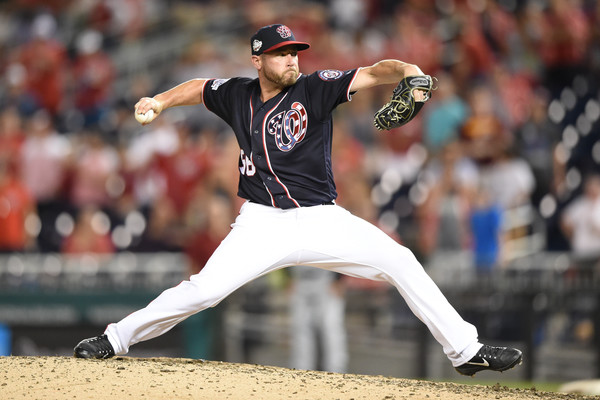 2018 Stats – 46.1 IP, 22.2 K%, 15.1 BB%, 40.0 GB%, 4.66 ERA, 3.83 FIP
Holland was arguably the best reliever in baseball from 2011 through 2014, pitching to a 1.86 ERA (220 ERA+) in 256.1 IP in the regular season, and a ludicrous 0.82 ERA in 11 postseason innings. He was a mere mortal in 2015, however, with a 3.83 ERA (110 ERA+); and his season ended on September 22 of that year, when the team announced he needed Tommy John Surgery. He missed all of 2016, and was a man without a team for that entire year.
In January of 2017, Holland was healthy and ready to go, and he signed a one-year deal with the Rockies. It was a strange choice for a pitcher hoping to rebuild his value, but he did quite well, pitching to a 3.61 ERA (140 ERA+) in 57.1 IP, with a strong 29.8 K%. The walks were high (11.1%), but, for a guy in a bad pitching environment with a year's worth of rust, that was more than forgivable. Holland nevertheless had to settle for another one-year deal for the 2018 season. This time, the Cardinals came calling – but not until March 31. What a weird off-season 2017-18 was. But I digress.
As you can see from the numbers above, Holland was not good on the whole of 2018. However, it was a tale of two seasons. You see, Holland was released by the Cardinals on August 1, and was scooped up by the Nationals within the week. His splits:
Cardinals – 25.0 IP, 16.7 K%, 16.7 BB%, 35.6 GB%, 7.92 ERA, 4.56 FIP
Nationals – 21.1 IP, 31.3 K%, 12.5 BB%, 48.8 GB%, 0.84 ERA, 2.97 FIP
Starting his season so late may well have played a role in Holland's pre-trade struggles, but did anything else change? He did spend a bit over three weeks on the DL with a hip impingement in late-May and early-June – an injury which had bothered him for a couple of weeks prior – which explains a bit. However, everything else is relatively consistent from month to month; his pitch distribution, his velocity, his spin rate, etc. Could it have been a matter of rust and a nagging injury? That seems reasonable, right?
Holland, who turned 33 a few weeks ago, has seen his velocity dip over time, though. And he's at an age where we shouldn't expect that to rebound.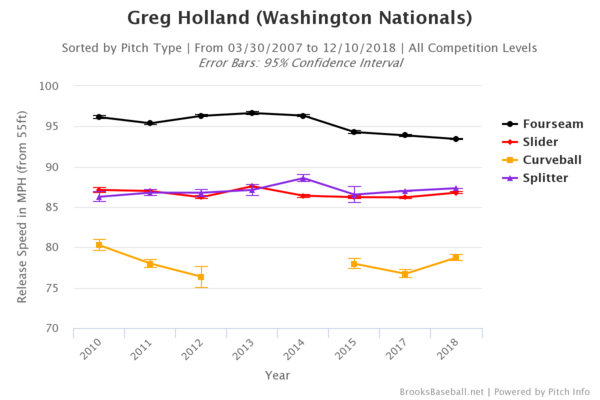 His spin rates actually improved across the board last year, relative to 2017, so there's still a bit of upside in his offerings. At the very least, this is not a matter of his pitches slipping across the board as we saw with Allen.
Neither MLBTR nor FanGraphs have Holland among their top-fifty free agents, so there's no contract prediction to be had. However, given his back-to-back one-year deals, his career-worst 2018, and his age, it stands to reason that he could be had on a one-year deal.
And, when it comes to a one-year deal, I'd be all-in on Holland. I wouldn't expect his 2011-2014 greatness, nor would I count on him pitching as well as he did for the Nationals last year – but there's enough there to suggest that he's not quite done, and that his Cardinals struggles are not the new normal.
Ryan Madson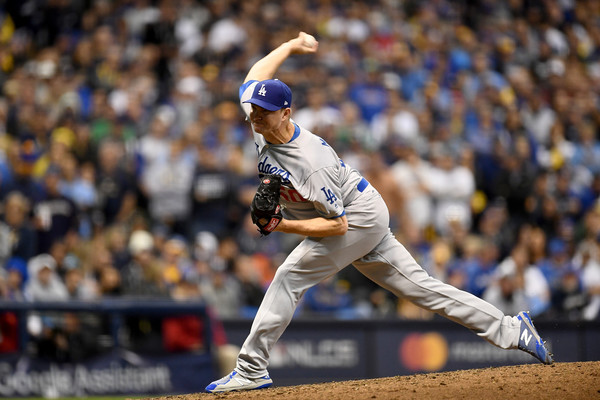 2018 Stats – 52.2 IP, 23.4 K%, 6.9 BB%, 42.6 GB%, 5.47 ERA, 3.98 FIP
Why is a 38-year-old reliever that had a 5.47 ERA last year on this list? There are reclamation projects, and there are lost causes, right? Maybe. Or maybe there's a bit more to Madson's 2018 season than meets the eye.
In late October, the Washington Post reported that Madson had been dealing with low-back pain that radiated down his front leg throughout the season, and didn't have it straightened-out until August, when he made adjustments to his delivery. And then the Dodgers overhauled his approach after acquiring him in an August deal from the Nationals, and it paid dividends.
Sure, Madson's 6.48 ERA with the Dodgers looks ugly; but he had a 36.1 K% and a 2.8 BB%, and was largely done in by a ridiculous .429 BABIP. His 1.96 FIP in Dodger Blue tells a better story of how he was in those stretch-run appearances. The Dodgers leaned on Madson heavily in the playoffs, calling upon him 11 times, and he responded admirably, pitching to a 2.08 ERA in 8.2 IP.
The Dodgers overhaul of Madson's approach manifested in his pitch selection: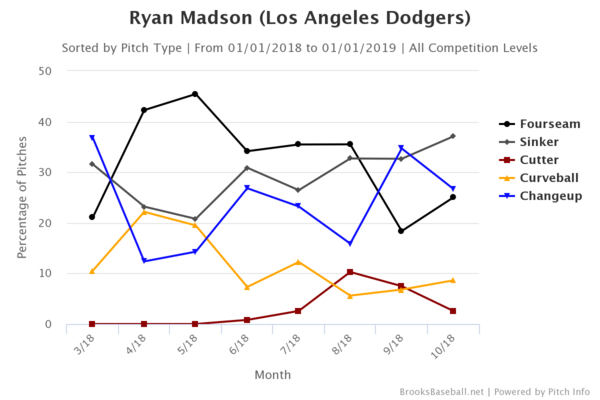 He basically shelved his four-seamer, which was his most hittable offering, and the whiffs returned. That's the sort of thing that the Yankees coaching staff is all about – and Madson's already had some success doing it. And, despite his age, velocity isn't an issue: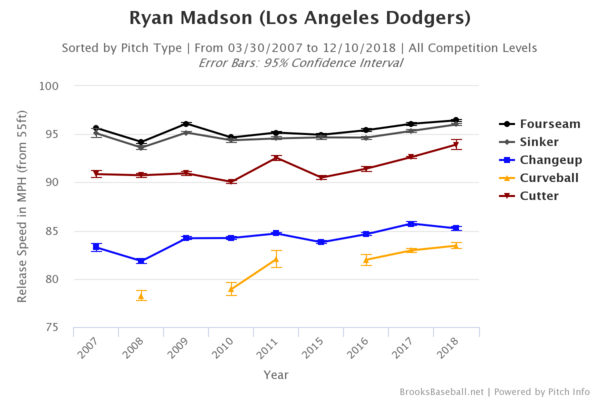 As was the case with Holland, there aren't many contract estimates out there for Madson. And why would there be? He's a 38-year-old reliever, after all. But, given his apparent health, new approach, and still-strong velocity, he might just be a bargain on a one-year deal. And I would be happy to see that deal be with the Yankees … as long as he's not the premier reliever signed this off-season.