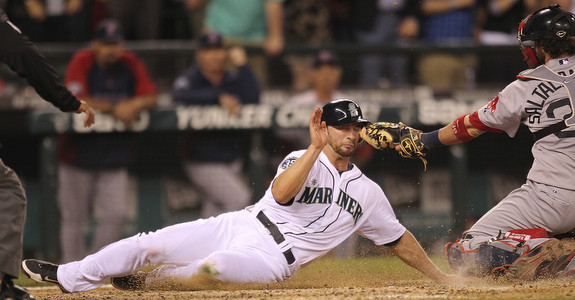 The Yankees just rattled off four straight wins over the division rival Blue Jays and have now gone 14-5 since the ugly 1-4 start. The middle relief has settled down, the rotation overcame some early woes, and the lineup has really started to click even if they still stink against left-handers (71 wRC+). It took a few weeks (as usual), but things are starting to come together.
Of course, there is always room for improvement, especially for a team as injury-riddled as New York. They've already used the DL a league-leading nine times this season, and that could grow to ten depending on the results of today's MRI on Kevin Youkilis' stiff back. Three players lost their jobs with other teams over the weekend, and all three could represent upgrades on the fringes of the Yankees' roster.
Casper Wells
Wells, 28, was designated for assignment by the Athletics yesterday, the third time a team has cut ties with him in the last month. That's a pretty good indication front offices don't consider him to be as productive as WAR or other freely available metrics say. He was claimed off waivers and traded for $100k this month, so the price is obviously low.
The Yankees aren't looking for an offensive savior, they just need to find a better right-handed platoon bat than Ben Francisco (-7 wRC+ overall and -16 wRC+ against lefties). Wells has decent numbers against southpaws during his career (129 wRC+), but 317 plate appearances spread across three years aren't definitive proof of anything. The various defense stats say he's serviceable at worst in all three spots. Francisco hasn't just looked bad, he's looked horrible without even a hint of snapping out of it. Wells is freely available and it would be tough for him to give the team less than what they're currently getting from Francisco*.
* That said, Wells has had five plate appearances in the last month because he's been in transactions limbo, so rust is a very real concern.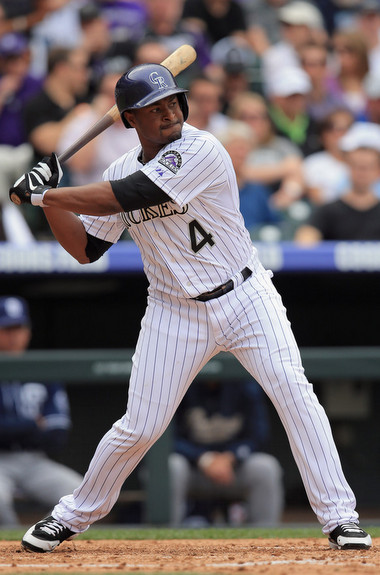 Chris Nelson
The Rockies called up top third base prospect Nolan Arenado this weekend, and the 27-year-old Nelson was the roster casualty. Colorado designated him for assignment and it's very likely another team will pick him up despite his poor performance this month (51 wRC+) because he's versatile, one year removed from a 105 wRC+, and not too far removed from being a top prospect.
I wrote about Nelson as a potential target last month, so I'll just refer you back to that to keep things simple. Nelson can provide depth at the three non-first base infield positions, which is something pretty much every team needs. The Yankees will be without Derek Jeter and Alex Rodriguez until at least the All-Star break and there's a chance Youkilis will wind up on the DL following today's MRI, so adding an infielder seems rather prudent. Even if David Adams or Corban Joseph are the team's preferred call-up options, there is still an opening to stash Nelson in Triple-A. That would require signing him to a minor league contract following his release, which seems unlikely. I'm guessing he doesn't go through waivers unclaimed.
Humberto Quintero
Quintero, 33, was cut loose by the Phillies over the weekend when Carlos Ruiz was eligible to return following his 25-game amphetamine-related suspension. The veteran journeyman barely played with Philadelphia (21 plate appearances), but he's managed over 1,300 plate appearances (55 wRC+) in parts of 11 big league seasons. He's always had a strong throwing arm (83-for-257 career, 32.3% caught stealing rate) and the rest of his defensive game is well-regarded, but who really knows these days.
The Yankees will be without Frankie Cervelli for at least six weeks thanks to his broken hand, and it could be even longer considering how hand/wrist/finger injuries tend to linger. They're unlikely to find anyone better than Chris Stewart and Austin Romine right now, but Quintero is someone they could stick in Triple-A for further catching depth. Remember, Romine has a series of back injuries in his recent past, so it wouldn't take much for the team to have to dip into it's backstop depth again in the coming weeks. Quintero is likely to clear waivers and take a minor league contract, which fits what the team needs at the moment.