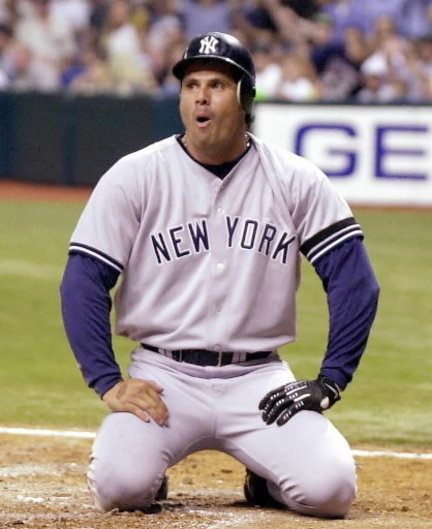 As he is wont to do every now and then, Jose Canseco took to Twitter earlier this week to beg some Major League GMs for a job. The poster boy for the steroid age is a sprightly 47, but he still thinks both that he could handle Major League pitching and that he has been unfairly railroaded from the game for "exposing" baseball's PED-filled underbelly.
Every time Canseco's name comes up, I always flash back to the 2000 baseball season when Jose somehow ended up on the Yankees for two months. He got 137 plate appearances over 37 games and hit .243/.365/.432, good for a 103 OPS+ in an era of off-the-charts offense. He struck out in his one post-season at-bat during the World Series against the Mets, but he got a ring out of it. Needless to say, he did not return to the Bronx in 2001.
So how exactly did Canseco end up on the Yankees? It was, in fact, a calculated risk that turned into something of a mistake. We'll get to that though. First, the club reaction. When the Yankees landed Canseco on a waiver claim from the Devil Rays in August of 2000, no one knew what to do with him. "I'm a little stunned," Joe Torre said at the time. "I'm a little surprised. I don't have an opinion one way or another."
George Steinbrenner was less diplomatic. "I think they got caught up in something they didn't think about," he said, vaguely referring to his third-year GM, "but I'm behind my people. I'm totally supportive of what they did. I'm happy the man is coming here, and I'm hoping he does the job for me."
The Boss later backed down and sided with his baseball people when Torre continued to question the move. "I want it made very clear that I support the decision of Brian Cashman 100 percent, and I'm very surprised by anyone who would be surprised by his aggressiveness," he said. "Jose Canseco has been a very big contributor."
As the story behind the claim played out, those watching the Yankees were skeptical. Jack Curry critiqued the deal as only Jack can. Canseco himself called his three months with the Yanks as "the worst time of my life."
During the summer of 2000, we learned exactly what happened. The Yanks were concerned that the Blue Jays, just a few games behind them in the AL race, would pounce on Canseco via a trade, and they put a waiver claim in to attempt to claim him. No one else bit, and the Yanks ended up with Canseco. Brian Cashman refused to work out a deal with Tampa Bay GM Chuck LaMar, and LaMar simply let Canseco and the remaining $1 million on his deal go to New York.
The next year, as Canseco grumbled, Cashman defended his move. "There is no question he was a member of this team and he did contribute. We only won this division by two games, and while he may have played a small part, he definitely played a part and he contributed," he said. Thus ended a strange, strange chapter in Yankee lore.