Oddly enough, one lingering question going into tonight's Wild Card Game is who's going to close for the Yankees? It's a question rather than a problem. The Yankees have about five relievers who could handle the ninth inning, if necessary. We just don't know who Aaron Boone will use in a save situation tonight.
Since returning from his month-long stint on the disabled list Aroldis Chapman has pitched mostly in the seventh and eighth innings as he works to get back into a groove. His first outing back was a mess. Three runs in two-thirds of an inning and he was all over the place. In four games since, Chapman has not allowed a hit, and he's struck out eight of 13 batters. That'll work.
Zach Britton has filled in at closer recently and he's been excellent, though in two games against the Red Sox the defense refused to turn double plays behind him. Britton has allowed two earned runs in his last 17 appearances and 17.2 innings. Opponents hit .145/.206/.194 against him in those 17.2 innings. The further he's gotten from the Achilles injury, the better he's been. A graph: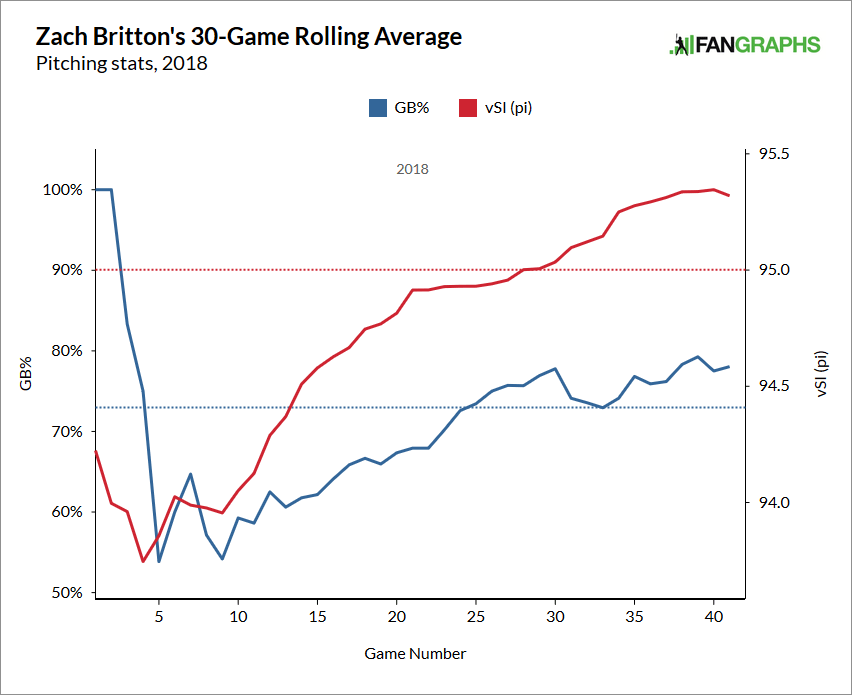 Britton did not have a normal Spring Training following that Achilles injury. He's gradually regained velocity on his trademark sinker and, as that's happened, his ground ball rate has climbed. Britton posted a 77.8% ground ball rate with the Yankees. That is both outrageously good and right in line with his 77.7% ground ball rate from 2015-17. That's what Britton does. He gets ground balls.
"Arm-wise, I can't tell you how great my arm feels compared to any other year since I've been in the majors," said Britton to Dan Martin during yesterday's workout. "Maybe when I was 18 in the minors. I think the time off and wasn't able to work out and I just rested helped."
As noted this morning, Aaron Boone has said he's open to letting Britton close in the postseason. It kinda depends how Chapman felt and looked as he returned from the knee injury, and, aside from that first appearance, Chapman was lights out. The triple-digit velocity wasn't there, but he used his slider effectively and pitched very well, including in a save situation Saturday.
My hunch is the Yankees want Chapman to close in the postseason. They want him to be the guy at the end of games, which would free up Britton to pitch in other situations. Marc Carig wrote a great piece about the tools the Yankees use to determine bullpen matchups recently. It's behind the paywall, so I can't give away too much, but this part stuck out to me:
The concept itself is not new. There's no shortage of publicly-available data to expose which hitters might have trouble against cutters buried in on the hands, or two-seamers that nick the corners. But the Yankees have used their blend of data to tailor those projections. With their tools, it's possible to estimate a hitters' performance not against just two-seam fastballs in general, but two-seam fastballs thrown by Britton, or curveballs thrown by Robertson, or sliders thrown by Chapman. Specific velocity and spin is taken into account and matched up to a hitters' bat path, which can also be precisely measured.

Given that information, computers can simulate an expected result. From there, game plans can be formulated, strategies mapped out, scenarios anticipated. If they choose, pitchers can use those insights in their own preparation. Fearing overload, many of the Yankees' relievers prefer to steer clear. But since coming from the Orioles, Britton has embraced the data, which he called far more detailed than what was available to him in Baltimore. In some cases, the projections have contradicted his instincts. In others, they have only reinforced the game plan he had already formulated.
Pretty cool! I remember reading something last year that explained the Indians essentially simulated and projected Edwin Encarnacion's season before signing him. They used all the Trackman data and all sorts of neat stuff to map out the schedule, and the pitchers Encarnacion might face, and the possible weather patterns. They baked all that into the cake, projected Encarnacion's production, and used it to determine whether he was worth signing. And, obviously, he was.
According to Carig, the Yankees do something similar with their bullpen matchups. They project how their relievers, with their individual stuff, match up against specific hitters. It's pretty cool. Ultimately, it's up to the pitcher to perform. The system may say David Robertson is the best matchup against Khris Davis in tonight's Wild Card Game, but if Robertson hangs a curveball, Davis will hit it to the moon. Make the most informed decision and hope it all works out on the field, basically.
Anyway, I mention this because it seems possible the best way to use Britton tonight will be against the middle of the Athletics lineup, rather than as the closer. Maybe the middle of the lineup comes up in the ninth and this all works out nice and easy. But what if they come up in the seventh inning in a one-run game? Or in the eighth? The A's have several extreme fly ball and home run hitters in their lineup. Their standard middle of the order:
3. Jed Lowrie: 33.2% grounders and 23 homers
4. Khris Davis: 35.3% grounders and 48 homers
5. Matt Olson: 35.9% grounders and 29 homers
One-hundred-and-forty players had enough plate appearances to qualify for the batting title this year. Among those 140 players Lowrie had the seventh lowest ground ball rate, Davis had the 20th lowest ground ball rate, and Olson had the 25th lowest ground ball rate. They are three of the most extreme fly ball hitters in baseball. Fly balls tend to be rewarded at Yankee Stadium.
Britton, meanwhile, is an extreme ground ball pitcher. The most extreme ground ball pitcher in baseball when he's on and he's been on these last few weeks. The matchup makes perfect sense on paper. The Yankees should use their very good ground ball reliever against the very good fly ball hitters in the middle of the A's lineup. Right? Right. Maybe it doesn't work out. Maybe Britton leaves up a pitch up and gets burned. Or maybe the A's beat him with ground ball singles. It's baseball. You can do everything right and still get beat.
What does the Yankees' proprietary matchup system say about Britton vs. Lowrie/Davis/Olson? Beats me. I'd love to know. Here are three heat maps showing where each guy hits the ball the hardest — by that I mean fly balls or line drives with a 95 mph exit velocity or better — against left-handed pitchers. It's Lowrie, Davis, and Olson from left-to-right (click to embiggen):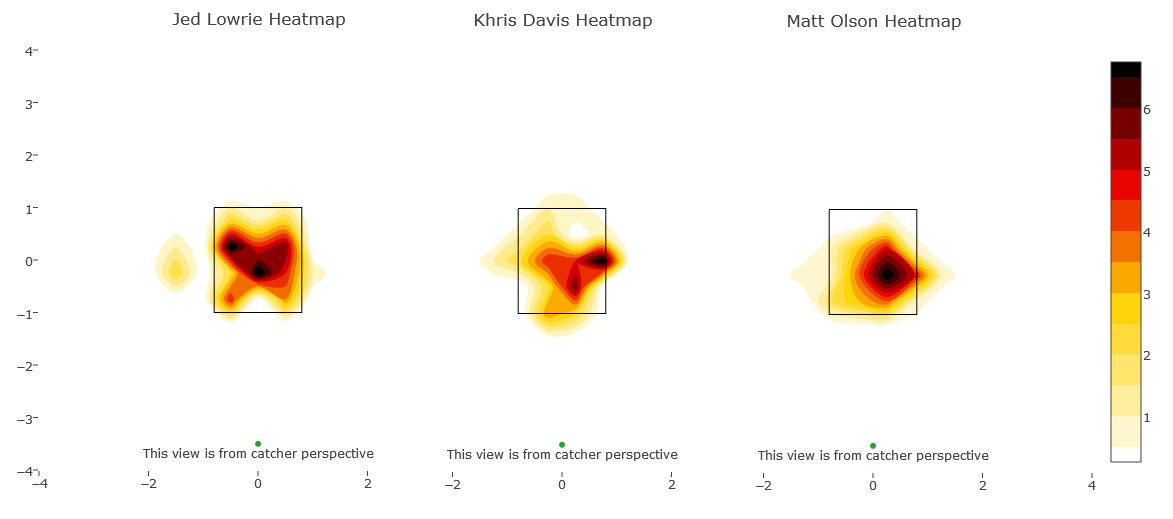 If you're a lefty, you need to keep the ball down against the switch-hitting Lowrie. Against the right-handed hitting Davis, the best spot for a lefty is down and in. Elevate the ball too much on the outer half and he'll drive it the other way. Olson is a left-handed hitter. Looks like a left-handed pitcher has to pitch him away. Britton and his sinker appear to be a good matchup candidate against those three. Perhaps the Yankees see it differently.
We still don't know who will close for the Yankees tonight and it's not because they lack options. I think they want it to be Chapman, but, if he's not where he needs to be following the knee injury, it could be Britton. Boone's bullpen usage will not happen on a whim. There's a lot that goes into these decisions, and it's possible Britton is most valuable to the Yankees as a middle of the A's lineup specialist tonight, rather than as a closer. And, if that is the case, it won't matter whether he pitches the seventh or eighth or ninth, as long as he faces the right hitters.