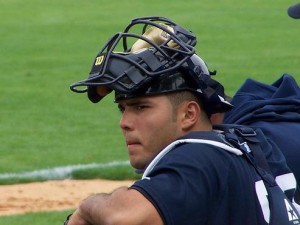 April's a wacky month. It's the only time of the year that Nate McLouth can sport a 1.047 OPS, or when Mike Mussina can boast better numbers than Roy Oswalt. Christian Lara played for two teams in a single game and Jay Johnson hit a walk-off double to make himself the winning pitcher, and I can't help but think that only April can contain that kind of madness.
April has been an interesting month in the Yankees' farm system, full of surprises and disappointments. You had Eric Hacker's pitch count ruined perfect game and Brett Gardner launching no-doubt homers. While April doesn't provide enough info to draw accurate conclusions, it does start to paint a picture of what's ahead.
Triple-A Scranton
Other than Darrell Rasner, who is now a big leaguer, the story of the month for Scranton has been none other than Eric Duncan. The 27th overall pick in the 2003 draft has had a … let's say, "rocky" career so far, but it looks like the light bulb may finally be coming on a bit. Even though he's been forced to play second fiddle to Shelley Duncan and Juan Miranda for playing time, Duncan's off to a .279-.384-.508 start. I pulling for him and I hope he can sustain it.