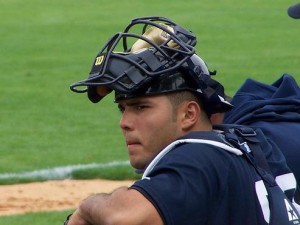 April's a wacky month. It's the only time of the year that Nate McLouth can sport a 1.047 OPS, or when Mike Mussina can boast better numbers than Roy Oswalt. Christian Lara played for two teams in a single game and Jay Johnson hit a walk-off double to make himself the winning pitcher, and I can't help but think that only April can contain that kind of madness.
April has been an interesting month in the Yankees' farm system, full of surprises and disappointments. You had Eric Hacker's pitch count ruined perfect game and Brett Gardner launching no-doubt homers. While April doesn't provide enough info to draw accurate conclusions, it does start to paint a picture of what's ahead.
Triple-A Scranton
Other than Darrell Rasner, who is now a big leaguer, the story of the month for Scranton has been none other than Eric Duncan. The 27th overall pick in the 2003 draft has had a … let's say, "rocky" career so far, but it looks like the light bulb may finally be coming on a bit. Even though he's been forced to play second fiddle to Shelley Duncan and Juan Miranda for playing time, Duncan's off to a .279-.384-.508 start. I pulling for him and I hope he can sustain it.
Double-A Trenton
The early story in Trenton is one of two top notch prospects whose career paths are going in opposite directions. Austin Jackson hasn't flashed any over-the-fence power yet, but his plate discipline has improved considerably (22-16 K/BB in 28 games) suggesting last year's breakout was legit. He's in a little 1 for 13 rut, but prior to that he hit safely in 18 of his previous 20 games. Look for the power numbers to increase as the weather warms up.
Jose Tabata on the other hand is all sorts of messed up. After seeing him on a recent scouting trip, RAB fave Keith Law had this to say about the 19-yr old Venezuelan: "fat, swing is a mess, head is way off the ball, trying to pull everything including pitches off the outside corner, gliding, swinging and missing at fastballs middle-in and playing like he doesn't care." Eek. The Yanks are giving a chance to work out his issues in Double-A, although a demotion could be in his future if he keeps getting suspended for throwing tantrums.
High-A Tampa
The Yanks' home base squad has been ground zero for the biggest storyline of the system in 2008: the Tommy John rehabbers. After combining to allow 13 baserunners and 8 earned runs in their first 6.2 IP back, Mark Melancon and JB Cox settled down and held opponents to 24 baserunners and 1 earned run in their next 18.1 IP before Cox was shipped up to Trenton. The stats in the TJ Rehab watch get better by the day, and should include some more names as Humberto Sanchez and Chris Garcia start pitching in games again.
I'd be remiss if I didn't mention the performances of fringy prospects Edwar Gonzalez and Eric Hacker. Edwar's 18 extra base hits paces the organization, while Hacker's 0.63 WHIP is the second lowest in all of baseball, trailing only Cliff Lee and his 0.56 mark. That's impressive stuff, even though it's almost entirely unsustainable.
Low-A Charleston
Charleston has easily been the most exciting affiliate to follow this year. You've got Dellin Betances (41 K in 31.1 IP) and Zach McAllister (25-4 K/BB, 3.12 GB/FB in 32 IP) in the rotation, and a lineup that features four regulars hitting at least .320. Bradley Suttle is rocking a .882 OPS (between injuries) after a dreadful pro debut last year, Justin Snyder has been on-base 45 times in 26 games, Abe Almonte is tormenting pitchers both at the plate (17 RBI) and on the bases (9 steals) out of the leadoff spot, and then, of course, there is Jesus Montero.
The second youngest player in the Sally League, Montero leads the league in doubles (12), and is second in RBI (20) and total bases (61). He's had more than four times as many multi-hit games (13) than hitless games (3), two separate streaks of at least 4 consecutive games with an extra base hit, and a stretch in which he drove in the game winning run in 5 of 6 games. The only thing he hasn't done at the plate is walk (2 BB). He's far and away the best hitting prospect in the system at this point, and it's going to be interesting to see how he follows this up in May.
Jesus Montero pic by Flickr user largodeb.