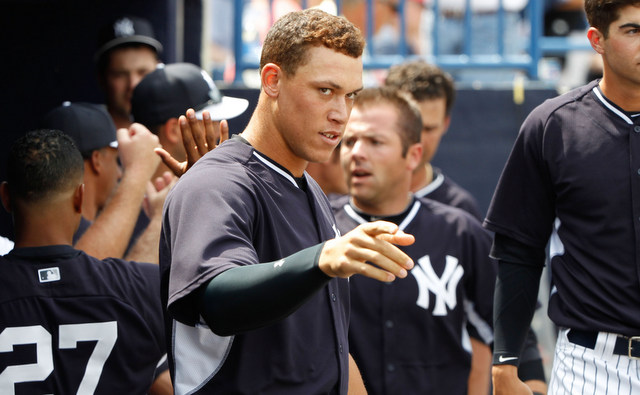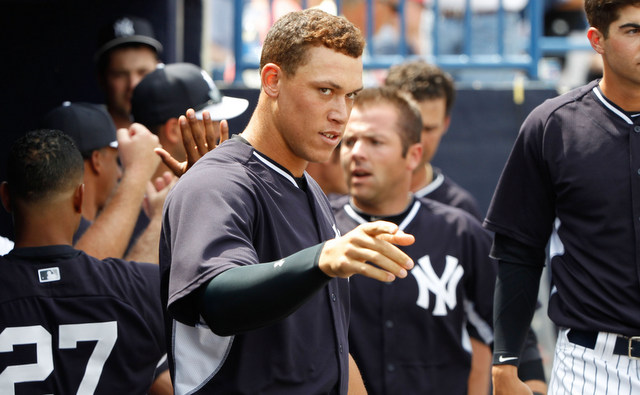 Last week Keith Law published his annual top 100 prospects list, which included four Yankees: OF Aaron Judge (No. 36), SS Jorge Mateo (No. 55), C Gary Sanchez (No. 57), and RHP James Kaprielian (No. 87). Earlier today Law took an in-depth look at New York's farm system (subs. req'd), examining their top ten prospects and beyond.
"The Yankees' system is trending back upward, despite some trades and disappointing performances from upper-level prospects, thanks to a couple productive drafts that have helped restock the lower levels," wrote Law. Here is his top ten:
Judge
Mateo
Sanchez
Kaprielian
LHP Ian Clarkin
OF Dustin Fowler
SS Wilkerman Garcia
RHP Drew Finley
SS Kyle Holder
SS Tyler Wade
Law has long been a Clarkin fan and he's higher on both Finley and Holder than most. Finley is a "super-polished high-school arm with a plus curveball and outstanding command and feel for pitching" while the divisive Holder is "a plus-plus defender at short with mixed reviews on the bat, though he doesn't have to hit that much to be a big leaguer, thanks to his defense." Law also notes there "could be more growth here than with a normal college product," referring to Holder, who split time between baseball and basketball for most of his life.
Within the write-up, Law dives deeper into the system and looks beyond the top ten. He ranks RHP Brady Lail as the 11th best prospect in the system, and Lail is followed by OF Ben Gamel (12th), LHP Jacob Lindgren (13th), RHP Luis Cessa (14th), C Luis Torrens (15th), OF Mason Williams (16th), RHP Trey Amburgey (17th), 2B Rob Refsnyder (18th), 3B Miguel Andujar (19th), and RHP Chance Adams (20th). 3B Dermis Garcia, RHP Domingo Acevedo, IF Abi Avelino, RHP Ty Hensley, RHP Austin DeCarr, OF Bryan Emery, SS Diego Castillo, C Miguel Flames, 3B Nelson Gomez, C Jason Lopez, and RHP Johnny Barbato all get mentions as well, though they're unranked.
Law listed Lindgren and Barbato as the prospects most likely to have an impact in 2016, which is sorta cheating because they're both bat-missing upper level relievers, but I'll allow it. Fowler and Torrens are his sleepers. "Fowler has top-100-prospect tools and has performed rather well to date, despite aggressive promotions. He and Torrens are the best bets to make the leap in 2016," he wrote. Torrens is coming off major shoulder surgery, so his road to top 100 prospectdom is a bit rockier than Fowler's.
Based on the write-up, it's pretty clear Law is high on the Yankees' farm system, particularly their lower level guys like Wilkerman, Amburgey, and all the 2014-15 international signees. He ranked the Yankees as having the 13th best farm system in the game and that's with Luis Severino and Greg Bird having graduated to MLB. That's is pretty darn cool.