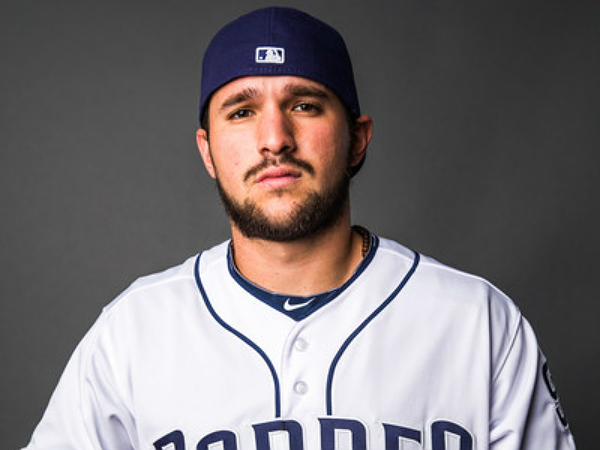 A 21-year-old catcher with just 198 plate appearances in above short-season ball, should logically not make it through an entire season on a major league roster. It just doesn't happen.
But with Luis Torrens and the 2017 San Diego Padres, it's time to throw logic to the wind: The Yankees really might lose a solid catching prospect for nothing but $100K and a practically useless roster spot.
Surprisingly taken with the second pick of the Rule 5 draft by the Reds, Torrens was quickly dealt to the Padres. The Padres still have the top three picks from December's Rule 5 draft on their 25-man roster and seem committed to keeping all three of Torrens, pitcher Miguel Diaz and utility man Allen Cordoba. Diaz is the oldest of the three at a whopping 22 years old, so keeping all three players is a lot of why the Padres have the youngest roster in baseball.
Just a few days past his 21st birthday, Torrens was the most puzzling pick of the three. Diaz is a hard throwing reliever with quality stuff. Cordoba, despite a lack of experience in the minors, brings potential at the plate and versatility in the field. You can work with that on a squad not built to compete this year, let alone the next few years.
Torrens? He's a catcher. He missed all of 2015 with injury. He's a quality player behind the plate but his bat is nowhere near big league ready. You have to be more than willing to accept a well below replacement level player on your roster to keep a 21-year-old inexperienced backstop on your roster all season in order to keep him.
But the Padres have the right situation in order to pull this off. Torrens is one of three catchers, playing behind starter Austin Hedges and backup Hector Sanchez. It was four before two-way player Christian Bethancourt was sent to Triple-A. The Friars are a team committed to losing, or at least not committed to winning in 2017, so they can accept having what is essentially a dead roster spot.
The question then becomes: Is it worth losing this roster spot and a full year of development just to get Torrens into your system? He already lost his entire age-19 season to injury and now he loses his age-21 season to, well, inactivity. He's played just nine games thus far, gone into the field in just eight and started just three. He's played all nine innings just once and is just 1 for 13 with a walk at the plate. Torrens will, for all intents and purposes, lose two years of at-bats and experience before he's even gotten a full season of at-bats above Low-A. In reality, he hasn't even had a full season AT Low-A because he's only played 49 games there.
The ideal scenario for the Yankees would have been to have a 21-year-old Torrens in Single-A Tampa this season with the possibility of a promotion to Double-A Trenton if he took a major step forward. Will Torrens have to go all the way back to Single-A next year to restart his development? Can it truly be worth it to stash him on the roster for the year with the possibility that he won't be really ready for the big leagues until 2020?
These questions would stop a lot of teams from stashing Torrens for a year. However, there is one benefit for Torrens: Big league coaching. Torrens gets a full year of top level coaching on his swing and a chance to work with MLB pitchers (if you can classify the Padres staff as such). That could be a big plus. Imagine if the Yankees were in the Padres' position and could offer a young catcher a full year of coaching from Tony Pena, a catching guru.
And surely Torrens is relishing the opportunity to be in the big leagues. He was staring up at a Yankees system with Gary Sanchez as the presumed catcher of the future. Now he has an opportunity to be the guy in a new organization with the sacrifice of much-needed playing time. Plus MLB travel, nice hotels and the bright lights of the big leagues. It's good work if you can get it.
Still, it's tough to watch him lose this year of development. They don't check IDs behind the plate, but it could be a serious setback to Torrens' eventual hopes of becoming a viable everyday player. Furthermore, the Padres have a 24-year-old catcher starting for them right now in hopes of him being the future solution. Maybe this works out with Torrens pushing Hedges aside in a few years, but now it looks like the Yankees are losing a solid, young catching prospect while the Padres stash him on the bench for a season. And it all may be for nothing.