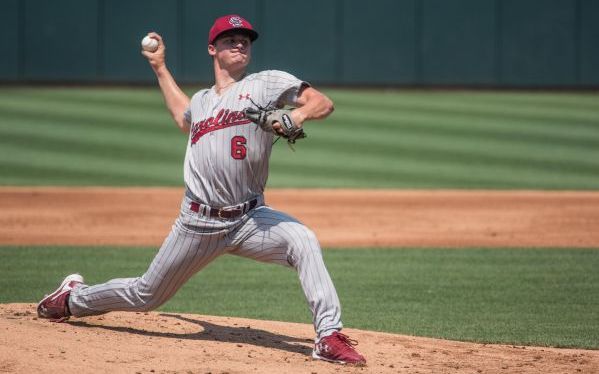 The 2017 amateur draft is now underway. A total of 75 picks were made Monday night, during Day One of the draft, including the Yankees' first (16th overall) and second (54th overall) selections. With those picks, the Yankees did something they had never done before in the draft pool era. They (presumably) cut a deal with their first round pick so they could spend big on their second rounder. Let's review New York's two picks from Day One.
Yankees gamble on Schmidt
At first blush, I wasn't thrilled with the Yankees first round pick, South Carolina RHP Clarke Schmidt. I imagine I wasn't alone. Schmidt's a good prospect, don't get me wrong, but he also had Tommy John surgery in April. Why take an injured college pitcher when healthy comparable college pitchers were still on the board? The Yankees had been connected to Oregon LHP David Peterson for weeks and he was still available, for example.
"Schmidt's got four pitches that at times are all plus. He has command, he has makeup," said scouting director Damon Oppenheimer in a statement. "We really like his delivery. He's got a chance to be a top end of the rotation type of guy who combines pitchability with power stuff. And you always like it when they're the Friday night guy, pitching and having success in that conference … The (surgery) results were positive and we feel really good about the rehab. He should be back pitching at full strength in approximately 12 months."
Schmidt was a potential top 10-15 pick before blowing out his elbow thanks to a power arsenal with strikeout stuff. He struck out 70 in 60.1 innings for the Gamecocks this spring before needing elbow surgery, and Baseball America's scouting report (subs. req'd) makes you can't wait to see Schmidt healthy and back on a mound:
(This) spring he was routinely touching 95-96 mph with his four-seamer and sitting comfortably in the low 90s. He also throws a heavy two-seamer, although his four-seamer shows good movement as well. Schmidt's slider has developed into one of the better breaking balls in the college class, a strikeout pitch in the mid-80s with tilt. He also flashed an above-average changeup at times, with sinking movement to his arm side … Before the surgery, Schmidt's stock was steadily rising, and to some evaluators, he had inserted himself into the uppermost tier of college pitching.
Sounds good! But, you know, the elbow. Sure, Tommy John surgery has a very high success rate, but it's not perfect. The Yankees have steered clear of injured pitchers in recent drafts, most notably Brady Aiken two years ago, and I'm sure the Andrew Brackman flame out was one of the reasons. The Yankees drafted Brackman knowing he needed Tommy John surgery, and all the missed development time was too much to overcome.
So again, why draft an injured college pitcher when comparable healthy college pitchers were still on the board? There are two possible answers. One, the Yankees really like Schmidt. I mean really like him. They must think he's a no-doubt top ten guy to take him that high despite recent elbow construction, and they must also think he is very likely to make a full recovery. Or two, they know they can sign Schmidt to a below-slot bonus to manipulate their bonus pool.
Given their second round pick, the latter seems much more likely. They're going to sign him cheap. The Yankees either got Schmidt to agree to a below-slot number before the draft or feel comfortable enough with his willingness to take a below-slot bonus to draft him in the first round. That 16th overall pick comes with a $3,458,600 slot bonus. Cutting a deal with Schmidt would free up a lot of bonus pool space to spend on other players, such as …
Planning to spend big on Sauer
With their second round pick, the 54th overall selection, the Yankees selected California HS RHP Matt Sauer — a Southern California kid, of course — and suddenly it all started to make sense. Sauer was a consensus late first round who really shot up draft boards this spring and was considered by some to be a potential tough sign given his commitment to Arizona. Now we know where any bonus pool money saved with Schmidt is going.
Prior to the draft, both MLB.com and Baseball America ranked Sauer as the 28th best prospect in the draft class — Keith Law (subs. req'd) isn't as much of a fan and ranked him 67th — because he possesses a live arm with two knockout pitches. From MLB.com's scouting report:
Sauer brings the potential to have premium velocity from his 6-foot-4 frame. He's reached 97 mph at times this spring and has sat comfortably in the 91-95 mph range in most starts. He combines that with a nasty slider, up to 87 mph, thrown from a three-quarter slot with good power, bite and deception. The changeup is a distant third pitch, but he hasn't needed it much against high school competition.
The lack of a reliable changeup is one of the biggest knocks against Sauer, though it's not terribly unusual for a top high school pitcher to lack a changeup. They rarely need it to get outs. Another popular knock against Sauer is his delivery, specifically his arm action, which some believe is too long in the back and robs him of command. Here's some video. The quality of his stuff is obvious, as is the lengthy arm action and command issues:
It's easy to understand why Sauer was drafted so high. (Going 54th overall is pretty cool!) The kid throws fire. It's also easy to see he's a work in progress. The Yankees will have to work with Sauer to iron out his mechanics and develop a changeup. Won't be easy! But the Yankees are banking on Sauer's upside and their improving track record of developing arms.
"Sauer is a projectable high school right-hander who is athletic, with a 'now' fastball and a plus slider," said Oppenheimer in a statement. "He really has a good way about his aggressiveness and makeup on the mound. We see a chance there for a starter with power stuff."
We should look at the Schmidt and Sauer picks together because they are connected through the bonus pool. Like I said, Schmidt is slotted for $3,458,600. Sauer, on the other hand, is slotted for $1,236,000. That's $4,694,600 between the two of them. Maybe they'll wind up with even split? Roughly $2.35M each? Schmidt gets below-slot because he recently had his elbow cut open and Sauer gets over-slot because, well, that's what it'll take to get him to turn pro.
Why didn't the Yankees take Sauer in the first round and Schmidt in the second round? Wouldn't you rather take the high upside kid first to make sure you actually get him before cutting deals? Yes, in theory, but keep in mind that if a player doesn't sign, the team loses all the pool money associated with that pick. Taking Sauer in the first round and having him walk away means losing $3,458,600 in bonus money. Yikes. The Yankees would rather roll the dice with the $1,236,000 in second round bonus pool money.
Chances are the Yankees did not specifically target Sauer for an over-slot bonus in the second round. He was probably one of several players they were looking at for that 54th overall pick. Among the other notable prospects to come off the board shortly after Sauer were Minnesota HS RHP Sam Carlson and Florida HS SS Mark Vientos, for example. California HS SS Nick Allen and Louisiana HS RHP Blayne Enlow are still on the board now and could have also been in the mix for that second round pick.
Ultimately, it boils down to this: the Yankees like Schmidt and think he can be a really good pitcher when healthy, but they also recognized his leverage is shot following Tommy John surgery. By taking him in the first round and (again, presumably) getting him to agree to a below-slot bonus, it would leave them bonus pool money to spend on another player(s) later. In this case that player is Sauer. If Sauer had come off the board before that 54th pick rolled around, maybe it would have been Carlson. Or Allen. Or whoever.
Last year the Yankees did the exact opposite of this strategy. They took the top available talent, Blake Rutherford, with their first round pick, then figured out how to save enough bonus money to pay him later. This year they saved the bonus pool money first, then waited to see who would be available later. And who knows? Maybe they'll save enough with the Schmidt pick to go over-slot with their third round pick as well. That would be cool.
I should note this strategy is not particularly new or unique to the Yankees. Teams have been doing it since the draft pools were put in place. Most of the time it happens with teams at the very top of the draft, with the picks tied to huge slot values. They turn that one big bonus slot into multiple high-end prospects. Not many teams have done it in the middle of the first round, so in that sense the Yankees are unique. Overall though, this has been done before. It's not new.
For now, the Yankees landed two nice power arms with upside on Day One. One of them happens to be broken at the moment. I didn't like the Schmidt pick when it happened because Tommy John surgery is a big risk and I still don't love it overall. Healthy players are cool. It's not like Schmidt is getting a tooth pulled or something like that. Once the Yankees went for Sauer, arguably the best player still on the board, with their second pick, their strategy became clear. They were planning to pounce on whichever highly ranked prospect slipped into the second round.