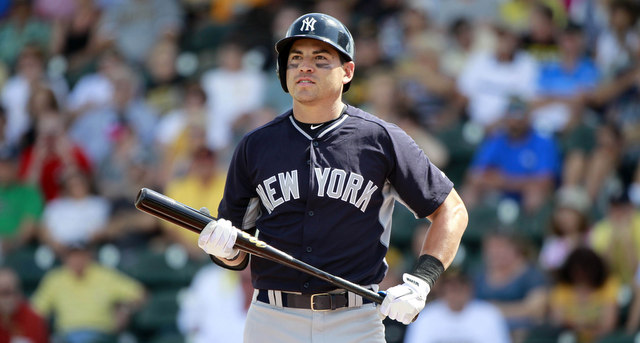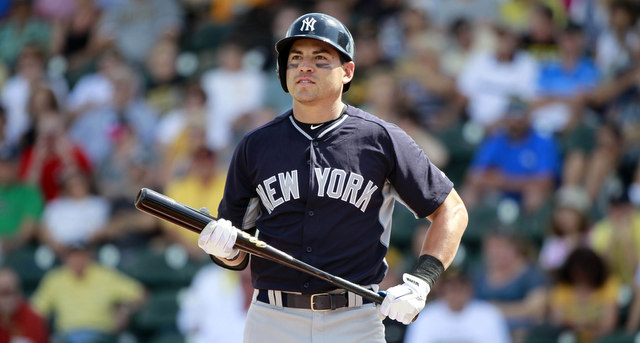 Baseball's free agent system is mostly backwards. Instead of paying for players in the primes of their careers, free agency forces teams to generally pay for past performance. While teams remain hopeful that these late-prime players can sustain performance and then decline gracefully, reality rarely complies.
Yet with Jacoby Ellsbury the Yankees paid $153 million not just for past performance, but for the hopes of improvement. All last winter we heard about Ellsbury's potential to increase his power at Yankee Stadium.
He did exactly that, producing his best power numbers, including a .148 ISO, sixth-most among qualified center fielders, aside from his 2011 season.
Unfortunately, he didn't live up to expectations in a few other ways. For instance, 2014 was his only full season with a BABIP below .300 (his previous low was .312, and that was in 2008). That meant fewer times on base. Combine that with his frequent appearances in the No. 3 lineup spot and it's a recipe for somewhat fewer stolen bases than expected.
With a more defined role, and perhaps a twinge more luck, this could be the season that Ellsbury puts it all together.
Yankees Need: Consistency Atop the Lineup
In every scenario other than the one the 2014 Yankees faced, Ellsbury and Brett Gardner would have led off. But out of respect for Derek Jeter, the Yankees willfully made the lineup worse. His combination of .304 OBP and 15 GIDP left little for the middle of the lineup.
It took a Carlos Beltran injury to get both Ellsbury and Gardner into the top three lineup spots. Given the way Beltran was hitting when he got hurt, this was no boon. No matter how you view it, the Yankees harmed the team by batting Jeter second. They needed that consistency atop the order to give the depleted middle of the lineup a chance to drive in some runs.
Ellsbury Can: Provide Consistency Atop the Lineup
By the numbers, Ellsbury might not have been an ideal leadoff man last year. His .328 OBP was the lowest of any full season in his career. But that had more to do with a low BABIP than it did anything else — his walk rate was actually the highest in his career by a tick.
Looking through his full seasons in the leadoff spot, it's pretty clear that he's comfortable batting there. Joe Girardi moved him around out of necessity last year. Indeed, even with the Beltran injury he probably wouldn't have moved out of the leadoff spot if Gardner had opened the season hitting second.
Having two fast guys who can get on base atop the lineup will help the Yankees in many ways that betrayed the 2014 team. I'm confident in Ellsbury's ability to produce an OBP above .350 if he hits leadoff in 145 games. It's what he's done his whole career.
Yankees Need: Elite Outfield Defense
The 2015 Yankees are, by design, a run prevention team. While there's hope that they'll get more out of Brian McCann, Carlos Beltran, and Mark Teixeira than they did in 2014, the offense still figures to be league average, perhaps a tick above, in even the best-case scenario.
Success will come and go based on the pitching staff and the defense behind it. Brian Cashman fortified his infield defense, adding Didi Gregorius's slick glove at short, an astronomical upgrade over Derek Jeter's. Bringing back Chase Headley should help the offense, but will certainly help keep balls from reaching the outfield. Stephen Drew, too, should provide quality defense at second.
That leaves the outfield, where the Yankees equally need to prevent hits and runs. We learned that they pursued Jason Heyward, which would have given them, presumably, the best outfield defense in the league. With Carlos Beltran patrolling right, defense in left and, particularly, center become more important.
Ellsbury Can: Play Elite Defense
The eye test suggests Ellsbury played very good, if not elite, defense in center field last year. He's smooth out there, which might make him look a bit better than he actually performs, but to my eye there were no noticeable deficiencies in his game.
The numbers had him in decline: UZR rated him as just above average while DR had him five runs below average. Both were his worst marks since 2009, and again I saw nothing to indicate that he was any worse. For what it's worth, Baseball Prospectus's FRAA, which does not use stringer-biased data, gave Ellsbury his best marks since 2008.
Once we start to get some of the Statcast data, I think it will bear out that Ellsbury is one of the league's better defenders.
Yankees Need: Speed on the Bases
If you're going to have two similarly profiled speedsters in the outfield, you better get some stolen bases out of them. Moreover, when you have a slow lineup like the Yankees, which lost its third and fourth highest stolen base producers from 2014, you need the guys atop the order to swipe some bags. And by some, I mean a ton.
No one in the infield is stealing any bases. Stephen Drew has a career high of 10, and that was in 2010. Chase Headley stole 17 in 2012, but hasn't stolen that many total since. Gregorius cannot steal bases. I don't need mention anyone else.
That leaves the base swiping to Gardner and Ellsbury.
Ellsbury Can: Lead the League in Stolen Bases
No, seriously. Ellsbury has thrice led the Al in stolen bases, including 2013. Despite sliding back to third in the order for much of 2014, he still swiped 39 bags, good for fifth-most in the majors.
If he bats leadoff every day, which he should, and improves his OBP from 2014, which he also should, it's not difficult to imagine Ellsbury vying with Jose Altuve for the AL stolen bases crown.
The advantage of having Ellsbury and Gardner bat first and second is wreaking havoc with speed. Given Ellsbury's history, I think he'll hold up his end of the bargain.
Yankees Need: A Little Pop
Are the Yankees relying on Ellsbury to produce power numbers? No, not in the way they're relying on the three questionable guys — Teixeira, Beltran, McCann — to hit some dingers. But this is a team that finished 10th in the AL in ISO last season. They'll need pop wherever they can get it.
Ellsbury Can: Sock a Few Dingers
To repeat, part of the reason the Yankees paid Ellsbury is that they could project better power numbers at Yankee Stadium. He came through and produced the second-best ISO of his career, including 16 home runs. That's more than the previous two seasons combined (though only half of his career year of 32 homers in 2011).
Settled into his spot, I think Ellsbury can hit 20 this year. At the very least I think he'll hit 15, which is just fine for the Yankees. If they end up relying on Ellsbury to produce power numbers, many other things have gone wrong. In an ideal situation, he has more than enough power to help the team.