Welcome to the first mailbag of 2012. Remember to use the Submit A Tip box on the sidebar to send in your questions throughout the week.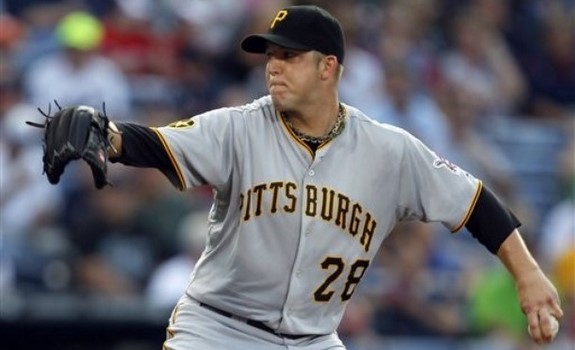 Mick asks: What do you think of Paul Maholm on a one-year deal? Or would he really be an improvement over anyone the Yankees already have?
I like Maholm more than most, but he's still not very good. Last year's shiny ERA (3.66) hides the fact that he allows a substantial number of balls to be put in play (just 5.55 K/9 and 14.3 K% career). He does get grounders (49.9% last year, 52.3% career), but you've got to miss bats in the AL East to be anything more than back of the rotation batting practice. As I said back in November, the Yankees shouldn't count on him to be anything more than that back-end guy, which makes him no upgrade over what they currently have.
At this point, if the Yankees aren't going to bring in someone clearly better than Ivan Nova and Freddy Garcia, they're just wasting their time. The A.J. Burnett, Phil Hughes, Hector Noesi, Adam Warren, and David Phelps group is more than capable of filling those fourth and fifth spots.
Will asks: Cashman got lucky with some scrap heap signings last year. I think he tries to go for it again by offering declining pitchers a one year minor league deal for the same amount Garcia and Colon got and see what they have. Of all the scrap heap pitchers, who would you take a run at? I would offer a deal to Brad Penny and Chris Young.
Just like I said above, they're not making themselves any better by taking on more scrap heap guys. That said, there are a few interesting ones out there. I don't know what the status of Young's shoulder is (he had another major surgery last summer), but he's one of the most extreme fly ball pitchers in the game (career 28.2% grounders). That combined with a nothing fastball is a bad mix for Yankee Stadium, so I'd steer clear of him.
Penny is slightly more interesting, but he's been an above average pitcher just once in the last four years (2009). He's got a 4.79 K/9 (12.2 K%) and a 46.4% ground ball rate during that time, which is scary. He's also going to be 34 in May, so it's not like he's young anymore either. I'd take him over Young, but I wouldn't be blowing up his agent's phone to sign him.
Among the unsigned starters, I guess Maholm and Rich Harden interest me the most. When you're talking about guys on one-year deals at a relatively low salary, Colon looks like the best of the bunch, and we saw how effective he could be in the first five months of last season. The only question is his health; did he start to break down late in the season, or just tire from a) the long layoff, and/or b) the long season after pitching so much in winter ball? If his shoulder is s0und, I'd go with the devil I know over the devil I don't.
David asks: I was reading about Vicente Padilla how well he is doing now in his native Nicaraguan league. Can he be a option for the rotation?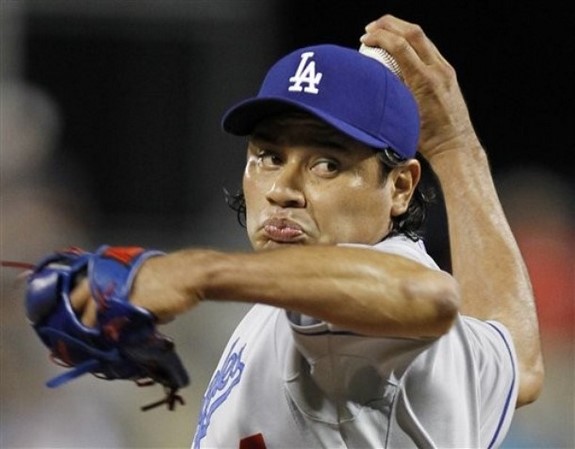 Padilla, now 34, is apparently throwing 95 down in Nicaragua this offseason, a couple months after he had surgery to repair a nerve problem in his elbow and a disc problem in his neck. Other than a 16 start, 95 IP cameo with the Dodgers in 2010, he's been an effective starter once in the last five years (2009). He's slightly more interesting in relief, where he could just air it out for an inning or two, but I wouldn't count on him in the rotation.
Anyway, there's not point in exploring Padilla as option because he and Mark Teixeira hate each other. It dates back to even before their days as teammates with the Rangers, and back in 2009 we saw that mini-blowup after Padilla hit Tex twice in a game. If Padilla was a difference maker, then maybe you try to work something out with Tex's blessing. He's not though, so just move along.
Mark asks: With an apparently short list of interested suitors, if the Yanks could get Kosuke Fukudome for 1 year/$2-3 million – would you bite as a 5th OF/DH option? Have to like that OBP.
When would he play? The DH thing isn't an option because Jesus Montero needs to get as many plate appearances as possible. Whenever he does sit, it'll likely be so Alex Rodriguez or Derek Jeter or even Robinson Cano get a day off from the field. I know Fukudome has a nice OBP (.361 career), but he has no power (career .139 ISO), doesn't steal bases (29-for-57 career, or 50.9%), and the advanced metrics haven't liked his defense in a few years now. He's not worth taking plate appearances away from Montero. The Yankees have a fine fifth outfielder in Chris Dickerson, who can hit righties (career .341 wOBA), steal some bases (24-for-32 career in MLB), and play solid defense in all three outfield spots. His skill set fits the roster better.
Tucker asks: When was the last time the Yankees traded a major leaguer for a prospect(s)?
The Yankees are never really sellers, so they haven't traded too many established big leaguers away for prospects in recent years. The last time it happened was after the 2006 season, when they sent Gary Sheffield to the Tigers for Kevin Whelan, Humberto Sanchez, and Anthony Claggett. The Randy Johnson trade kinda sorta counts, since the return was highlighted by the three prospects (Ross Ohlendorf, Stephen Jackson, Alberto Gonzalez) they received and not the middle reliever (Luis Vizcaino). Tony Womack for Ben Himes and Kevin Howard is really pushed the limits of "prospect;" that was a clearly a "get rid of Womack at all costs I don't care what we get back" type of move. Other than that, there haven't been too many big leaguer-for-prospect moves in Yankeeland over the last decade or so.