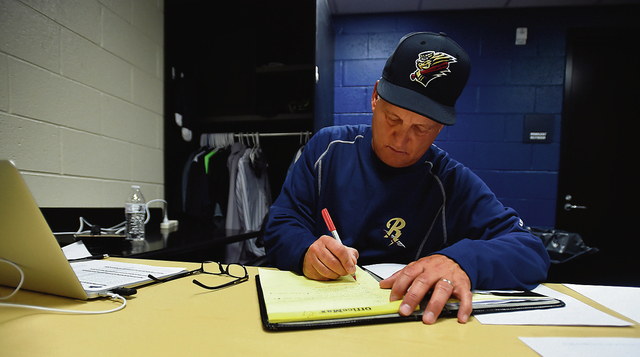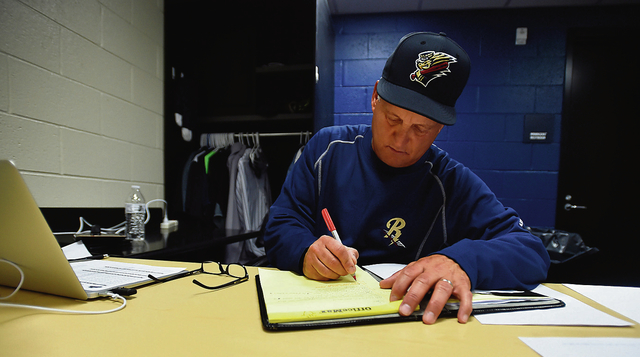 Over the last several weeks, the Yankees have announced the coaching staffs for their various minor league affiliates. Minor league coaches are the unsung heroes of any organization. These are the folks who work directly with the top prospects, and right now the Yankees sure do have an awful lot of top prospects. Here's a quick rundown of minor league coaching staffs for the upcoming season.
Triple-A Scranton/Wilkes-Barre RailRiders
Manager: Al Pedrique
Pitching Coach: Tommy Phelps
Hitting Coach: P.J. Pilittere
Defensive Coach: Doug Davis
Athletic Trainer: Darren London
Strength & Conditioning Coach: Brad Hyde
Pedrique is returning to the RailRiders after being named International League Manager of the Year last season. Scranton won the division title, the IL championship, and the Triple-A Championship Game. The RailRiders went 91-52 last year, becoming the first IL team to win 90+ games since 2002. Pedrique has climbed the managerial ladder from Low-A Charleston (2013) to High-A Tampa (2014) to Double-A Trenton (2015) to Triple-A Scranton (2016-17). He served as Astros bench coach from 2010-11 and was briefly the Diamondbacks interim manager in 2004.
Pilittere is a new addition to the Triple-A staff. He was the Double-A hitting coach the last two years after holding the same role with Tampa (2014) and Charleston (2013). I'm sure many longtime RAB readers remember Pilittere from his stint in the organization as a player. This is already his sixth year in the system as a coach. Crazy. He was always considered a future coach during his playing career because of his leadership skills. Pilittere will be in charge of Clint Frazier's development this summer.
Also new to the staff is Davis, who is not to be confused with former big league lefty Doug Davis. This is a different Doug Davis. This Doug Davis was the Blue Jays minor league catching coordinator from 2010-16. He's been coaching or managing in the minors since 1995, and spent the 2003-04 seasons as the Marlins bench coach. Slater, London, and Hyde are all holdovers from last year.
Double-A Trenton Thunder
Manager: Bobby Mitchell
Pitching Coach: Jose Rosado
Hitting Coach: Tom Slater
Bullpen Coach: JD Closser
Defensive Coach: Lino Diaz
Athletic Trainer: Jimmy Downam
Strength & Conditioning Coach: Anthony Velasquez
This will be Mitchell's second season in the organization and second as manager of the Thunder. Trenton went 87-55 last season before losing the Eastern League Championship Series. Mitchell has big league coaching experience with several teams as an outfield and baserunning coach, and prior to joining the Yankees, he managed in the Cubs and Angels systems. Rosado (third year) and Closser (second year) are also returning to Trenton.
It's worth noting Rosado's work hasn't received enough attention. Prior to joining Trenton, he spent four years as pitching coach in the rookie Gulf Coast League, and in recent years he's had a big hand in getting pitchers like Jordan Montgomery, Chance Adams, Dietrich Enns, Ronald Herrera, and Daniel Camarena to take their games to another level. Rosado himself was a good young pitcher who made two All-Star Games with the Royals before his 25th birthday. (A major shoulder injury ended his career at 25.)
Slater replaces Pilittere after spending the last two seasons as hitting coach with High-A Tampa. This will be his ninth season in the organization. He's held all sorts of coaching and managerial positions over the years. Slater will be the guy overseeing Gleyber Torres and Miguel Andujar this year, among others. Diaz is being promoted from the rookie Gulf Coast League while both Downam and Velasquez were with Low-A Charleston from 2014-16.
High-A Tampa Yankees
Manager: Jay Bell
Pitching Coach: Tim Norton
Hitting Coach: Eric Duncan
Defensive Coach: Raul Dominguez
Catching Coach: Michel Hernandez
Athletic Trainer: Michael Becker
Strength & Conditioning Coach: Jacob Dunning
Welcome to the Yankees, Jay Bell. The former two-time All-Star joins the organization after spending the last 12 years or so holding all sorts of jobs, including big league bench coach (Diamondbacks from 2005-06, Reds from 2014-15), big league hitting coach (Pirates in 2013), and special advisor (D'Backs from 2007-09). Perhaps Jorge Mateo will one day have an out-of-nowhere 38-homer season like Bell after having him as a manager.
Norton is back with Tampa for the second straight season. This will be his fifth season coaching in the organization after injuries sabotaged his promising playing career. Duncan, New York's first round pick in 2003, joins the Tampa staff from Staten Island. This is his first full season coaching gig and third season coaching with the Yankees. Last year it was reported farm system head Gary Denbo wanted Duncan to coach full-time, but he wasn't willing to commit to it yet. Apparently now he is.
Over the last few years Hernandez has emerged as the Yankees minor league catching guru. Last year he worked with Luis Torrens in Charleston, and the year before he was with Gary Sanchez in Trenton. The Yankees don't have a notable catching prospect ticketed for Tampa, though I suppose Torrens could wind up there if (when?) the Padres return him as a Rule 5 Draft pick. Dominguez is coming up from the rookie Gulf Coast League and is one of the longest tenured instructors in the organization. He's been around since 2006. Becker is entering his fourth year with Tampa while Dunning is coming up from Staten Island.
Low-A Charleston RiverDogs
Manager: Patrick Osborn
Pitching Coach: Justin Pope
Hitting Coach: Ken Joyce
Defensive Coach: Jose Javier
Catching Coach: Hector Rabago
Athletic Trainer: Michael Sole
Strength & Conditioning Coach: Jeff Dolan
By all accounts Osborn is a rising managerial star in the farm system, which is kinda funny because he's being moved down from Tampa to Charleston this year. He's going to have a fun roster. Blake Rutherford, Dermis Garcia, Estevan Florial, Isiah Gilliam, Leonardo Molina, and Hoy Jun Park could all be with the RiverDogs in 2017. It's not a coincidence the Yankees chose Osborn to work with those prospects. Osborn joined the organization in 2014 after spending several years managing the independent Southern Maryland Blue Crabs.
Joyce is a new addition to the organization. This will be his 21st season coaching in the minors, so he's been around. Joyce spent the last five years with the Giants. Prior to that he was with the Marlins and Blue Jays. Pope, yet another former Yankees minor leaguer turned coach, returns for a second season as Charleston's pitching coach. Rabago was a 2009 draft pick by the Yankees and is already in his fourth season as a coach. He's joining Charleston after spending the last two seasons with rookie Pulaski. Javier, Sole, and Dolan are all new hires.
Short Season Staten Island Yankees
Manager: Julio Mosquera
Pitching Coach: Travis Phelps
Hitting Coach: Kevin Mahoney
Defensive Coach: Teuris Olivares
This will be Mosquera's third season as a manager and 12th as an instructor with the Yankees. He spent the last two years in the rookie Gulf Coast League, and prior to that, he was the club's longtime catching coordinator. Mosquera worked with every catching prospect from Frankie Cervelli to Jesus Montero to John Ryan Murphy to Gary Sanchez over the years. Phelps is returning as pitching coach and Mahoney, a former organizational infielder, is moving up from Pulaski. This will be Olivares' third season in this role.
Rookie Pulaski Yankees
Manager: Luis Dorante
Pitching Coach: Gerardo Casadiego
Hitting Coach: Scott Seabol
Athletic Trainer: Manny Ozoa
Strength & Conditioning Coach: Danny Russo
After spend the last three seasons managing the RiverDogs, Dorante will now lead all the young kids in Pulaski. This is his sixth season in the organization and fourth as a manager. Prior to joining the Yankees, Dorante was the Pirates big league bullpen coach from 2008-10. I know going from Charleston to Pulaski seems like a demotion, but minor league coaches don't get demoted. They get replaced if they don't do a good job. Dorante is most likely here because the Yankees want him working with specific players.
Both Casadiego and Seabol are new to Pulaski. Casadiego is making the jump up from the Dominican Summer League, where he was a pitching coach last summer. This is Seabol's first coaching job. He's a rookie. You might remember him from that one game he played with the 2001 Yankees. Fun Fact: At the time of his MLB debut, Seabol was the lowest drafted player ever to reach the big leagues*. The Yankees drafted him in the 88th round (!) of the 1996 draft. He was the 1,718th player chosen. Wild. Ozoa is returning to Pulaski and Russo spent last season with Staten Island.
* The lowest drafted player ever to reach the show? That would be Travis Phelps, Staten Island's pitching coach. Phelps was an 89th round pick in 1996, taken 1,721st overall by the Devil Rays. Three picks after Seabol. Phelps made his MLB debut eleven days after Seabol. The 1996 draft went 100 rounds, though every team other than the Yankees and expansion Devil Rays dropped out by the 84th round. Tampa Bay dropped out after the 97th round, yet the Yankees kept going. Don't ask me why.
Gulf Coast League Yankees East & West
Managers: Luis Sojo and Nick Ortiz
It is damn near impossible to find information about GCL coaching staffs, but those are the managers this year, according to George King (subs. req'd). Ortiz played a very long time (1991-2012) and all over the world without ever reaching the big leagues. He had been working as a scout with the Yankees, and is now getting into managing.
You know Sojo. He's had on and off coaching stints in the farm system over the years, including managing High-A Tampa (2006-09, 2011-12) and serving as third base coach with Triple-A Scranton (2014). Sojo was an assistant field coordinator with the big league Yankees in 2015, whatever that means. Also, he managed Double-A Norwich in 2002 before coming out of retirement in 2003 to play with the Yankees after hitting a home run at Old Timers' Day. Yup.
Miscellaneous
One name you may notice is missing: Tony Franklin. Franklin has spent the last ten seasons managing Trenton (2007-14) and Pulaski (2015-16), and according to Jed Weisberger, he will now be in Tampa full-time as the organization's position player rehab coach. He'll work with everyone from rookie ball kids to big leaguers. If a position player is rehabbing in Tampa, Franklin will oversee him.
Also moving into a new role is Greg Colbrunn, who sandwiched two stints as Charleston's hitting coach (2007-12, 2016) around a three-year stretch as the Red Sox's big league hitting coach (2013-15). Colbrunn suffered a brain hemorrhage in 2014 and left the Red Sox a year later to be closer to his family, who live in Charleston full-time. The Yankees announced Colbrunn will now be a roving hitting instructor, so he'll travel from affiliate to affiliate to work with all the top prospects in the system.