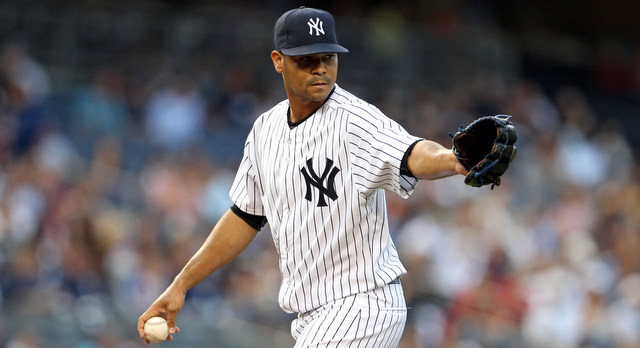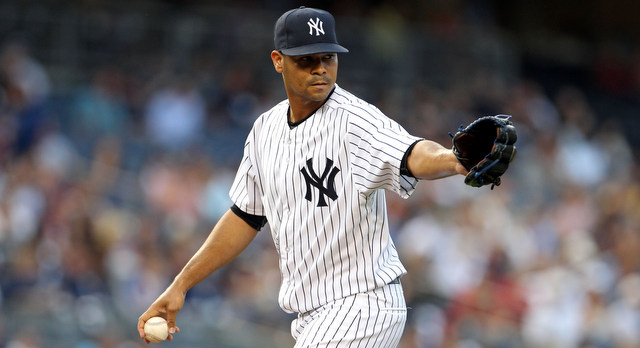 So, if you haven't noticed from my Twitter account, I also pay attention to KBO (Korean Baseball Organization) quite a bit. This week, there was some intriguing signing news that involved two of the former Yankee RHP's.
First off, the Hanhwa Eagles re-signed RHP Esmil Rogers to a $1.9 million deal. When it was announced yesterday, Rogers became the highest-paid foreign player in Korea ever, surpassing the $1.5 million paycheck of Doosan Bears RHP Dustin Nippert. Pretty wild, huh.
We all know how Esmil did as a Yankee in 2015. If you need a refresher: 6.27 ERA in 33.0 IP. Yeah, pretty bad. I was actually at Camden Yards at his last Yankee appearance on June 12 (2.0 IP, 5 H, 4 R, 1 ER, 2 K's) and boy, he just looked awful that day and the team DFA'd him almost immediately after. His mojo completely turned around when the Hanhwa Eagles, based on Daejeon, South Korea, signed him to replace Shane Youman (ex-Pittsburgh Pirate).
Rogers made an immediate impacts for the team. He threw two complete games in a row to begin his career in Korea and threw four in ten starts overall. He had a 2.97 ERA in 75.2 IP, averaging just over 7.5 innings per start (!!!). There were rumors Japanese teams were pursuing him for next season but Rogers decided to stay with Hanhwa, for a good amount of money. He became an innings-eating ace in Korea after struggling with the Yankees, go figure.
Here is a video of all of his pitches in a start against Kia Tigers, which ended as a 10 strikeout shutout, if you are curious.
In other news, the Kia Tigers signed RHP Hector Noesi to a $1.7 million deal, as
announced yesterday
. Unlike Rogers, Noesi has not pitched in KBO yet but the Tigers must have really liked him enough to give him that contact. As you may remember, Noesi made it to the majors back in 2011 through the Yankee farm system. He was traded that offseason to the Mariners along with Jesus Montero for Michael Pineda.
Like Rogers, Noesi's struggled in his time in ML. After being traded away from Bronx, the Dominican pitched to a 5.44 ERA in 339.0 IP in 2012-15. No bueno. Long balls really hurt him as he allowed 59 total in that time span for a 1.6 HR/9 rate. He did seem to show flashes of promise as a SP for the White Sox in 2014. In 28 appearances (27 starts) in the South Side, Noesi had a 8-11 record with a 4.39 ERA. Alright, not bad. But he totally flunked it in 2015 by posting a 6.89 ERA in 10 appearances.
Both Rogers' and Noesi's paths to Korea follow those of many others' that end up in Asian baseball leagues: promise in the minors, especially at AA/AAA levels, and talent not translating at the ML level. Not only is the level of passion about baseball pretty high in Korea, Japan and Taiwan, they also pay better compared to being stuck in minors. So yeah, makes sense in some ways. Best of luck to Esmil and Hector.