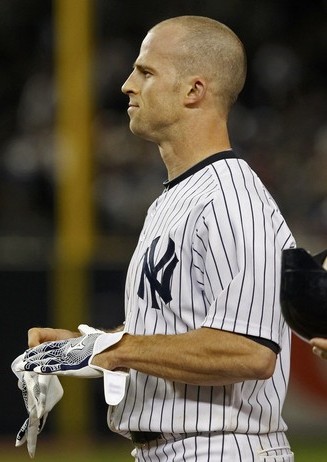 The Yankees played their 60th game of the season last night and they've only had Brett Gardner in the starting lineup for eight of them. The elbow injury he suffered sliding for a ball against the Twins has morphed into a series of setbacks that culminated with a visit to Dr. James Andrews yesterday. Gardner will see Dr. Tim Kremcheck for a second opinion on Thursday, at which point the Yankees will presumably announce the latest diagnosis.
Barring some fortunate and frankly unexpected good news, Gardner is going to miss several more weeks. A few days ago Joe Girardi indicated that he doesn't expect his left fielder back until after the All-Star break, which is still more than a month away. Raul Ibanez has been better than expected and softened the blow of losing Gardner a bit, but the Yankees can't really rely on him as the everyday left fielder for an extended period of time. He's already started 33 games in the field and at 40 years old, there has to be some concern about him wearing down later in the season.
Unless the Yankees get good news on Thursday, they have to at least consider bolstering their roster with Gardner on the shelf. With all due respect to Dewayne Wise, he's nothing more than a defensive replacement/spot starter in the big leagues. The Yankees can do better without having to go outside the organization, they have some potential solutions sitting in Triple-A.
Chris Dickerson
I've written about Dickerson before, noting that he offers the ability to hit right-handed pitching (career .341 wOBA against northpaws) in addition to strong defense and base running skills. I don't know if he's a better defensive player than Wise but the difference isn't worth arguing about. Dickerson can handle all three outfield spots with aplomb as well as contribute offensively with his bat and legs. The Yankees don't have to play him every day in a straight platoon, but they could run him out there three times a week against righties while keeping Ibanez in the DH role. Cutting Wise in favor of Dickerson — who is out of minor league options and would have be waived whenever Gardner is healthy — is an upgrade in almost every single way.
Russell Branyan
Joe and I talked about this option on yesterday's podcast. The idea would be to dump Wise, keep playing Ibanez in left, and use Branyan as the regular DH against right-handers. He's come back very well from his back injury — six homers in 13 minor league games already — but it's tough to consider him anything more than a first baseman/DH option. Branyan's days of even faking third base and the corner outfield are a thing of the past. Adding a huge left-handed power bat lineup is obviously desirable, but it would leave the Yankees without a true backup center fielder and further limit roster flexibility.
I suppose it's also worth mentioning Jack Cust here, who is also raking in Triple-A but has yet to play a single game in the field. It's been DH or the bench. At least Branyan has played first base pretty much every game.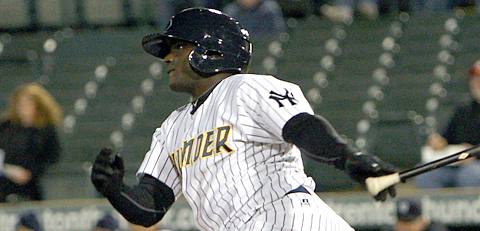 Ronnie Mustelier
The most interesting 27-year-old in the minor league system, Mustelier has been hitting non-stop since signing last summer and he's now doing it at the Triple-A level. Joe Girardi raved about his bat speed recently and said his name has come up as a call-up candidate at various points this year … but that's pretty much all we know about the guy. He's small — listed at 5-foot-10 and 210 lbs. — and right-handed with phenomenal numbers, but we don't know anything about his defensive skills or speed or anything else. Box scores only tell you so much. Mustelier has spent a ton of time in left field and also has experience in the infield, so his versatility as a plus. He's not an ideal platoon candidate given his right-handedness, but he could also hit enough that it doesn't even matter.
Eduardo Nunez
This one probably won't happen for a number of reasons. For one, Nunez is currently on the minor league DL with a thumb issue. For another, the Yankees sent him to Triple-A to focus on one position after bouncing him all around the field over the last year or so. Calling Nunez back up to do anything — utility infielder, platoon left fielder, etc. — would go against that plan. That doesn't mean it's not an option, just that it seems unlikely. That said, we can't rule anything out. Whenever Nunez gets healthy — probably soon since he was taking grounders just last week — he figures to at least be on the call-up radar.
Miscellaneous
As always, the top minor league affiliate is chock full of random call-up options. Brandon Laird is on the 40-man roster and can play all four corner spots, but he can't hit — .251/.289/.393 in 870 total plate appearances in Triple-A. Corban Joseph has zero outfield experience so he's of no use in this situation despite being on the 40-man. Colin Curtis is a solid enough defensive player and can play all three outfield spots, but he's never been much with the stick. Kevin Russo can play all over the field and make some contact, but otherwise isn't any kind of upgrade. Neither he nor Curtis is on the 40-man roster as well. Not much to see here.
* * *
Of course, the Yankees always have the option of doing nothing and sticking with their current setup. Ibanez, Andruw Jones, and Jayson Nix could continue to take turns in left field while Wise gets nothing more than the occasional spot start. That's  fine for two weeks or whatever, but I'd rather not see them roll with it for an extended period of time. It's already been long enough as far as I'm concerned. Anyway, stuff is like this begging for a poll, so…
How should the Yankees replace Brett Gardner internally?