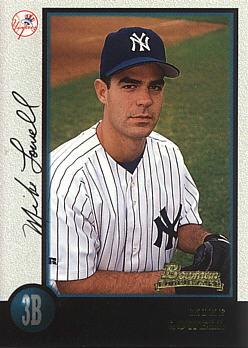 In obsessively checking this site's stat numbers conducting my daily look at our search hits for River Ave. Blues, I came across an interesting hit for the site. Someone searched for "Was Ed Yarnall released 2007" and landed here. That got me thinking about Ed Yarnall, a one-time pitching prospect for the Yankees and the Marlins.
On February 1, 1999, Ed Yarnall served as the lynch pin in a deal that sent third base stud Mike Lowell – blocked at the Bigs by Scott Brosius – to the Marlins for Ed Yarnall, Mark J. Johnson and Todd Noel. Yarnall would be the only player in that trade to appear in pinstripes, and his 20 innings in the Bronx were far from memorable. He went 1-0 with a 5.40 while striking out 14 and walking 13 in 20 innings.
In 2000, the Yankees exchanged Yarnall and Drew Henson, among others, with the Reds for Denny Neagle, and Yarnall would never again pitch in the Bigs. He bounced around the Minors and pitched in 2006 for Omaha, the Royals' AAA affiliate. At the age of 31, Yarnall is now pitching in Mexico for Vaqueros Laguna. The other pieces in the Lowell trade – Noel, a former first round draft pick, and Johnson, who landed with the Tigers for 25 innings in 2000 – amounted to nothing.
So that got me thinking: Is the Mike Lowell trade one of the more disappointing deals of the Brian Cashman Era? With Scotty Bro holding down the Hot Corner, the Yanks had a valuable commodity in Lowell. But the Yanks got nothing in return, and Lowell went on to outperform Brosius from 1999-2001, Robin Ventura in 2002-2003 and Aaron Boone in 2003. It was only that arrival of A-Rod that pulled the Yankees third base spot ahead of Lowell.
Funny how these things work out sometimes.