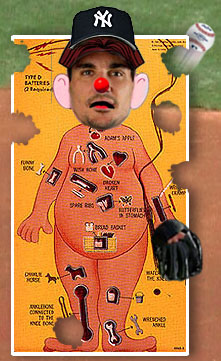 When the news came down on Wednesday that Carl Pavano will have season-ending reconstructive surgery on his elbow, no one really blinked. After two-plus seasons of Pavano's routine, no one was surprised that Pavano would be missing out on fulfilling the remainder of his four-year deal.
It's hard to believe that things weren't always like this. Following the 2004 season when Pavano hit free agency, a bidding war erupted. The Red Sox wanted him; the Tigers wanted him; the Phillies and Rangers were mildly interested. It took recruiting phone calls from the Joe Torre and Derek Jeter to lure Pavano to the Bronx. Fans and players alike acted as though it were a big coup.
Well, $39.95 million and 19 starts later, the Yanks hardly got a return on their investment. Pavano won 5 games for the Yanks. He threw 111.3 innings and had an ERA of 4.77.
Since arriving in New York, Pavano has developed a reputation as a whiner, a complainer and a selfish player. The media and his teammates have questioned his desire to play, and if he comes back from this surgery, you can bet he won't don the Yankee uniform in 2008. When he becomes a free agent in Nov. 2008, he'll be lucky to sign an incentive-laden deal with a second-tier team. A Minor League deal and a spring training invite could be all that awaits him.
The Yankees, on the other hand, are probably furious with him. This is money that could have spent elsewhere and on a player who wanted to perform. It is safe to say that Carl Pavano did not live up to the terms of his contract. So I think the Yankees should sue Carl Pavano.
I'm not familiar with the standard player contract for Major League Baseball, and I'm sure the contract as an injury clause in it. But it's really easy to claim that Carl Pavano did not honor his side of the contract and is in breach.
He was paid $39.95 million to play baseball for four years. Instead, he missed all of 2005 to various maladies including a broken rib sustained in a car accident and will now miss the rest of 2007 and most, if not all, of 2008.
Of course, no team would sue a player, but it would certainly be interesting to see how such a suit would play out. And it would be great revenge just to drag Pavano's oft-injured ass into court.
Image from Da Bronx Bombers.