Filling the winter months as a minor league blogger can be difficult; there's no Hot Stove, and winter ball is either over by December (which leads to me to wonder why they call it winter ball in the first place) or tough to follow on the intra-net. Once in a while there's a trade to talk about (the Sheff & Unit deals were godsends last year), but otherwise the winter months consist of reading updated scouting reports, compiling lists, and looking around to see who blew out their knee playing pickup basketball.
I'm going to do a two-parter over the next few days, first taking a look at some prospects who don't get the respect they deserve, then looking at some guys who get a bit too much love. The players are in no particular order, unless you count alphabetical.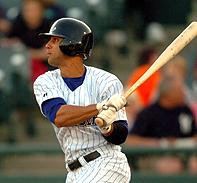 Justin Christian, OF
Paving the way for guys like Edwar Ramirez, Scott Patterson, Chris Farley and Stephen Artz, Christian was the original independent ball refugee, trailblazing a path to a new talent resource. Undrafted after an uneventful career at Auburn and Southeast Missouri State, Christian tore up the Frontier League over the next 2 years for the River City Rascals, hitting a combined .374-.442-.547 with 35 steals in 68 games. The Yanks signed him in 2004, and he's gradually climbed the organizational ladder ever since.
So what is there to like about Christian? Well for one he's fast, like crazy fast. Maybe not Brett Gardner fast, but it's closer than you probably realize. In fact, his combination of speed and baserunning instincts make him a bit more dangerous on the basepaths than Gardner. He's also pretty versatile, having played the middle infield and all 3 outfield spots with the Yanks after playing just about everywhere in college and indy ball.
He doesn't have much over-the-fence power in his bat, but that's not really Christian's game. He puts the ball in play (only 273 K in the last 4 years), maintains a solid batting average (.271 or better every year since signing) and on-base percentage (.370 or better in all but one year since signing), and of course, he steals plenty of bags (212 steals since signing, including a Double-A Trenton record 63 SB in 2005). Christian's fully capable of coming up as an injury replacement in 2008 and having a Melky-like impact. You heard it here first.
Chris Malec, 1B
A 16th round pick out of UC Santa Barbara in 2005, Malec is a cancer survivor and bat control freak (in case you're wondering, the photo is from his time with the Yarmouth-Dennis Red Sox of the Cape Cod League in 2003). He walked 69 times against just 48 strikeouts in 137 games last year, and owns an 85-114 K/BB ratio as a pro. He also has a knack for getting hit by pitches (good for the team, unfortunate for him), leading to outstanding OBPs.
Primarly a singles hitter with a penchant for RBIs as a middle infielder in college and in his first year with the Yanks, Malec remade himself last offseason and showed up as gap hitting first baseman in 2007. He continued to get on base at ridiculous pace this year (.410 OBP), but he blossomed into a middle-of-the-order run producer, finishing with the third most RBI in the Yanks' system (behind Juan Miranda and Seth Fortenberry). If he retains some of his versatility on the infield, he could become a cheap and effective bench option for the Yanks before you know it, possibly even more.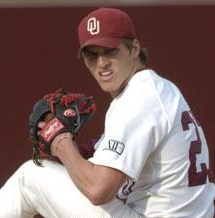 Dan McCutchen, RHP
You know about the negatives: he was suspended for steroid use just weeks after being drafted in the 13th round by the Yanks last year, and he's kinda old (turned 25 a few weeks ago) after enjoying a 5-year college career (hey, finishing college in 4 years is like leaving a party at 9 pm). Now those are pretty considerable negatives, even if the steroid issue stemmed from the prescription drug ephedra, which he took while at Oklahoma, but the fact remains that McCutchen is a very good pitcher.
He pitches to contact, using a pair of low-90's fastballs (a pretty straight four-seamer and a two-seamer than bores in on righties), a power curveball and a reliable but unspectacular changeup. He's an absolute horse, logging 178.2 total innings between college and the pros in 2006, and following that with 153 innings (including playoffs) this year (woulda been more if he didn't have to finish serving the steriod suspension in April). He doesn't strike a ton of guys out (6.96 Kper9 since signing), but he doesn't walk anyone (2.04 BBper9) and keeps the ball in the park (only 33 HR allowed in his last 461.2 IP, dating back to 2004).
He picked up a ton of relief experience in college, which helps because he's probably destined for the bullpen. It's a role he'd be well-suited for, as it'll allow him to scrap his four-seamer and changeup and stick with his two best pitches. Given his ability to dine on innings, he could be another Scott Proctor as soon as next year, without all those annoying walks.
Juan Miranda, 1B
To fully appreciate what Mr. Miranda did in his first professional season in 2007 (.265-.350-.471 with 34 doubles, 16 HR, 96 RBI), you have to take a look at what went on during the years preceeding his U.S. debut. At age 18, he became one of the youngest players in history to play for the Cuban national team, which he helped to the 2001 World Cup. He was with the national team until 2004, when he finally managed to defect to the Dominican (he had a couple of other defection attempts foiled, and actually spent time in jail because of it). He spent 2+ years in the Dominican (all of his family still lives in Cuba), doing very little baseball activity until the Yankees signed him to a 4-yr, $4M big league deal. There's no pro league in the Dominican, and the only events he was able to participate in were short showcase events, similar to what high school prospects here do once or twice a summer. 
Long story short, Miranda played a full season in 2007 after not playing competitively in over 2 years. Yes he's got some holes in his swing, and yes lefties give him trouble, but it takes a special kind of talent to do what Miranda did this year after such a long layoff. Plus he has an infant son, and guys with young children always seem to put in that little extra effort. BA rated Miranda as the 10th best first base prospect in the game earlier in the year, but I truly believe he's closer to the top 4 or 5.  Now, if it turns out he's really 30 instead of 24, things change.
Marcos Vechionacci, 3B
Vechionacci signed with the Yankees out of Venezuela on August 26, 2002, over 5 years and 2 months ago. Hard to believe it's been that long, isn't it? Well here's where it gets really hard to believe: Vech is still only 21 years old. With the emergence of Jose Tabata & Austin Jackson, not to mention the presence of more quality pitchers than I care to name, Vechionacci has gotten lost in the crowd a bit. His numbers are nothing to drool over (.695 career OPS, and his 2007 batting average of .263 was the first time he hit over .255 since 2004), but his tools are.
Defensively, he's an absolute stud at the hot corner. Quick reactions, smooth hands, strong & accurate arm, the whole nine yards; he's got legitamite Gold Glove potential. Offensively, his tools far outweigh the results right now. He centers the ball on the bat and has a good approach at the plate. Some over-the-fence power, but it's mostly gap-to-gap right now. Remember, this is a kid that's been young for his league just about every step of the way.
Now there's a bit of a situation with Vechionacci; since he'll start next season at age 21 and has been with the organization for 5 years, he's eligible for the Rule V draft this winter unless the Yankees put him on the 40-man roster. So do the Yanks protect him, effectively eating up a precious 40-man spot for a young kid that's still another few years away from the majors, or leave him unprotected and hope no other club claims him? I say risk it, 40-man spots are few-and-far between these days, and it'll be tough for a team to hide him on the 25-man ML roster for a full season. Regardless, don't be shocked if Vech has an Austin Jackson-esque explosion in 2008.
I ran out of spots, but an Honorable Mention goes out to Steven White, another guy who'll have to be put on the 40-man roster or be exposed to the Rule V draft (a pitcher like White wouldn't last 3 picks).