Brett Gardner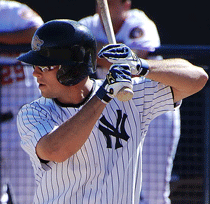 Pos: CF
Bats: Left Throws: Left
Age, DOB: 24, 8/24/1983
AFL Stats: AVG 343 OBP 433 SLG 380
Background: The book on Gardner would have you believe that he's a one dimensional slap-hitter that needs to outrun ground balls in order to get on base. That is simply not the case. According to Firstinning, he bunted in only 2% of his AAA appearances last season and his line drive rate was 18%. However, one area he needs to improve is being more aggressive early in the count. In the past, it seemed like his first objective was to draw a walk and if he got two strikes against him he would fight pitches off and hope that he gets another good pitch to hit. So his main goal heading into the AFL was to become a more aggressive hitter by looking for his pitch earlier in the count. This was very important for him to learn because most pitchers at the major league level will make him earn his way on base.
Offense: Gardner is the type of player that won't blow you away with his stats but when you watch him on a daily basis he can look like one of the most dominant players on the field. During his time in the AFL he not only turned heads with the fans, he also had his own teammates taking notice. There were a couple times that he beat out routine GB's to the second baseman simply because they couldn't make the transfer in time. However, his potential is much more than just his speed. He hits line drives consistently and usually drives the ball straight up the middle, which limits his XBH totals, but it's more than enough to keep the wheels turning with runners on base. The best way to describe his hitting style would be to call him a slasher. He will never be part of the new breed of leadoff hitters but he's a hard nosed player that knows how to get the most out of his abilities. He's already displayed many of the key attributes of a good leadoff hitter and he has the potential to be exactly what the Yankees need at the top of their lineup.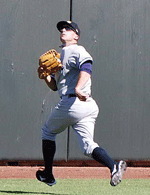 Defense: Gardner has been an outstanding fielder throughout his career and currently holds a fielding percentage of .994. One of the lesser known facts about Gardner is that he played his first two years in pro ball (including 2006 AFL) before committing his first error with the Trenton Thunder during the 2007 season. He has excellent range and tracks the ball extremely well with his back to the infield. His arm strength is slightly above average for a center fielder and his accuracy allows him to pickup the occasional outfield assist.