Today, in his blog, Buster Olney echoes some of my thoughts from yesterday: If A-Rod fires Scott Boras and attempts to personally make amends with the Yankees, he could still be the Yankees' third baseman come 2008. But since that's about as likely as the Pirates winning a World Series next year, we best be movin' on.
The biggest free agent third baseman out there is this year's undeserved World Series MVP Mike Lowell, and his impending free agency is the subject of an article in today's Boston Globe. The article, written by Captain Obvious, notes that Lowell, 34 by Opening Day and not getting younger, will have plenty of suitors, chief among them will be the Yankees.
But if I'm the Yankees, I pass on Mike Lowell with a vengeance. Who needs another overpaid aging player on the team? Plus, he won't hit.
Wait, you may say. How can I claim that Mike Lowell won't hit? This is after all the same Mike Lowell who hit .324/.378/.501 with 21 home runs and a team-leading 120 RBIs. Of course he can hit!
But that hitting is a product of Fenway Park. Take a look at this: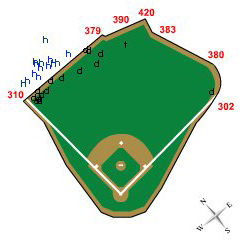 This is Mike Lowell's Fenway Park hit chart. How did he manage to hit a whopping .373/.418/.575 with 73 RBIs at home? By spraying the crap out of the Green Monster. Nearly all of his Fenway Park extra-base hits seemed to be a product of that wall. Meanwhile, on the road, Lowell hit just .276/.339/.428, numbers much more in line with his career stats and 2006 numbers.
So in Yankee Stadium, Lowell just wouldn't be the same force he was at home for the Red Sox this year, and there's no reason to spend $12-14 million a year over four or five years to sign a player that just isn't going to be much of an offensive force. Pass.